Long-standing readers have noticed an increase in the amount of trolling in the comments section. It shouldn't come as a surprise. As traditional broadcast media are becoming less important, both advertisers and PR firms are seeking to influence opinion and popular tastes through social media and blogs. Since I prefer to take a more hands-off approach to the comments section that other bloggers do, it puts me in a bit of a quandary. But the increase in orchestrated efforts to attack certain posts leaves me with no choice but to intervene more heavily.
The post last week from Project S.H.A.M.E. on Megan McArdle is an illustration. As readers pointed out, many of the critical comments hewed closely to well honed approaches used by PR firms to discredit critics: "you should be ashamed," "this is a hit job/I don't like the tone," "everyone knows this already," (ahem, Barry Ritholtz didn't and he's pretty media savvy) and "why aren't you attacking people on the left" when this blog does that with far more regularity than it goes after people on the right.
Now it may sound a paranoid to suggest that some of the critics might have been paid-for operatives and I honestly don't know and can't prove it. A few (from what I can tell, three) of the unhappy commentors were established NC readers who are libertarians. Three additional ones were first time commmentors but looked to be motivated by either loyalty to McArdle (readers recognized one) or the libertarian cause, and kept coming back when the regulars had a go with them. But these at least argue like normal people, with egos; they defend their positions when challenged. (I also had a venomous personal attack that got caught on the moderation tripwire accusing me of being in the employ of Soros, which is amusing, since I'd be living much better if I had a rich sponsor, and inaccurate).
I also have to note, that despite all the food fighting in comments on the McArdle post, no one laid a glove on its substance.
The ones that look sus, and they came early in the thread, were people (and there were a good half dozen) who've never commented here before, make PR-type points, and didn't respond to rebuttals. The reason this is suspicious is I see this sort of thing happening only on certain types of posts, for instance, ones that go after libertarians (particularly the Kochs, although the ones that annoy libertarians on a broader basis tend to have a higher ratio of True Believers to the people running PR tropes) or ones that defend unions. Mind you, that does not mean these comments were paid for; they could be from people who are loyal to certain causes and know PR tricks doing this on their own initiative. But the results are pretty much the same.
I'm not the only one to experience this. Barry wrote me to tell me that the comments on the post he put up pointing to the McArdle post were "insane" and he had had to ban 5 people. When I told him of the sort of comments I was getting, he said:
Commenting is a privilege, not a right

I don't allow that garbage on my site
Barry did let through what he regarded as "absurd comments" with correction, for instance:

Now the NC commentariat typically does a fine job of putting people like that through a buzz saw, so I hate to spoil their fun. At the same time, I don't like having them have to waste their energy on this sort of thing too often, particularly since readers get understandably frustrated, and that can lead to an escalation of vitriol as opposed to dialogue.
Interestingly, eXiled apparently no longer gets these troll infestations since they've instituted the AEC, which is the Almighty eXiled Censor. Rather than trying to argue reasonably with trolls, it edits their comments (which BTW Ritholtz also does, as he indicates in his comments policy). An example (click to enlarge):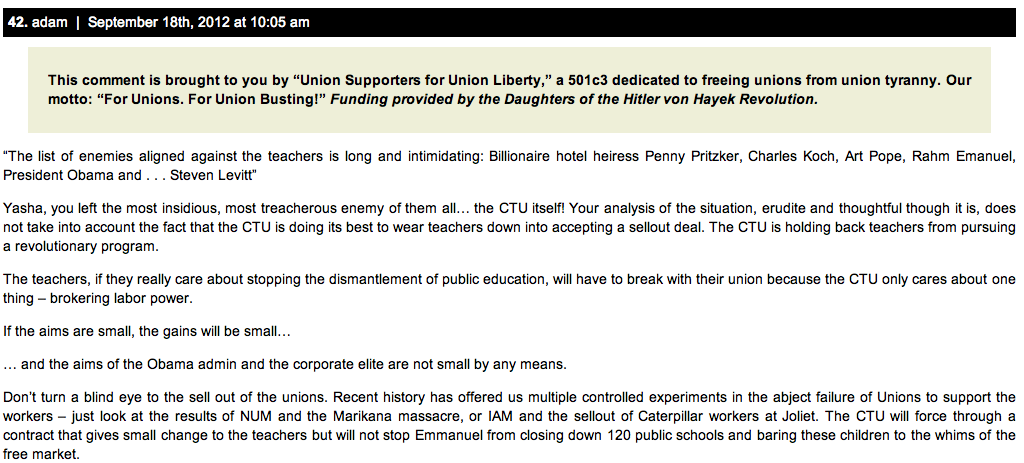 Now I'm not about to do anything like this on a regular basis. My top priority is drafting new posts, so as much as weeding the comments section is important, I don't want it to divert me from the main order of business. Plus I think readers enjoy honing their argumentation skills in the NC comments section.
But on S.H.A.M.E. posts, and perhaps on a few few others, I might invite the AEC to help, provided they'll agree and also adhere to some parameters (as in the NC audience has more delicate sensibilities than the eXiled crowd, so dial down the crudeness, and kneecap only first time commentors that act like trolls). If this leads to a marked decline in trollish behavior on other posts, it will prove that trolling didn't just look orchestrated, it probably was orchestrated.
PS: Don't try the arguing "censorship" nonsense in comments. I'm far less interventionist than most operators of high traffic blogs. As Ritholtz says:
This may be a free country, but The Big Picture is my personal fiefdom. I rule over all as benevolent dictator. I will ban anyone whom I choose from posting comments — usually, for a damned good reason, but on rare occasions, for the exact same reason God created the platypus: because I feel like it.
I suggest you read his comment policy in its entirety. I regard it as web standard.