Matt Stoller is a fellow at the Roosevelt Institute. You can follow him at http://www.twitter.com/matthewstoller.
The big economic strategy for the next term of whoever is Presidenti is essentially, "turn those machines back on". It's fracking to replace cheap oil and a new real estate bubble in housing. Essentially, the idea is to turn America into more and more of a resource extraction economy, or a petro-state. If American politics seems more and more oligarchical, that's because the American political system is beginning to reflect the Middle Eastern oil states its economic investment implies it should. Here are a series of charts explaining what is going on.
First, this is data showing investment in various investment sectors.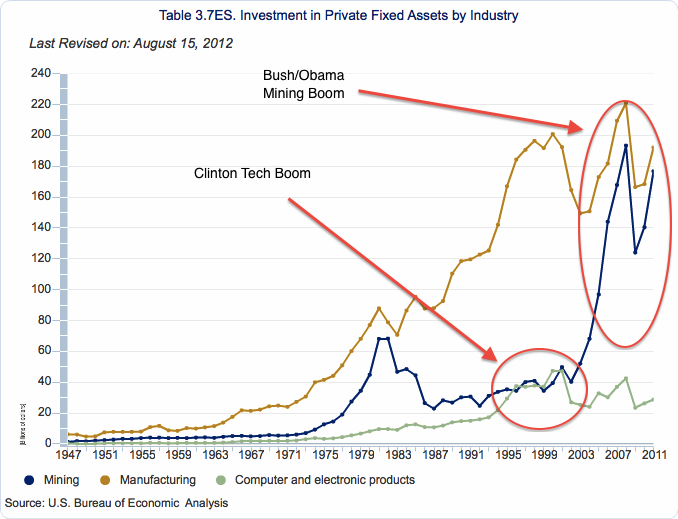 American politics looks increasingly like a petro-state, and this chart shows why. In the 1990s, particularly the late 1990s, the Clinton economy showed parity between manufacturing of computers/electronic products and mining (mostly oil and gas extraction). The Bush economy, starting in 2003 when the invasion of Iraq went sour, saw enormous hockey stick like investment in fracking, tar sands, and other types of extractive mining. Technology investment showed a slight decline. Obama by and large has sustained these trends.
And what of renewables? I took data from the United Nations Environmental Programme (UNEP) "Global Trends in Renewable Energy Investment 2012" and threw them into the chart. Renewables are that small purple line in the bottom right-hand corner.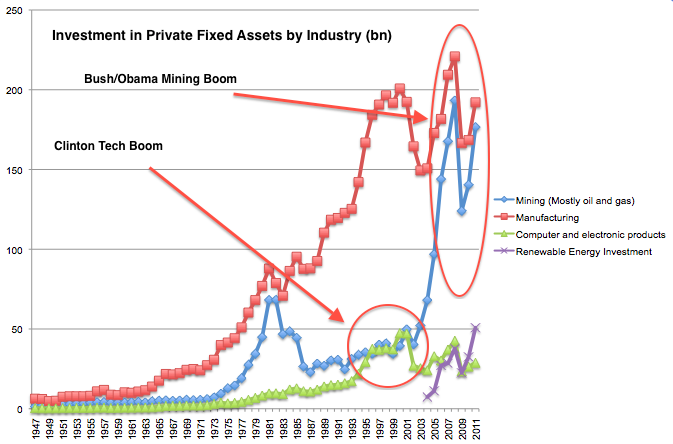 What you see is that renewables are increasingly rapidly, from a small base, during both the Bush and Obama administrations. While people associate the "green economy" with Obama, the actual facts show that both Bush and Obama are part of a fracking/tar sands/green energy base. In fact, in Bush's second term, from 2005 to 2008, renewable investment more than tripled, from $11.2B to $37.7B. In Obama's first term, renewable investment has more than doubled. The data for the fourth year of Obama's term hasn't come out, but if you back out the fourth year of Bush term two, it still is an unfavorable comparison for Obama. Bush raised renewable energy investment by two and a half times, Obama a bit more than double (2.25 times). One could make the case for Obama by saying that there was a financial crisis he had to deal with, and that renewables are at a higher level of pre-crisis investment than mining is. I'm sure there are lots of ways to slice this data up. But one thing one can't argue is that Obama has pursued an economically transformative strategy. Or rather, if you do make that argument, you'd then have to start saluting the greenest President we've ever had, George W. Bush.
Regardless, the macro trend is clear. Both Bush and Obama pursued an "all of the above" energy policy, which for Bush included a very big dry hole – the invasion of Iraq. So what was the big difference between the Bush and Obama economies? Let's add real estate investment into the chart, removing computers so as to make the chart less confusing.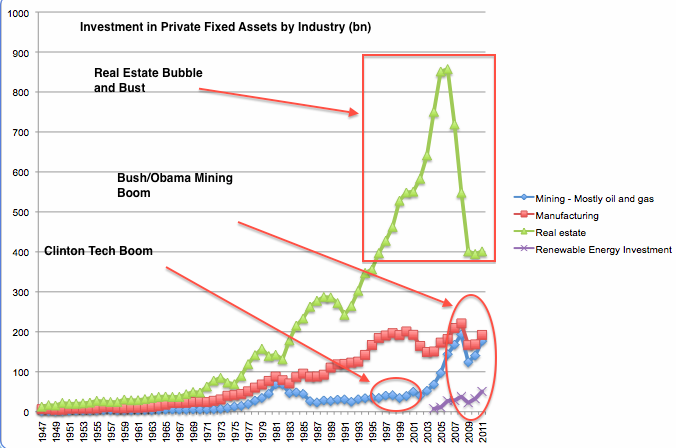 And there we go. It's all about a giant real estate bubble, stretching all the way back to the mid-1970s Carter era, but really picking up steam during the Clinton era and supercharging into the Bush period. You'll notice three downturns in real estate investment since the 1970s, and all of them coincide with the loss of the incumbent party's Presidential candidate (Carter, Bush I, McCain). The political lesson is, sustain property values and real estate investment or you are out on your ass.
With Obama, the cycle is broken – real estate is just not reinflating. And that $450 billion a year of lost investment isn't being replaced with anything close to what would be necessary to employ all those people again. That massive hole in investment represents unemployment, idle resources, but most of all, a lost opportunity to restructure our economy.
UPDATE: Over email, Barry Ritholtz said that my data doesn't include enough of the tech industry. I used as an imperfect proxy for the tech economy electronics manufacturing, which is essentially the manufacture of anything that has an integrated circuit in it.
I've redone the chart, taking electronics manufacturing as a base and adding "information industries", which includes book publishing, movies, broadcasting, newspapers, software, data processing, radio and telecom. This is also not a perfect proxy for the Clinton boom, since it combines movies and books with technology. You can find a list of industry classifications here and BEA data here.
This new chart doesn't really change most of the macro-trend analysis. It does suggest the information sector was even more dominant during the Clinton boom.