The lawyers and writers that have gotten into the weeds of bad practices in mortgage servicing land (the folks at Foreclosure Fraud, Lynn Syzmoniak, Dave Dayen, and Abigail Field, to name a few) all deplored the mortgage settlement. One of the many complaints about it was that it gave a broad release on chain of title issues, in return for supposedly improved mortgage servicing. That was to be achieved through new servicing standards required of the big servicers (the five involved in the settlement of this year, and the 14 national banks who were party to bank friendly consent orders by the OCC in April of last year).
It seems now that the officialdom in DC has taken the position that foreclosure fraud is a thing of the past. By contrast, a number of states, most notably California, have made it clear they aren't going to rely on these new servicing standards (which as we and other have discussed at length, actually serve to institutionalize foreclosure fraud by, for instance, making remarkably high error rates perfectly OK). These states are implementing various forms of "homeowners bills of rights" which among other things, typically create tougher punishments for foreclosure abuses. Various members of the mortgage industrial complex are up in arms, since tougher borrower protections, or more accurately, making servicers respect well settled dirt law that they've tried hard to bulldoze in the name of efficiency would hurt their profits.
In case you had any doubts about the wisdom of state-level actions, the discovery of a new type of abuse, computerized robosigning, should put them to rest. One of the servicers that was not party to either settlement is apparently so confident that no one will go after them that it is engaging in what looks to be a new level of systematized foreclosure fraud. From Deadly Clear (hat tip Lambert):
It appears Green Tree Servicing has been flying under the radar and was hardly noticed until a recordation research team began uncovering similarly signed documents – yup, the old robo-signed Assignment of Mortgage trickery again… but this time new and improved via computer, maybe for speed and precision, ya think?

It appears the signatures are in the computer – no dummies needed to sign – just fill in the blanks and push the buttons (as if that wasn't committing an unlawful act)… "Who, me? I just filled in the information and pressed print…" Why bother to use humans when computers will do just the same… and what are they going to do – arrest or sue the computer?" How about the programmer or the button pusher or the boss?!
These are some examples of documents. Look at the similarity of the signature of Lisa Derrick in the first two, made three minutes apart (already way too similar) with a third made on an entirely different set of documents: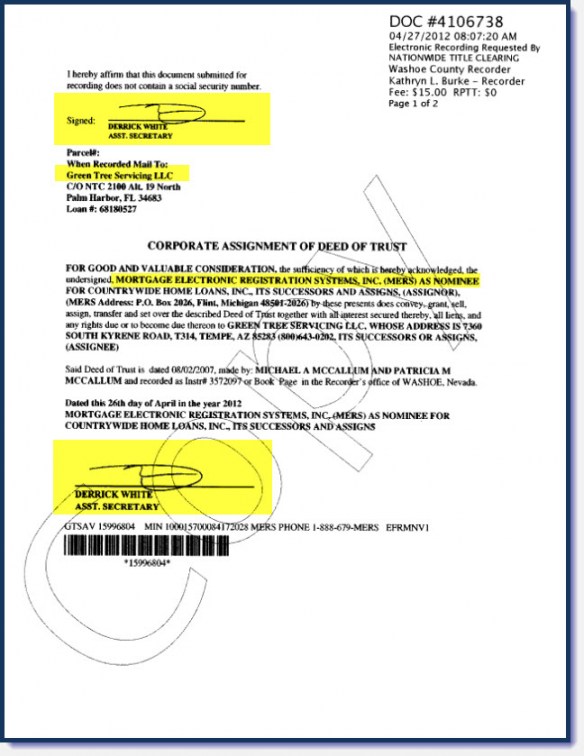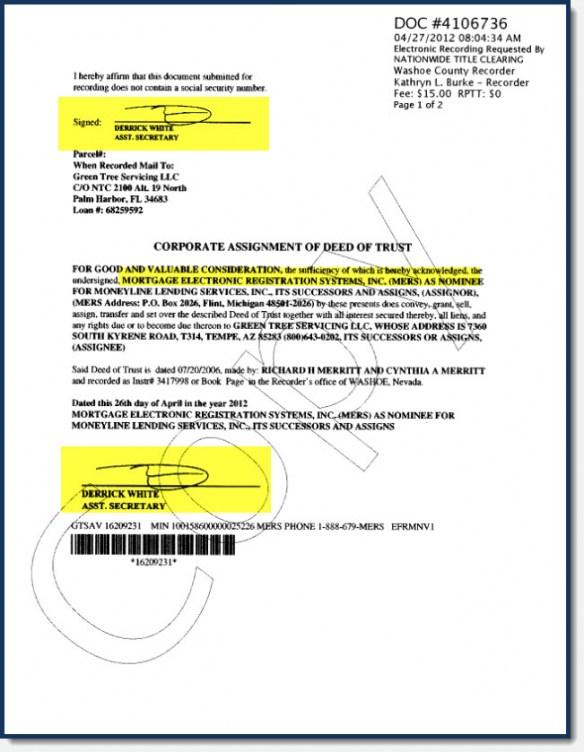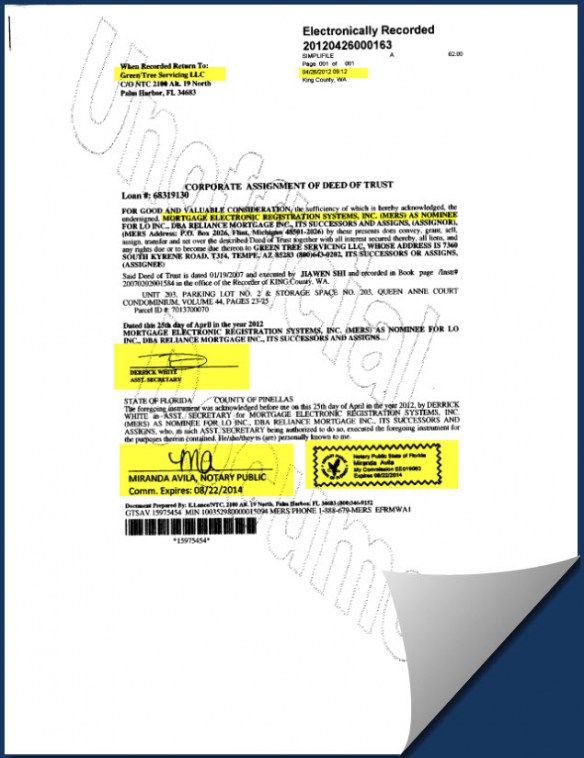 And while we are at it, look at the notary's signature on the document above, that of Miranda Avila, and now look at the following documents: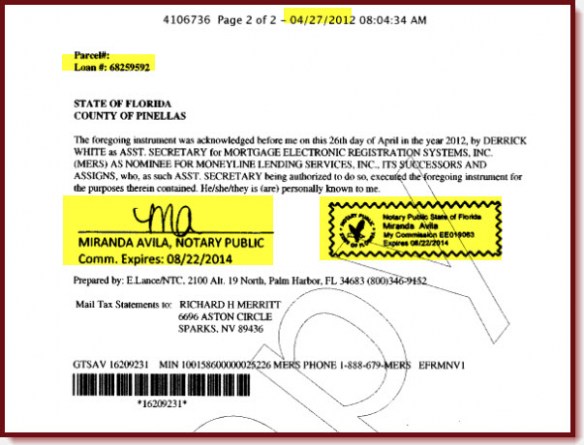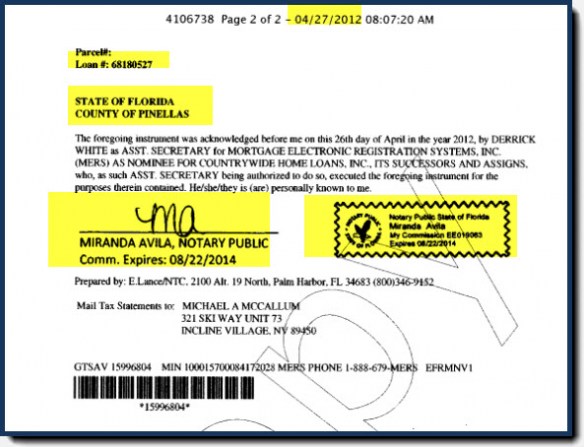 Now cynics will correctly point out that Green Tree is a small operator. But that misses the point. Real estate was once a slow, deliberate business precisely because the integrity of property records is an important bulwark of capitalism (cue Hernando De Soto) and housing is most families' most important asset. As Barry Ritholtz pointed out early in the robosigning scandal, this should be a zero fault business. It used to be that way (ex well constructed, typically local frauds) and the fact that, again and again, the banks have been both given a free pass and not required to clean up their bad practices, is the worst of all possible outcomes.
It's also worth noting that Green Tree is the sort of small potatoes operator that Schneiderman's Potemkin mortgage task force could pursue with impunity, since it won't rattle any of the powers that be. But he's guaranteed not to take even this teeny a step. First, one of the major purposes of the mortgage settlement was to pretend that chain of title abuses were a thing of the past, so showing that to be a sham would be more than a tad embarrassing. Second, going after a Green Tree, even though it might actually help some real people, won't generate the sort of headlines that Schneiderman & Co. need to legitimate their their empty effort.