Under Wraps: When the Camels Go Out New York Times
Bacon flavoured shaving cream goes on sale Metro. Eew.
Supersymmetry Fails Test, Forcing Physics to Seek New Ideas Scientific American
Fears weed killer decision a death knell for reef ABC (Aquifer)
Arctic sea ice larger than US melted this year Associated Press
Pharmaceuticals difficult to treat in drinking water Great Lakes Echo (Aquifer). So why is no one discussing a pharma tax?
Keep the net beyond the autocrats' reach Financial Times (furzy mouse)
Astounding: Miss America contestant will have both breasts removed, and she doesn't have cancer Jon Rappaport. (furzy mouse)
High-Fructose Corn Syrup Linked to Diabetes WebMD
IMF discovers Chinese over-investment FT Alphaville
Why one of China's richest men is squaring off against Obama in court Christian Science Monitor (Aquifer)
UK banks face up to £50bn shortfall Financial Times
Birthplace of the Nutcracker Seeks New Recruits Der Spiegel (Lambert)
Greek deal frays as IMF threatens walk-out on debt buy-back impasse Telegraph
Egypt's draft constitution approved Guardian
UN general assembly recognises Palestinian state Guardian. By contrast, get a load of this headline! The Grey Lady can't stand to use the word "recognizes": U.N. Assembly, in Blow to U.S., Elevates Status of Palestine
Bradley Manning: how keeping himself sane was taken as proof of madness Guardian. More accurate: "used to redouble efforts to break him."
A worrisome report on the eroded combat skills of an Army Stryker regiment Foreign Policy (Lambert)
Catfood watch:
Why rich guys want to raise the retirement age Washington Post (Carol B)

Republicans Reject Cliff Offer From Obama Wall Street Journal
Drones: Despite Problems, A Push to Expand Domestic Use San Francisco Chronicle (Aquifer)
Life in Post-Apocalyptic New Jersey: Climbing the water tower to defend our honor Riverdaughter (Carol B)
Online schools spend millions to attract students USA Today (Lambert)
The Insourcing Boom Atlantic (Aquifer)
McJobs Should Pay, Too: Inside Fast-Food Workers' Historic Protest For Living Wages Atlantic (Aquifer)
Sales at Nation's Retailers Fell Short of Expectations in November New York Times. Oh, and now the party line is that Black Friday wasn't very good.
Recession Big Factor as Birthrate Falls Wall Street Journal. This is a big deal. Everyone forgets that demographers expected the US to show falling population in the 1990s, just like other advanced economies. The 2000 census caught them by surprise. The population rose due to immigration and higher than expected birth rates among Hispanics. Now it seems to be conventional to expect population growth in the US, when that may not continue.
Kansas City Fed: Manufacturing Activity Declines Again in November 2012 Global Economic Intersection
Antidote du jour (furzy mouse). One reader's wife is very involved in saving frogs, so I feel I should show more frog pix: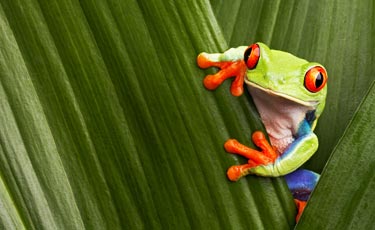 Here is a bonus, courtesy Mark Ames, who says "She's telling her dog 'carry him into the house' [nesi' domoi]":