We featured a post earlier this week by Michael Olenick that argued that the time had arrived to charge gun owners for the true cost of gun ownership, which he reckoned to be plenty high. His suggestion produced a fierce discussion in comments, as well as a peeved claim that this was not a proper topic for this blog.
Aside from the fact that this blog is about whatever I want it to be about, and it's really about promoting critical thinking, the idea that a discussion of how to deal with gun violence is outside the realm of economics is bollocks. Today, for instance, the Financial Times has an op-ed today arguing for a gun tax for reasons similar to Olenick's: the deaths in Newtown are an "enough is enough" moment. And the broader reason is that gun trade and gun ownership create what economists call externalities. The classic example is pollution. From Wikipedia:
In economics, an externality, or transaction spillover, is a cost or benefit that is not transmitted through prices[1] or is incurred by a party who was not involved as either a buyer or seller of the goods or services causing the cost or benefit.[2] The cost of an externality is a negative externality, or external cost, while the benefit of an externality is a positive externality, or external benefit.

In the case of both negative and positive externalities, prices in a competitive market do not reflect the full costs or benefits of producing or consuming a product or service. Producers and consumers may neither bear all of the costs nor reap all of the benefits of the economic activity, and too much or too little of the goods will be produced or consumed in terms of overall costs and benefits to society.

For example, manufacturing that causes air pollution imposes costs on the whole society, while fire-proofing a home improves the fire safety of neighbors. If there exist external costs such as pollution, the good will be overproduced by a competitive market, as the producer does not take into account the external costs when producing the good.
There are two approaches to dealing with externalities, namely, prohibition (bans, restrictions, quotas) or taxation. The economics literature even has an established framework for determining which is preferable in a given situation. Andrew Haldane discusses it in his speech The $100 Billion Question, where he treated banking crises as an externality and worked through which remedy was more fitting:
In making these choices [between taxation and prohibition], economists have often drawn on Martin Weitzman's classic public goods framework from the early 1970s.13 Under this framework, the optimal amount of pollution control is found by equating the marginal social benefits of pollution-control and the marginal private costs of this control. With no uncertainty about either costs or benefits, a policymaker would be indifferent between taxation and restrictions when striking this cost/benefit balance.

In the real world, there is considerable uncertainty about both costs and benefits. Weitzman's framework tells us how to choose between pollution-control instruments in this setting. If the marginal social benefits foregone of the wrong choice are large, relative to the private costs incurred, then quantitative restrictions are optimal. Why? Because fixing quantities to achieve pollution control, while letting prices vary, does not have large private costs. When the
marginal social benefit curve is steeper than the marginal private cost curve, restrictions dominate.

The results flip when the marginal cost/benefit trade-offs are reversed. If the private costs of the wrong choice are high, relative to the social benefits foregone, fixing these costs through taxation is likely to deliver the better welfare outcome. When the marginal social benefit curve is flatter than the marginal private cost curve, taxation dominates. So the choice of taxation versus prohibition in controlling pollution is ultimately an empirical issue.
For the record, Haldane's back of the envelope calculation showed that the social costs of financial crises was so high that the too big to fail banks could not begin to pay for it, which meant prohibition, namely restricting their activities, size, and geographic scope, are well warranted courses of action.
In the case of guns, it's not hard to demonstrate the social costs similarly exceed private benefits. Let's start with the chart complied by Charles Blow of the New York Times: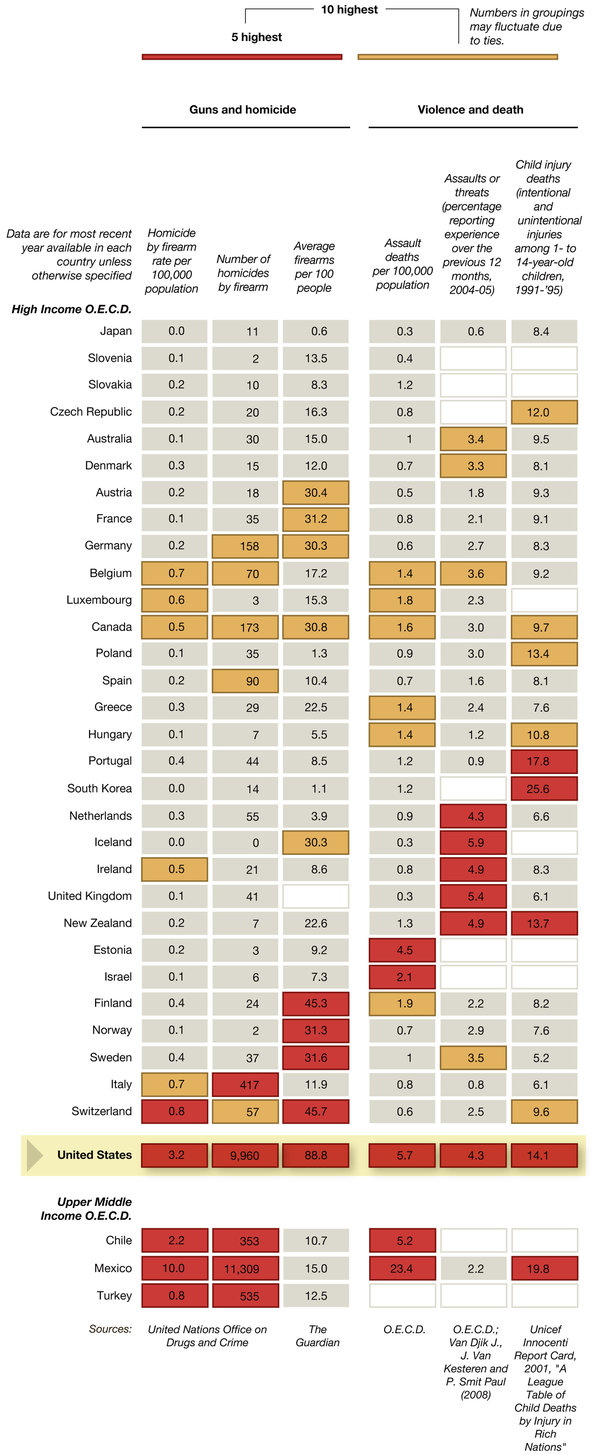 What it shows is that the US, with a rate of gun ownership nearly double that of the next highest county, has more gun murders than all other advanced economies combined. And that includes countries with rates of violence (defined as assaults or threats) as high or higher than that of the US. We have 4.3% of the population subjected to actual or threatened violence in the last six months; Ireland, Iceland, the Netherlands, the UK and New Zealand range from 4.3% to 5.9%. We had nearly 10,000 gun homicides. They had a grand total of 124, two full orders of magnitude lower. When you adjust for population, the firearm murder rate across these countries is tantamount to 442 for the US. And that's before you get to the over 73,000 people per year here who are treated for gunshot wounds.
These totals exclude suicides. Of the 85 people who die by gun every day on average in America, 53 are suicides. Now you can argue, correctly, that many would have found a way to do themselves in regardless. But guns lend themselves to impulsive self-harm; the only other route that is as fast and certain is to jump out the window….if you happen to live above the third story level. Hanging, crashing your car, pills, carbon monoxide all take more thought and effort.
Now consider the costs created by workplace and school shootings, beyond the simple loss of life. Schools are spending time and money on defensive measures. Even if the risks are still objectively low, no school official wants to be in the position of having a horrific incident happen in his facility that he might have prevented by taking precautions. But that leads to an increasingly militarized approach, as well as even tighter control over children's activities, when young people, in my opinion, already suffer from excessive regimentation. Children who are allowed to organize their time are derisively called "free range children," but I shudder at what the therapy bills of kids who've had their parents micro-manage their lives will be like when they are finally responsible for their lives. And irrespective of what you think of modern protective childrearing, the costs of running schools and businesses to protect against the possibility of gun violence filters through to all of us in terms of higher product costs and tax bills.
Against these costs, the arguments made by gun enthusiasts are remarkably unpersuasive. The one that has merit is that many people who live in rural settings hunt, and for some, hunting is an important source of food. But it would not be difficult to devise either taxes or prohibitions around this use.
The other arguments made are defense against crimes and to combat the power of the state. The latter can be dismissed pretty easily; we already HAVE a police state. What exactly have our heavily armed gun enthusiasts done about it? Now that New York City has the seventh largest arm in the world, states and cities are looking at buying drones, and state of the art crowd control technology includes sound weapons and friction-reducing liquids (so if you try moving you can't get your footing), the time for well armed militias to defend our liberties has come and gone. So let's deal with the first claim.
Guns ownership is much more a psychological prop than a real defense. Police forces are well aware of the Tueller rule, that an assailant within 21 feet of a policeman can generally get to him before he can pull his gun out and down the attacker:

And remember, you have to have the gun on your person to be able to defend yourself. All of survivalist Nancy Lanza's guns did her no good. I had a conversation with someone in Texas who was otherwise rational telling me how I needed to own a gun to defend myself, and in the course of his sales pitch, unprodded, he talked about how he did not carry his gun with him which meant he was undefended most of the time. And having a gun at home does not necessarily make you safe at home. Where do you keep it? In the bedside table? So what happens when a bad guy enters through your back door while you are watching TV? So do you have one in every room? Even so, a local version of the Tueller rule operates: you have to get it out and be able to aim before the intruder takes control of the situation. (And that is before you get at the more than offsetting risk, of a gun being used in a family argument or by overly-inquisitive children).
Oh, but the gun fans say, guns still make people safer! Sites like Defensive Gun Use Report (hat tip Timothy F) tally local stories of gun use to thwart crimes. The November total was 87. Um, not a great number, even when you allow for underreporting, particularly since the cases include questionable responses, such as using gun to ward off a flasher and a break-in where the police said the gun use was unwarranted (jewelry store, presumably the merchandise was insured and that's all the robbers were interested in).
As the inclusion of a flasher demonstrates, it is likely that in many of these cases, a gun was not necessary for an effective response. Let me give you some examples from my tame circle:
• A buddy who likes grungy strip clubs and music venues was accosted by a man with a gun in a bad part of town. He persuaded the perp that anyone who'd wear such a fancy suit openly in that area had to be connected to local organized crime, and they were very good about protecting their own. He got the man so worried about what he had done that he offered my friend money to not talk about the incident.

• Late at night, I was approaching the cash register of a grocery store when two employees grabbed a man with a backpack and wrestled him to the ground. A woman ran into the store and ran back to the front, waving a knife she'd grabbed from the shelves. She was running after the staff with the knife and one retreated to where I stood. I handed him my shooting stick (no, not a gun, a portable seat). They chased her out of the store and beat the shit out of her accomplice. I got my stick back covered in blood. When the police arrived, they seemed remarkably unconcerned about his head injuries.
Very few people I know have experienced real threats, and in those few cases (like a friend who had a man come up behind her as she was unlocking the door to her building or the guy who had the man pull a gun on him) a gun would have been useless, and in my example, a mere bludgeon did trick (I have a second crime busting incident with my trusty shooting stick that I will spare you). So the idea that anything less than a gun is ineffective in warding off crimes is also untrue. And generally, with fewer guns around, it is likely that fewer are in the hands of criminals. Small scale crooks who did have guns would also be less fearful of an armed response and so would be less likely to be armed, and less trigger happy if carrying a weapon.
The record in both the UK and Australia, after strict gun controls were imposed, was that armed violence, murders and successful suicides all fell. Reader reason hoisted this comment from another blog:
It's worth repeating (and repeating and repeating until it starts to sink in) the example of Australia. In 1996, Australia changed its gun laws following a particularly bad mass shooting: banning assault rifles, severely restricting other types of fire-arms, limiting magazines to five rounds (three for pump-action shotguns, auto-loaders were banned outright). Researchers compared the rate of mass shootings before and after – using fixed criteria, not just what "felt" like a mass-shooting – and found that the rate dropped from one every 18 months before the change, to just one event in the 16 years since the change.

There were no other noticeable changes that might be responsible for the reduction; no reduction in poverty, or improvements in mental health treatment. And judging by other crime rates, there wasn't a significant change in culture or economics or policing. Hell, even the number of firearms in society recovered within a few years. And the only things that did change, we shared with the US. There was an increase in antidepressant use in Australia, but so too in the US. Video-games violence became more photorealistic, and so too in the US.

It's such a perfect experiment: Same country. Same culture. Only one major change, gun laws. And one clear result, the virtual elimination of mass shootings.

If you want to reduce the rate of mass shootings in the US by an order of magnitude, Australia can tell you how to do it. But your country won't like the taste of the medicine.
But that's not as true as you think. Gun ownership in the US has fallen since 2004, despite an increase in violence-glorifying movies, more frequent mass shootings, and high unemployment. Support among NRA members for measures like background checks and issuing concealed carry permits only to those who have passed safety training courses both poll at 74%; some other proposed restrictions have even higher levels of support.
The irony of the vehement reaction to Olenick's post is that the measure he proposed, taxation, works when the private costs are high and social costs are low and is actually more gun user friendly than the alternative, prohibition. The tally above suggests strict controls are warranted.
I'd hazard that the real reason we won't be able to go as far as Australia, which was a gun-lovin' country that nevertheless imposed draconian restrictions in a very short period of time, isn't as much the sentiments of the majority of gun users as it is the power of the gun lobby, which mobilizes the extremists among gun owners (NRA has 4 million members out of 70 million gun owners in the US) and corporate sponsors. The defection of formerly NRA-aligned Congressmen in the wake of the Newtown shootings suggests that the views of the silent majority of truly responsible gun owners may finally hold sway.