Paul Krugman is troubled by this chart from the Bureau of Labor Statistics and is looking for explanations: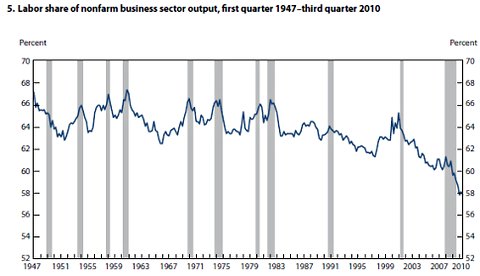 It's another way to illustrate that corporations are producing record profits while unemployment is still high and workers get an unprecedented small share of GDP growth. But it also shows the story about the prospects for workers would have been seen as very different during the Internet bubble. The long term trend would have looked flattish, and the uptick in worker share would have been consistent with all the hype about the Web ushering in a golden era for "freeters" and small businesses, that it would allow for rapid identification of and contracting with small firms, reducing the advantage of big, integrated players (yours truly thought that theory was bunk, but people believed a lot of crazy stuff in those years).
The chart is particularly useful in identifying that a shift took place after the dot com era and has accelerated (or alternatively, that trend started in the early 1990s, was reversed in the dot com era, and picked up decisively afterwards).
Krugman suggests three culprits, with the first two suggested by Nick Rowe robots and (which rdan at Angry Bear argues should be thought of as technology generally) land taking being miscategorized as income to capital. The third comes from Barry Lynn and Philip Longman, who've described how numerous industries have become more concentrated, increasing their leverage over suppliers and workers. Krugman finds the monopoly story more compelling:
The thing about market power is that it could simultaneously raise the average rents to capital and reduce the return on investment as perceived by corporations, which would now take into account the negative effects of capacity growth on their markups. So a rising-monopoly-power story would be one way to resolve the seeming paradox of rapidly rising profits and low real interest rates.
Another issue bears inspection, since it would also explain Krugman's paradox. The massive shift in income to the top 1% has really been to the top 0.1% and that has accelerated greatly in the post-2000 era, the same time frame when the labor share fell. Upon inspection, that top 0.1% consists largely of big company CEO and top financiers, particularly hedge fund and private equity players. Executives get a great deal of their incomes via stock options; the IRS treats nonqualified stock options for tax purposes as labor income (for instance, gains on exercise are subject to payroll taxes); query what the BLS treatment is. Similarly, private equity and hedge fund managers take the overwhelming majority of their compensation as carried interest (there are mechanisms that many firms employ to get their management fees this treatment) which one would suspect would lead their income, which is actually labor income, to be classified as earnings on capital (while many also invest in the funds along side of the limited partners, the returns on their own investments in these funds for individuals below the level of George Soros are generally small compared to their share of the management fees and carried interest).
Low interest rates have led investors to pour more money into hedge funds and private equity funds: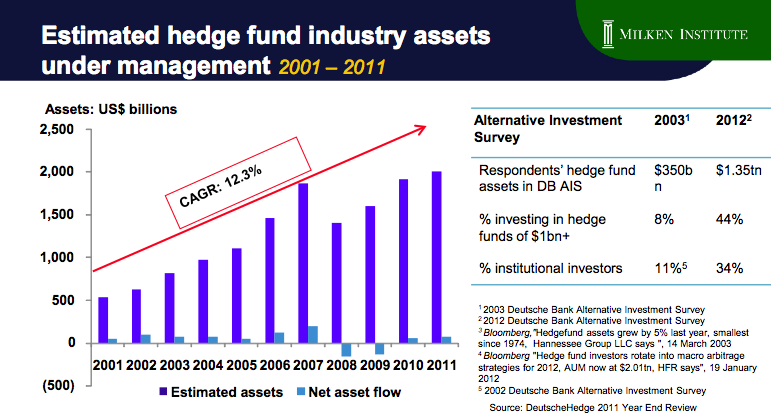 PE funds are remarkably secretive about some things, and peculiarly, assets under management seems to be one. A quick Google search turns up data on returns sliced a lot of ways (amusing, since their methodologies for calculating returns are flawed) but no long term AUM charts. So we'll turn to narrative. From Wikipedia:
The combination of decreasing interest rates, loosening lending standards and regulatory changes for publicly traded companies (specifically the Sarbanes-Oxley Act) would set the stage for the largest boom private equity had seen.
PE activity came to a standstill during the crisis, but fundraising has rebounded as investors are desperate for returns.
While the CEO pay story is arguably part of the monopoly story, the impact of financialization is likely a separate issue. It includes a great deal of rent-seeking that may wind up classified to significant degree as returns on capital rather than labor income. Hedge fund manager John Paulson's "greatest trade", the subprime short, helped turn what would have been a contained subprime bubble into a global financial crisis. Much of the activity of the activity of the private equity industry is asset-stripping, as David Stockman demonstrated in an analysis of Bain Capital's deals (and Bain is held in high esteem by financial professionals). The much-smaller HFT industry is similarly extractive, as a post by Rajiv Sethi on a recent CFTC paper demonstrates.
And this picture would confirm Krugman's worries. From an August post:
If this is the wave of the future, it makes nonsense of just about all the conventional wisdom on reducing inequality. Better education won't do much to reduce inequality if the big rewards simply go to those with the most assets. Creating an "opportunity society", or whatever it is the likes of Paul Ryan etc. are selling this week, won't do much if the most important asset you can have in life is, well, lots of assets inherited from your parents. And so on.

I think our eyes have been averted from the capital/labor dimension of inequality, for several reasons. It didn't seem crucial back in the 1990s, and not enough people (me included!) have looked up to notice that things have changed. It has echoes of old-fashioned Marxism — which shouldn't be a reason to ignore facts, but too often is. And it has really uncomfortable implications.

But I think we'd better start paying attention to those implications.