Remember that big, ballyhooed mortgage settlement of early last year? The one where homeowners got $25 billion of relief (well actually only around $5 billion in cold cash, but why bother with pesky details?) The one made possible by Eric Schneiderman abandoning his fellow state attorneys general to grasp the brass ring of a do-just-about-nothing Residential Mortgage-Backed Task Force? The one that would make banks clean up their act and stop using robosigned documents and deal more fairly with borrowers?
Specifically, that agreement provided for strict limits on one practice, dual tracking, and the creation of a new one, single point of contact. Both relate to mortgage modifications. Dual tracking is when a bank starts and continues to advance the foreclosure process at the same time a borrower is being considered for a modification. That play out badly for a lot of borrowers during HAMP mods, when they would receive foreclosure notices, get understandably freaked out, since they had a modification application in with their servicer, and would typically be told to ignore the foreclosure mortgages. That was bad, and perhaps deliberately duplicitous advice, since many people lost their homes that way. Single point of contact is the requirement that a bank provide one person for a borrower to deal with during the mortgage modification process.
Consent orders are seldom worth the paper they are printed on. The state/Federal settlement of early 2012 is no different. In servicing, consent orders have repeatedly been violated, in part because servicer economics favor having the banks cheat now and pay not-punitive-enough fines later, in part because their systems are so bad that it would be difficult for them to shape up even if they had a change of heart.
But according to the report of an employee who worked in the servicing area in 2011 and 2012, Bank of America has flagrantly violated its 2012 consent order with 49 state attorneys general, the Department of Justice, HUD, the Fed, Treasury, and other agencies. And one reason why may be that it is on schedule with its plans to have disposed of the servicing of virtually all Countrywide loans by the end of March. Perhaps it figured no one would be able to identify and charge it for these abuses before it handed the loans off.
Let's first turn to alleged dual tracking offenses. The banks are known to be welching on their consent orders. California settlement monitor Katie Porter reported that a full 25% of the complaints her office received were about dual tracking. Even thought the number of complaints is half the former level, dual tracking should have stopped entirely. Similarly, the national settlement monitor has blandly 'fessed up that gambling in Casablanca dual tracking continues: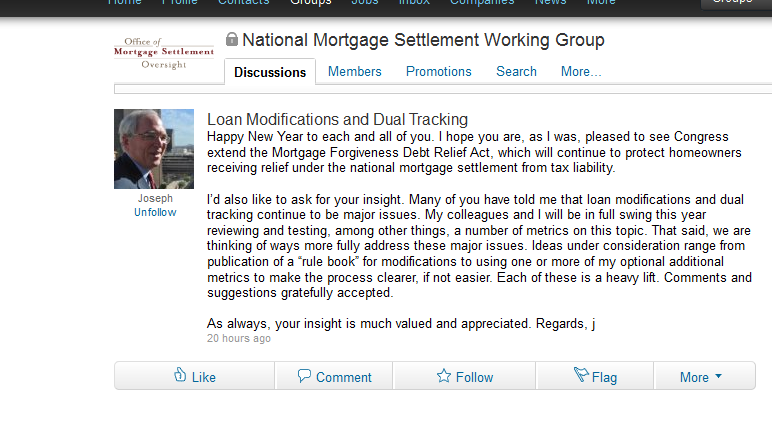 Translation: people are losing their homes when they shouldn't. Maybe I'll pretend to be concerned sometime in 2013. Stay tuned!
To see what is taking place, let's first look at what Bank of America agreed to do per the final version of the Consent Judgment (click to enlarge):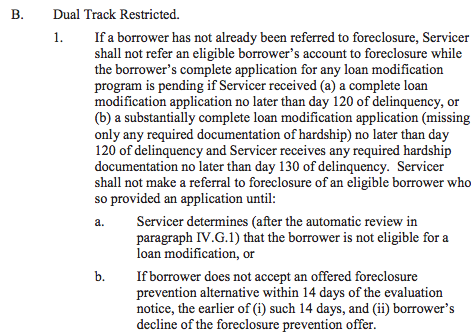 The requirement is very clear: if the borrower gets his application and the supporting documents in within the stipulated time frame, the home is not referred to foreclosure until the review is completed and a thirty-day appeal window has passed with no borrower action (we'll skip over what happens if a borrower appeals a rejection).
Contrast this with the insider's account. He was working in the modification area. I was struggling to word a question about the bank's attitude towards modifications so it would not be leading, and he felt compelled to interrupt me:
Yves Smith: I mean, do you think the bank was serious about wanting to do modifications, or were they only –

Bank of America Employee: (laughs)

YS: – willing to do modifications in very specific – No, I mean, that's a serious – you know, were they serious or not?

BE: No, I'm laughing because I'm taking the stance of the bank if, they would be probably laughing at your statement because it was very clear that we did not want to give the modifications and it was built into our incentive structure.

YS: Mmm!

BE: I was in originally a, you know, regular non-MHA modification person. We would actually get paid for a decision, and a decision was considered either a decline of a file for a modification or an actual modification. Well, guess what, it's a lot easier to do three declines in one day than one approval. So you would see agents and reps and they would be granted very luxurious leeway in declining customers and would do it routinely. There would be no follow-up process if one of them was done wrong, because there was no – the whole structure of the way that it was built, was built on very loosey goosey rules, and it was done specifically so that, you know – I can't say you did it wrong because there's no process, there's no – nothing in writing in our guides or manuals that says it was wrong. It's just, you know, we just feel like it is. (laughs) So –

YS: Wow, and that's – I assume that's particularly shocking for a bank like Bank of America, because one thing I've heard is that it's very process driven, that it likes having everything kind of nailed down and written, much more so than most banks.

BE: Right. Well, as far as that's concerned, they do do that, but, see, they do it in a very vague and open-to-interpretation process. You get a lot of the instructions and manuals, like, I may have a couple manual documents that kind of just show how they're like, well, "in a situation where this may be called for," and then it doesn't define what the situation means or doesn't define what may be called for or its limitations or its extremes. (laughs) It's just vague material.

YS: So it's process theater is what you're saying. A lot of it is process theater.

BE: Exactly. Exactly.
Now let's turn to the discussion of dual tracking:
BE: I was forced to basically dual-track two people….and it's kind of a critical point in that, okay, dual-tracking is defined as, you know, not pursuing foreclosure at the same point of pursuing a modification.

YS: Right.

BE: What the bank does is the bank takes the liberty of defining what "in a modification" is. If a customer has submitted to me all their documents – okay? – and I need an underwriter to review the file? They are not in a modification. Nor are they under review for a modification. They make that explicit point that they are not in review for a modification if our underwriters have not approved or – no! I take – did not approve the file.

YS: Wow.

BE: So what they have filed in – say, a file is in underwriting, I have a foreclosure date coming up in two weeks – oh well. It's probably going to foreclosure because if I don't have a response back from the underwriter, I am not able to postpone the foreclosure or make the request.
Now understand what is happening here. Contrary to the clear language of the settlement agreement, which says that no foreclosure referrals are to take place if a borrower gets his paperwork in within the stipulated time frame until the review process is complete and he's been given the opportunity to appeal an adverse decision, the bank has decided to ignore the settlement terms and not stop the process until (more accurately unless) the application gets to an underwriter in time. And that's not the first step in the process. The file (at a minimum) first goes to a reviewer like our source, who has an incentive to reject it, since he gets paid more to reject than approve mods. Only if it miraculously gets past someone like him to an underwriter will the foreclosure process be put on hold.
I also mentioned that the California monitor had been looking into this issue, and the source said Bank of America was attentive to that:
BE: Right. And another thing – well, see, but another issue is is I think the bank was a little more careful in making sure they wouldn't dual track California customers. We would see –

YS: Oh, how interesting.

BE: – foreclosures like get postponed with no request made and we would have no idea how it happened.

YS: Right.

BE: So they are aware that California has a very specific law about that.
So Bank of American knows that Joseph Smith is asleep at the switch and Katie Porter is not and is proceeding accordingly.*
Alert readers might be wondering, "Why are so many people involved in these modifications? Wasn't single point of contact supposed to fix that?" It's not that simple. I've never been a fan of single point of contact. What borrowers needed was a single person processing their modification application, and good enough records-keeping on the status of their application that reasonably-well-trained phone reps would give consistent and accurate answers. Instead, the settlement provided for, as the name accurately signals, a single contact person, but does not say what happens beyond that point. If you look at the relevant section of the consent judgment (search the document for "single point" or go to page A-21), you'll see that the role consists almost entirely of communicating with the borrower on procedural matters, such as program options, status in the bank's process, contacting the borrower about the bank's decision. His responsibilities beyond that are to "coordinate the receipt of all documents," "assist the borrower in pursuing alternative non-foreclosure options upon denial of a loan modification," and "have access to individuals with the ability to stop foreclosure proceedings."
How did the bank respond to the single point of contact requirement? With a raised middle finger.
Our source indicated indicated that the process had already been chaotic with MHA (Making Home Affordable) modifications before the consent order and got worse thereafter:
MHA, it was a complete disaster. I mean, people would be calling in, they would talk to four or five different reps, they'd all give them wrong information, and, you know, they're….just languishing in nowhere land.

And as soon as that actual consent, when that one order came out where it assigned every customer a person, that's when it got beyond, beyond helpful for the customer. It was unbelievably difficult at that point, because then they started hiring inexperienced workers to quote unquote "service" the one-on-one person that they were quote unquote forced to do by the government, so it was kind of like, it was they hired a lot of people that weren't qualified and they split the process up and they didn't even move the correct people in the right place. I was actually in underwriting and they moved me to a customer service position. So a lot of the people that were doing a lot of the actual, you know, legwork weren't even put into the type of position that they should have been aligned into, which, you know, made everybody crazy.
The BofA staffer made it clear the bank changed the process so that even more people would be involved in processing a mod than before the consent order:
YS: Now, let's say there's a deviant person there (laughs) who actually approves a modification. One of these frontline people doesn't get, isn't with the program and actually approves a mod, or recommends a mod. Then what happened? Then what would happen?

BE: Well, basically, either that responsible person basically will lose control of that file. Because at that point it may go to a third party, and if there's any issues, they will not get answers. They've now made an excuse, since the supposed order that they have one person one agent, they have now split up the process. So many different people are now on a file that there's no communication between person #1 and person #10, whereas before the order there was only about three people, three to four people involved. After the order, they made sure that it was ten people and they made it even more difficult.
So let us have no doubts about what is going on As we've said repeatedly, servicers have never wanted to do mods because it is more profitable for them to foreclose. And the Federal regulators are fully on board with this practice. They enter into limp-wristed consent orders that allow them to have good photo ops while homeowners and investors continue to be thrown under the bus. Remember, it's not just the borrowers who might be salvaged that lose, it's also pension funds, insurers, foundations and individual investors, not to mention afflicted neighborhoods and communities. And Bank of America continues in these flagrant abuses, secure in the knowledge that no one in authority will go after it, and now with the belt and suspenders protection of its nearly completed program to rid itself of Countrywide loan servicing. Nicely played.
______
*Note that the special treatment of California borrowers does appear to be the result of the monitor's action, since the California Homeowner's Bill of Rights, which also bars dual tracking, did not before effective until 2013.