There are times I feel sorry for the business reporters at the New York Times. As Eddie Bernays, the father of the public relations industry, pointed out in his 1926 book Propaganda, half the articles on the front page of the Grey Lady back then were what he called propaganda, as in they were covered at the instigation of business or political interests who were seeking to bring the public to accept their point of view.
Now the problem is that much of what passes for journalism these days runs afoul of the old Yankee saying, "Fool me once, shame on thee. Fool me twice, shame on me." Anyone who has been paying attention to the news will recognized that some of these stories are not just obvious plants, but they are simply not credible. That's not saying the facts are inaccurate, it's the storyline that's a howler. And it is also fair to point out that the slant an article winds up with may not be the doing of a reporter so much as his editor.
The latest illustration is an article by Ben Protess in the New York Times titled Prosecutors, Shifting Strategy, Build New Wall Street Cases. At least in the web version, this is the picture immediately under the headline: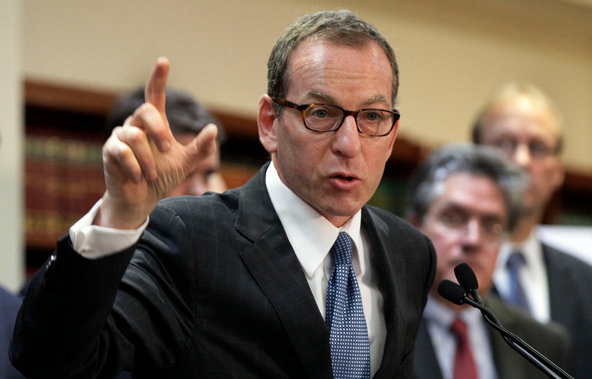 I'm not sure whether this picture is an effort at Big Lie imagery, or whether someone in the Times's layout department is a subversive. But using Lanny Breuer at the face of a new "get tough with banks" posture at the Department of Justice alone fatally undercuts the article.
In case you managed to miss it, the Frontline documentary The Untouchables had these sections involving Breuer:
NARRATOR: FRONTLINE spoke to two former high-level Justice Department prosecutors who served in the Criminal Division under Lanny Breuer. In their opinion, Breuer was overly fearful of losing.

MARTIN SMITH: We spoke to a couple of sources from within the Criminal Division, and they reported that when it came to Wall Street, there were no investigations going on. There were no subpoenas, no document reviews, no wiretaps.

LANNY BREUER: Well, I don't know who you spoke with because we have looked hard at the very types of matters that you're talking about.

MARTIN SMITH: These sources said that at the weekly indictment approval meetings that there was no case ever mentioned that was even close to indicting Wall Street for financial crimes.

LANNY BREUER: Well, Martin, if you look at what we and the U.S. attorney community did, I think you have to take a step back. Over the last couple of years, we have convicted Raj Rajaratnam. Now, you'll say that's an insider trading case, but it's clearly going after Wall Street. We—

MARTIN SMITH: But it has nothing to do with the financial crisis, the meltdown, the packaging of bad mortgages that led to the collapse, that led to the recession.
And later:
NARRATOR: In a September 2012 speech, Lanny Breuer gave a speech explaining his reluctance to indict a major bank.

LANNY BREUER: — the kinds of considerations in white collar cases that literally keep me up at night.

MARTIN SMITH: You gave a speech before the New York Bar Association. And in that speech, you made a reference to losing sleep at night, worrying about what a lawsuit might result in at a large financial institution.

LANNY BREUER: Right.

MARTIN SMITH: Is that really the job of a prosecutor, to worry about anything other than simply pursuing justice?

LANNY BREUER: Well, I think I am pursuing justice. And I think the entire responsibility of the department is to pursue justice. But in any given case, I think I and prosecutors around the country, being responsible, should speak to regulators, should speak to experts, because if I bring a case against institution A, and as a result of bringing that case, there's some huge economic effect — if it creates a ripple effect so that suddenly, counterparties and other financial institutions or other companies that had nothing to do with this are affected badly — it's a factor we need to know and understand.

TED KAUFMAN: That was very disturbing to me, very disturbing. That was never raised at any time during any of our discussions. That is not the job of a prosecutor, to worry about the health of the banks, in my opinion. Job of the prosecutors is to prosecute criminal behavior. It's not to lie awake at night and kind of decide the future of the banks.
Breuer's performance, such as it was, led to this parody:
So having visually underminded itself, how does the article proceed? Here is its premise:
In a recent round of actions that shook the financial industry, the government pushed for guilty pleas, rather than just the usual fines and reforms. Prosecutors now aim to apply the approach broadly to financial fraud cases, according to officials involved in the investigations.
Really? Someone needs to tell bank investors how scared bank executives are. This is KBE, the ETF designed to match the Keefe Bruyette's large bank index, versus SPY, the EFT for the S&P 500, for the last three months (click to enlarge):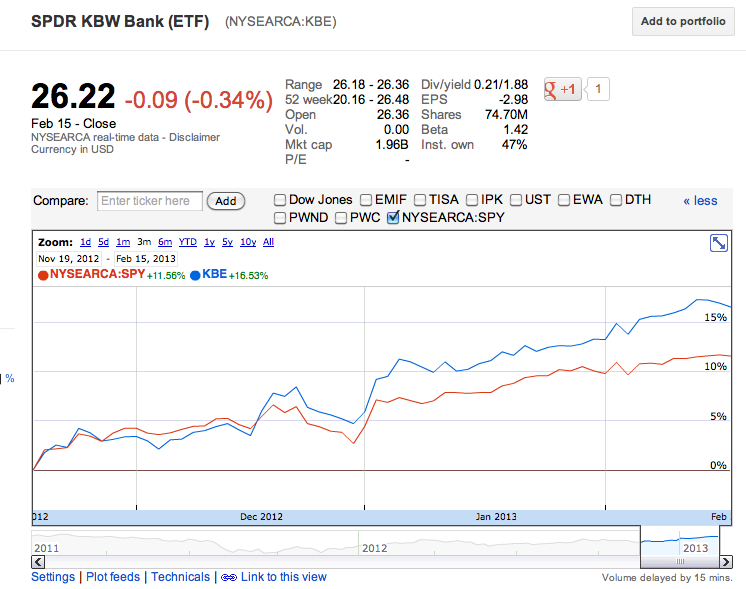 And in fairness, Protess does question the official position fairly high up in the story, at the start of the fourth paragraph (the usual convention in a real puff piece is to wait at least nine or ten paragraphs before a negative word is said):
But critics question whether the new strategy amounts to a symbolic reprimand rather than a sweeping rebuke. So far, the Justice Department has extracted guilty pleas only from remote subsidiaries of big foreign banks, a move that has inflicted reputational damage but little else.
The officialdom honestly seems to have persuaded themselves that indicting a foreign subsidiary and getting a guilty plea is a meaningful concession. Help me. That is what is so disheartening about dealing with an (at best) captured prosecutors. Their idea of what is reasonable is so distorted that is is painfully obvious that there is no reason to expect any change in behavior.
The real tell here is the lack of any interest on behalf of the Feds, including the Schneiderman task force, to go after Lender Processing Services. I know for a fact that people with relevant expertise presented serious ideas about how to go after LPS to Schneiderman personally, so his failure to act is not a function of ignorance. And LPS was a linchpin in establishing bad conduct across the major servicers who were its clients.
But not only could no one be bothered to go after LPS for its role in servicing abuses (more on that in future posts), they could't even be bothered to punish it seriously for past criminal conduct. As we wrote in an earlier stage in this saga:
The Department of Justice and the state of Missouri have each announced criminal plea bargains with one Lorraine Brown, former chief executive of DocX, the Lender Processing subsidiary best known for its price sheet for fabricating the mortgage documents a servicer, or frankly, anyone would need to claim they had standing to foreclose on your home. Funny how that particular DocX product was mentioned no where in the plea deals.

This admission of guilt by Brown for wire and mail fraud on the federal level and fraudulent and forged document filings in Missouri now allows the Obama Administration to claim it has sent another "executive" to jail. And the bizarre progress of this case was that the Missouri attorney general had sued both Brown and LPS, and you'd expect them to cut a deal with Brown to go after the bigger target, LPS. But it's likely Brown was not very sophisticated; she apparently went to an interview with the FBI without the advice of counsel. Rule number one is don't lie to the FBI, and the document release Tuesday show that Brown did. And her attorneys let LPS get in front of her. The firm paid $2 million in fines to Missouri and "cooperated" in going after small fry Brown (rather than the bigger fry of LPS' clients). Nicely played.
Now get this: normally we favor going after executives rather than the institution when you are dealing with major banks, because the institution has legitimate businesses that have nothing to do with the bad conduct. By contrast, LPS is a comparatively small player ($2 billionish in revenues) with a deeply problematic business model. Like the ratings agencies, it is a small pockets player that acts as a liability shield for the big boys. It's a worthy goal to take players like that out when they play fast and loose with the law.
Remember, in the extract above, the only conduct that was admitted to was robosigning over a million documents. And the public had been trained to think robosigning, which is a fraud on the court, is no biggie.
LPS settled for a mere $35 million, and that for robosigning alone. Fraud expert Lynn Szymoniak thinks 4 million documents could be at issue. Mr. Market thought that was a screaming bargain; the stock traded up over 7% the day the settlement was announced.
Notice also that no one bothered prosecuting the document fabrication at DocX. We and other sites reported on how brazen they had been: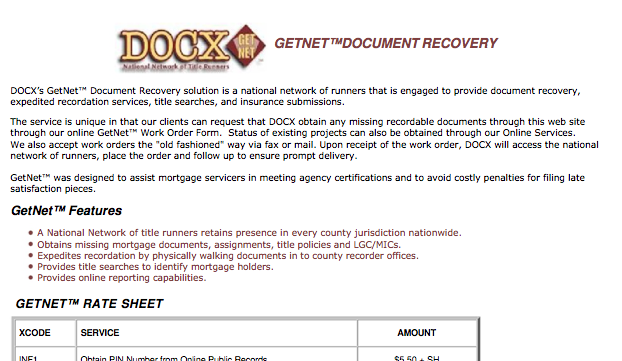 So back to the Times' sad effort to pretend the Powers That Be are serious. If they can't be bothered to go after a second tier player where you had an executive ready to provide evidence, don't tell us that we should believe you now. And Protess noted towards the end of the piece that the authorities might be deterred by big bank huffing and puffing:
The strategy will face significant roadblocks.

For one, banking regulators are likely to sound alarms about the economy. HSBC avoided charges in a money laundering case last year after concerns arose that an indictment could put the bank out of business. In the first interest rate-rigging case, prosecutors briefly considered criminal charges against an arm of Barclays, but they hesitated given the bank's cooperation and its importance to the financial system, two people close to the case said.

The Justice Department will also face resistance from Wall Street. In meetings with authorities, banks are trying to distinguish their activities from the bad behavior at UBS and Barclays, according to the industry lawyers. One lawyer who represents Deutsche Bank acknowledged that Wall Street was girding for battle over the push for guilty pleas.
So I'm not sure who the audience for this play acting is supposed to be. The public knows this emperor has no clothes, yet he continues to prance around naked.