If you are old enough to remember the 1970s, the idea that gasoline and stock prices would be correlated seems bizarre. The oil shock years brought stagflation, gas rationing, and a major bear market. And some economists, James Hamilton in particular, believe that the oil price runup of 2008, which helped push retail gas prices in the US over the then-critical $4 a gallon threshold, is what pushed over-levered consumers over the edge and produced the terminal phase of the financial crisis. If you hew to Hamilton's view, that provides further support to the idea that gas prices should be negatively, or at least not strongly positively, related to stock prices.
John Harvey at Forbes (hat tip Philip Pilkington) uses the following chart to show that the reverse is true, that for over a decade, stocks and gas prices have moved in synch: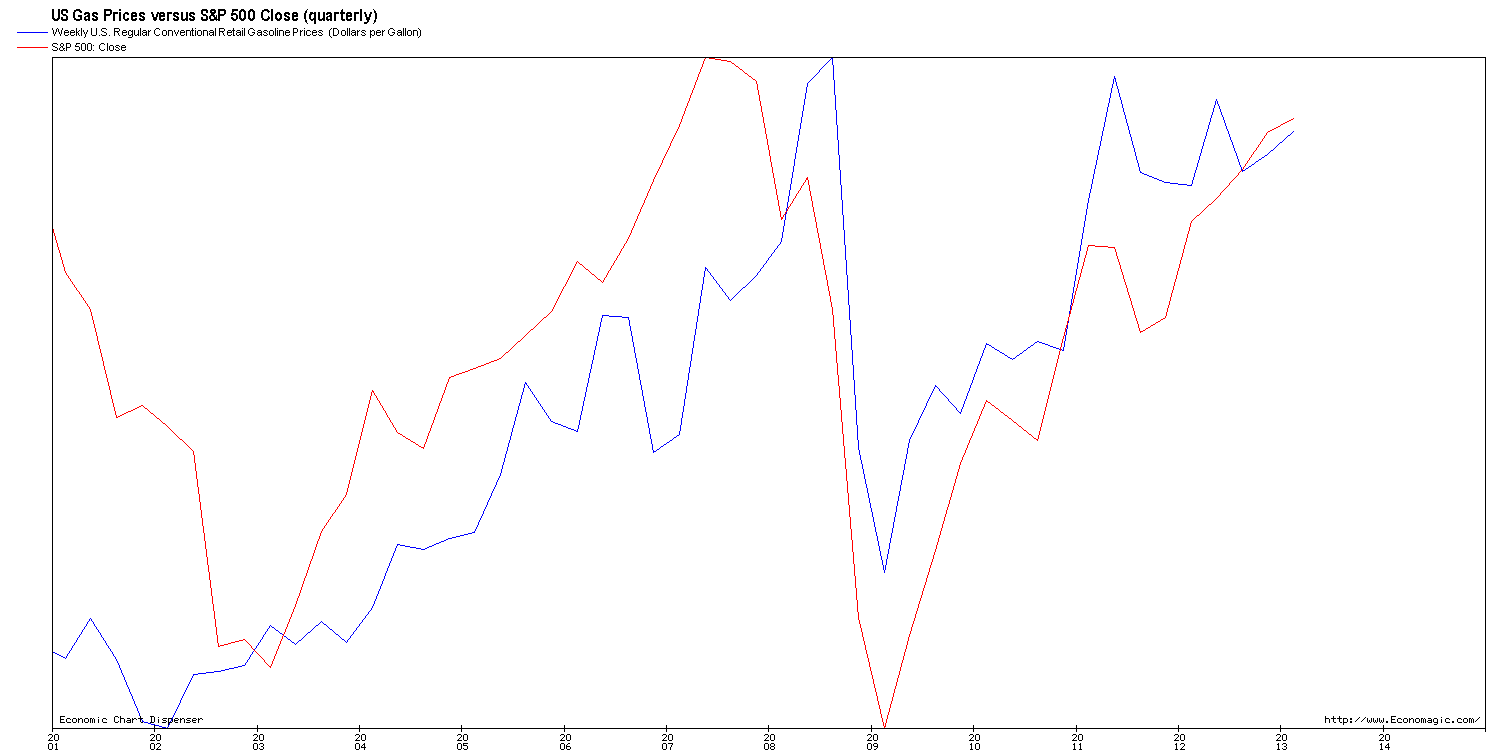 How has this come to pass? Harvey explained in an April 2011 post that the doubling of gas prices in 26 months could not be explained by fundamentals:
Today's spike is being driven by speculation, just as it was up to the financial crisis…. While there as clearly been a huge jump in growth from 2009 to 2010 and this does coincide with a rise on the gas-price chart, compare this with what happened from 1991 to 1999 (even 2002, save for a brief spike). Supply, according to world reserves, changed only slightly, but there was strong and consistent world growth year in and year out. If ever there was a time we should have seen a huge rise in prices, it was then. Instead, prices bounced around between $1.40 and $1.00. Today, not only have known reserves risen substantially, but we are only just emerging from the worst recession since the Great Depression–hardly a boom period. For comparison, world growth averaged 2.6% from 1991 through 2002. Since then, it's also been 2.6%, and over 2008-2010, it was 1.1%. This is not sounding like "It was supply and demand." Is it surprising that gas prices are rising? No, not at all. The economy is recovering (albeit not nearly enough given our 13.5 million unemployed, but that's another story) and there is considerable tension in the Middle East. But, do underlying forces justify an increase in pump prices from $1.81 in February 2009 to $3.81 as of yesterday? Absolutely, positively not. Nor was there a reason for the run from $1.07 in December 2001 to $4.00 in July 2008.

What's left out of the equation is the financialization of the US.
His new post focuses on one important contributor:
…the key was President Clinton having signed into law in December of 2000 the Commodity Futures Modernization Act, allowing (among other things) speculation in a market that had previously been dominated by actual end users of oil…

The data series starts in 2001, right after the law came into effect. For the first couple of years, there is no strong correlation. Once the stock market boom took hold in 2003, however, the trend is very clear. On a deeper level, there is a self-fulfilling prophecy at work. The new law meant an influx of fresh money buying oil futures as a financial investment rather than as a means of locking in future prices (which is what actual users of oil had been doing). This meant an appreciation of oil futures prices. Then, those pumping oil out of the ground saw the higher futures prices and figured, why pump it out today when it will be worth more tomorrow? That caused current oil prices to rise, leading those who had bought the futures to say, "Oh my God, I was right–the prices ARE going up! Buy more!" And so on.
Now this may all seem a bit crude analytically (no pun intended) but more rigorous work has come to similar conclusions (for instance, see this study on agricultural commodities and commentary on it).
Of course, it is not surprising that the view that commodities prices might be distorted by financial speculators is often derided, most loudly by finance professors at business schools who receive large donations from Wall Street firms and their employees.