As readers may know, I live in the Upper East Side of Manhattan. Although that was once the toniest part of town, and the most exclusive buildings are here (such as 720 and 740 Park, in zip code 10021), the rents are generally higher some of the hipper downtown areas (by contrast, you can roll the sidewalks up at night here). I live in a less fancy zip code. Plus for all of the Upper East side, the further east you go (as in away from Central Park and towards the East River) the lower the caliber of the housing stock. East of Second Avenue, you have small walk-ups that were once tenements, punctuated by high-rises.
I'm going into this level of detail to drive home that this area has a bigger range of incomes than you might think. For instance, with walking distance, there is both the Italian restaurant that apparently is practically Bob Rubin's dining room and lots of fast food stores.
The Wall Street Journal reports tonight that there has been a big increase in homeless families, particularly in New York City.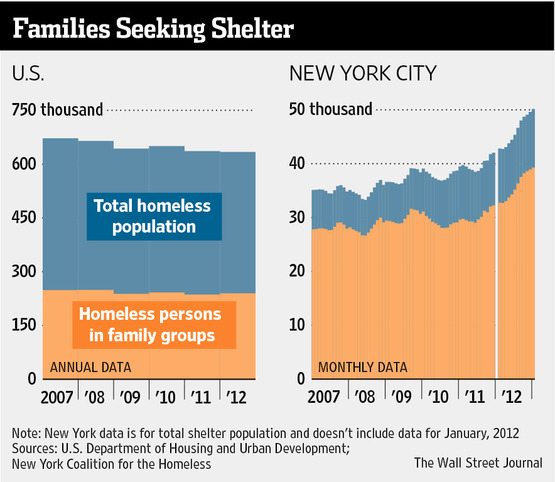 Notice, as the footnote indicates, the total is based on people living in shelters. That means it greatly understates the number of homeless, since many homeless regard shelters as more dangerous than living on the street (although homeless parents are probably much more reluctant to expose their children to the elements than take that risk themselves). As the Journal tells us:
New York City has seen one of the steepest increases in homeless families in the past decade, advocates said, growing 73% since 2002. The surge was accelerated by the financial crisis and mortgage meltdown, which put many lower-middle class families out of their homes, economists have said. And even though New York City has regained all the jobs it lost in the recession, economists have said they are lower-paying ones.

The steep rise has reignited questions about whether New York's economic turnaround of the past two decades has helped the city's poorest residents. Aides to Mayor Michael Bloomberg, an independent whose three terms have seen big increases in homelessness, partially blamed the surge on the economy.
I have seen several changes in when I peregrinate:
A marked rise in the number of people begging. It went up sharply after the crisis and has only continued to rise since then.

A greater range of people begging. It used to be people who looked like they had been homeless for a while but were still somewhat functional. I now see people who are truly desperate (one a man on 86th Street with an ulcerated leg who says he has both cancer and full blown AIDS) and men who seem able bodied (in the past, I wouldn't have given them money, but it's different now). Beggars are still predominantly male, but the average age of women seems to have fallen over time.

A lot more raiding of garbage cans. This was never done before except to get cans and bottles to recycle. I've now seen people rooting through garbage cans looking for food. And just last week, when the big local grocery store dumped a lot of stuff out on the curb, two women were going through it systematically. This was clearly more freeter-like, one had a cart and they were discussing juicing the vegetables and then freezing the juice. But heretofore, social inhibitions would usually keep people from going through garbage, even if it was only technically garbage (as in stuff just past its sell by date that really was still pretty good). No more.
Now add to this that no one has a handle on how many homeless people there really are. Outside metropolitan areas, how can anyone keep tabs on people living in cars? Camped in tent cities?
I'm wondering if readers can provide indicators of how much distress there is at the bottom in your community. In NYC, conditions might have at best stabilized for a while. I had a dim sense I saw more people looking for help this winter than last and convinced myself that was my imagination (the economy is getting better, right?). But the official tally suggests my eyes weren't lyin' after all.
What types of distress are visible in your community? Do conditions for people on the bottom appear to be improving, worsening, or pretty much the same?