By lambert strether of Corrente.

There's been a sort of contest among the skeptics and hippies for the "Who Called Their Shot on Obama First" title, which I believe Adolph Reed holds (Village Voice, 1996), with Bruce Dixon (2007) also holding an honored place; both writers knew Obama in Chicago, which helped. However, along with Ken Silverstein from Harpers, left blogger A Tiny Revolution called his shot in 2006 (hat tip, Gaius Publius (hat tip jawbone)), based on Obama's appearance at the first meeting of Bob Rubin's The Hamilton Project, where he was the only Senator to appear. Here's the video:
As Gaius Publius remarks:
It's not long, it touches most of the bases, and tells you all you need to know about how Barack Obama would govern.
I'm going to color code the transcript using the same scheme I used for Obama's inaugural (here; here), with one new category:
Blank screen: Placeholder material onto which the audience may project what they like. The phrase comes from Obama's famous remark in the preface of the second of his two autobiographies: "I serve as a blank screen on which people of vastly different political stripes project their own views."
| Category | Note |
| --- | --- |
| Secular religion | A mish-mash of phrases from the Framer's, Lincoln and MLK echoes, and so forth |
| Bathos/MBA-speak | Bathos is an abrupt transition in style from the exalted to the commonplace |
| Neo-liberal catchphrase | "Free market," "innovation," "hard choices" etc. |
| Populism | "Our most vulnerable citizens" |
| Bipartisan shibboleth | "The troops," for example |
| Dead metaphors/cliche | "Ring the changes on," "take up the cudgel for," "toe the line," "ride roughshod over," etc. (Orwell) |
| Sheer nonsense | Word salad |
| Falsehood or truthiness | |
| Blank screen | Placeholder material onto which the audience may project what they like. The phrase comes from Obama's famous remark in the preface of the second of his two autobiographies: "I serve as a blank screen on which people of vastly different political stripes project their own views." |
| Equivocation | Lawyerly parsing and weasel wording |
| Boilerplate | "Ladies and gentleman," and so forth. |
Here's the transcript:
THE BROOKINGS INSTITUTION RESTORING AMERICA'S PROMISE OF OPPORTUNITY, PROSPERITY AND GROWTH Washington, D.C. Wednesday, April 5, 2006 PORTION — SENATOR BARACK OBAMA
[OBAMA:] Thank you. Thank you very much. I would love just to sit here with these folks and listen because you have on this panel and in this room some of the most innovative,thoughtful policymakers, people who have both ideas1 but also ways of implementing them into action. Our country owes a great debt to a number of people who are in this room because they helped put us on a pathway of prosperity that we are still enjoying, despite the best efforts of some.2
NOTES
Surely Obama must mean "and"; "ideas" and "ways of implementing them" are not mutually contradictory, even in D.C.
This is 2006, that is, before the Great Financial Crash that Hamilton founder, Goldman Sachs alum, Clinton Treasury Secretary, and eminence grise Robert "Bob" Rubin did so much to bring about, and which Larry Summers, less-than-well-endowed Hamilton Advisory Council member, did so much to prolong. The Hamilton Project "Our People" page makes interesting reading.
(Laughter)
[OBAMA:] I want to thank Bob and Roger and Peter for inviting me to be here today. I wish I could be here longer. I am going to have to run after a few minutes because we do have an important issue relating to U.S.-India relations.
But when Roger originally called to invite me, not only to this forum but to invite me to engage in this project, I couldn't help but think that this was the sort of breath of fresh air that I think this town1 needs.
NOTES
Beltway insiders refer to Washington, D.C. as "this town."
[OBAMA:] We have all known for some time that the forces of globalization have changed the rules of the game—how we work, how we prosper, how we compete with the rest of the world. We all know that the coming baby boomers' retirement will only add to the challenges that we face in this new era.1 Unfortunately, while the world has changed around us, Washington has been remarkably slow to adapt twenty-first century solutions for a twenty-first century economy. As so many of us have seen, both sides of the political spectrum2 have tended to cling to3 outdated policies and tired ideologies instead of coalescing around what actually works4.
NOTES
Social Security is fully solvent until 2037 even now. What challenges?
A spectrum is not a binary opposition.
"Cling to" here, remarkably, prefigures Obama's 2008 gaffe regarding "bitter" Pennsylvania blue-collar voters " who cling to guns or religion or antipathy to people who aren't like them."
A courageous stance, advocating what "actually works," and Obama punches hard by placing "works" at the end (Strunk, Elementary Principles of Composition, Rule 18) as we will see, not once, or twice, but three times; an example of epistrophe, the inverse of Obama's current favorite rhetorical device, anaphora. I've marked this "Blank Screen," because nowhere does Obama actually say what he believes "actually works." One must assume that he can leave that unsaid, since "most of us are strong free traders and most of us believe in markets." One is reminded, again, that the collapse of Lehman Brothers — the shock that won election 2008 for Obama — was only 894 days away from the day of this conference.
[OBAMA:] For those on the left, and I include myself in that category1, too many of us have been interested in defending programs the way they were written in 19382, believing that if we admit the need to modernize these programs to fit changing times, then the other side will use those acknowledgements to destroy them altogether. On the right, there is a tendency to push for massive tax cuts, as Peter indicated from my speech at Knox College, no matter what the cost or who the target is, a view that stems from the belief that there is no role for government whatsoever in the challenges we face. Of course, neither of these approaches really works3.
NOTES
It's hard to be sure what Obama means here. Social Security was passed in 1935. The Minimum Wages Bil was passed in 1938. Could that be what he means? [snort!]
Epistrophe.
[OBAMA:] Before we came here, somebody was asking me, how do I maintain my idealism? I do because1 I think the American people know that neither of these approaches works.2 I think there is a broad consensus out there in the Country that we should be looking for common sense, practical solutions to the problems that we face. I think that there is a market. I think that there is a demand for solutions that are practical, that are based on facts, that are tested, and that require us to think in new ways.
NOTES
Obama doesn't really answer "how," unless "How do I" means "How can I," and idealism means pragmatism.
Epistrophe.
If the solutions are "tested," "practical," and "based on facts," then how do they require us to "think in new ways"?
[OBAMA:] A lot of the people who are here today have done that in the administration. Not only have they succeeded on many of their policies, but almost just as importantly, they have failed occasionally and have acknowledged those failures and adjusted their views. I think that is the kind of experimentation1 and attitude that all our policymaking has to pursue.
NOTES
FDR echo: "The country needs and, unless I mistake its temper, the country demands bold, persistent experimentation. It is common sense to take a method and try it: If it fails, admit it frankly and try another. But above all, try something."
[OBAMA:] One thing that we all know is that when you invest in people, people will prosper.1 When you invest in education and health care and benefits for working Americans, it pays dividends throughout every level of our economy.2 When you keep the deficit low and our debt out of the hands of foreign nations, then we can all win. Now, the economic statistics of the nineties that we are all so familiar with speak for themselves—income growth across the board,3 22 million new jobs, the lowest poverty rate in three decades, the lowest unemployment in years, and record surpluses.4 None of this, I would argue, happened by itself. It happened because the leadership we had, including many in this room, was willing to take on entrenched interests5 and experiment with policies that weren't necessarily partisan or ideological.
NOTES
Not always the same people, of course.
As below, working Americans are the passive recipients of "investments."
Though averages "across the board" conceal the increasing Gini coefficient.
The triumphalism of "The Great Moderation" still had 894 days to run.
Which "entrenched interests" were those? The unions, to pass NAFTA?
[OBAMA:] That is what I hope we will see from The Hamilton Project in the months and years to come. You have already drawn some of the brightest minds from academia and policy circles, many of them I have stolen ideas from liberally, people ranging from Robert Gordon to Austan Goolsbee; Jon Gruber1; my dear friend, Jim Wallis here, who can inform what are sometimes dry policy debates with a prophetic voice. So I know that there are going to be wonderful ideas that are generated as a consequence of this project.
NOTES
Here is Jon Gruber on "affordable," as in the Affordable Care Act: "An item is clearly not affordable if no one in a group can afford it. But, by the same token, it is wrong to say an item is unaffordable if anyone in a group cannot afford it. In considering affordability for a group, we need to establish a sensible benchmark whereby insurance is considered affordable if "most of" a group can afford it. We can disagree about what "most of" means, but it would be wrong to define "most of" only as "very close to 100%." Alrighty, then.
[OBAMA:] Not every idea will I embrace1, and I hope that one of the roles that I can play, as a participant in this process, is to not only encourage the work but occasionally challenge it. I will give one simple example.2 I think that if you polled many of the people in this room, most of us are strong free traders and most of us believe in markets. Bob3 and I have had a running debate now for about a year about how do we, in fact, deal with the losers4 in a globalized economy. There has been a tendency in the past for us to say, well, look, we have got to grow the pie, and we will retrain those who need retraining.5 But, in fact, we have never taken that side of the equation as seriously as we need to take it. So, hopefully, this is not just going to be all of us preaching to the choir. Hopefully, part of what we are going to be doing is challenging our own conventional wisdom and pushing out the boundaries and testing these ideas6 in a vigorous and aggressive way.
NOTES
Anastrophe, departure from normal word order for emphasis. Here Obama underlines that he's not really committed to any particular idea (except for what "actually works," of course).
But watch and see if he does.
That is, "Bob" Rubin, the man who called for indivdidual Social Security accounts (privatization) three days before Obama won his mandate for hope and change in 2008.
"Losers." Alrighty then.
These ideas resurfaced with the "skills mismatch" bullshit.
Which ideas?
[OBAMA:]
But I can't think of a better start, given the people who are participating today. I am glad that Brookings has been willing to provide a home for this wonderful effort.
Just remember, as we move forward, that there are real consequences to the work that is being done here.1 There are people in places like Decatur, Illinois, or Galesburg, Illinois, who have seen their jobs eliminated. They2 have lost their health care. They have lost their retirement security. They don't have a clear sense of how their children will succeed in the same way that they succeeded. They believe that this may be the first generation in which their children do worse than they do. Some of that, then, will end up manifesting itself in the sort of nativist sentiment,3 protectionism, and anti-immigration sentiment that we are debating here in Washington. So there are real consequences to the work that is being done here. This is not a bloodless process.4
NOTES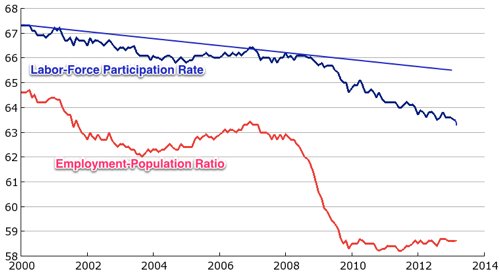 [OBAMA:] I think that as long as all of us retain that sense of passion1 about the ultimate outcome that we2 want, which is a stronger, more prosperous America than we are passing on to our children, then I think we will do well in this process. I am glad to be a part of it. Thank you very much.
NOTES
In the paragraph above, Obama may have meant "bloodless" in the sense of unimpassioned.
Who?
(Applause)1
NOTES
No doubt!
* * *
Well, we can't say we weren't warned!
UPDATE Notice the complete absence of Secular religion; that's for rubes.