Bloomberg reported that productivity gains in the US are tepid, and that's a sign of economic weakness:
Four years into an expansion, the productivity of American workers has slowed and some economists say there are few signs it will soon rebound.

Employee output per hour grew at an average 0.7 percent annual rate over the past 12 quarters, which economists at JPMorgan Chase & Co. say is a pace so slow it's rarely seen outside of recessions. Gains since the recovery began in June 2009 have averaged 1.5 percent, the weakest of the nine postwar expansions that lasted as long, according to IHS Global Insight.
This is more significant than readers might realize. The two sources of growth are demographic growth (more people) and productivity gains. Every time the topic of growth arises, some readers argue that we can't afford more growth because it implies more resource consumption. But productivity-driven growth does not have that character. It means your are producing the same goods and services with less labor input. So if you replace your receptionist with a phone prompt system, you don't have to have as much office space, you can get rid of the electricity and equipment once used to support him, the receptionist does not consume gas going to and from work, and so on. So, generally speaking, you reduce resource demands.
It also can't be stressed enough that the unprecedentedly high corporate profits we've seen are the direct result of businesses hogging the benefit of productivity gains for themselves. Warren Buffett famously warned in 1999 that a corporate profit share of GDP of over 6% wasn't sustainable. Analysts now peg the corporate share at anywhere from 11% to 14%.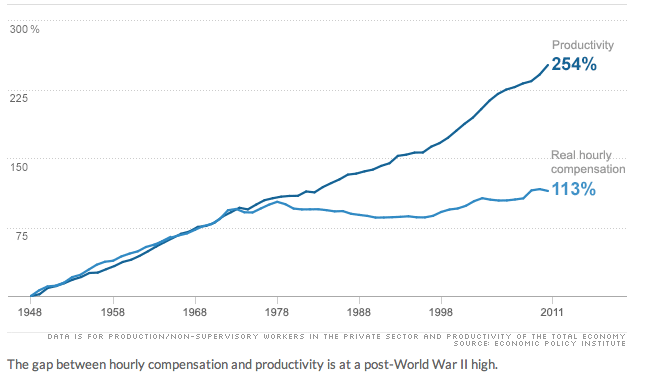 Now the Bloomberg piece argues that the reason that productivity gains are flagging is because employers don't see opportunities to deploy technology to improve output. But the reality is more complicated.
One of the big drivers of productivity gains has simply been making workers do more for the same pay. The evidence is pervasive. You see it in Walmart cutting staffing to the level where lines in stores and inability to keep shelves stocked is leading shoppers to go to other discounters and pay more as a result of the degradation of the shopping experience at Walmart. With Walmart itself accounting for over 2% of US GDP, the effect there is marked. Similarly, it appears that companies are increasingly asking employees to do un or underpaid work, in violation of labor laws. The rise of unpaid internships, too many of which violate with IRS rules, is one illustration (there needs to be a significant training component; the Conde Nast drill of having interns make copies and run errands for celebrity bosses in a no-no). And on the high end of the food chain, people that I know who are still on the corporate meal ticket are doing what would have been 1.5 to 2 jobs ten years ago.
In other words, the idea that technology has been the driver of productivity gains bears some examining. There is considerable evidence that it has also come from squeezing employees. And the Walmart example suggests that companies are hitting the limit of how far they can go without degrading the product/service to the point where they start losing sales (air travel shows that you can reduce the quality of the service a great deal and still not drive customers away).
And we have another "end of paradigm" dynamic at play. As we discussed in ECONNED, the US economy changed in the late 1970s from one where rising wages were seen as the driver of growth. Instead, policy-makers looked to deregulation (which was depicted as allowing companies to become more efficient) and rising levels of household debt allowed consumers to increase their spending levels in the absence of wage gains. But consumer debt is not productive debt (it does not fund drivers of economic productivity).
Even though consumers have been increasing their debt levels again, the biggest driver is student debt. And that's arguable the most negative. Student debt is senior and can't be discharged in bankruptcy, so it represents a millstone that borrowers carry with them for years, even decades, crimping spending in what used to be peak expenditure year and delaying new household formation. And student loan defaults are already scary high. The official 12% that are now 90+ days dqlinquent, as bad as that is, is misleading. That's based on the total outstanding when students get to defer making payments while in school. When you adjust for the percentage that are obligated to be making payments, the delinquency rate is much higher. The New York Fed provided this rough cut analysis based on the data in early 2012, which gives you a sense of the magnitude of the difference:
….we find that as many as 47 percent of student loan borrowers appear to be in deferral or forbearance periods, and thus did not have to make payments as of third-quarter 2011. Specifically, 17.6 percent of borrowers had exactly the same balance in the third quarter as in the second quarter of this year, and 29.1 percent increased their overall student loan balance by taking on new originations or accruing interest to the balance.

We then recalculate the proportion of borrowers with a past due balance excluding this group of borrowers. We find that 27 percent of the borrowers have past due balances, while the adjusted proportion of outstanding student loan balances that is delinquent is 21 percent—much higher than the unadjusted rates of 14.4 percent and 10 percent, respectively
In other words, both the number of borrowers and the amounts in delinquency roughly double.
Student loans have been making a meaningful contribution to aggregate demand.

If origination slows it's another negative for growth and output to add to the tax hikes and spending cuts.

This is not to say I favor the student loan channel for education. Quite the contrary, in fact.

But just like the savings and loan credit expansion leg propelled the Reagan years, the .com and y2k credit expansion the Clinton years, and the sub prime credit expansion the Bush years, to a much lesser extent the student loan credit expansion has supported the current modest recovery.

And when they end the support ends.
But the stock market continues to party as long as investors believe the Fed can sprinkle pixie dust on the financial markets and spare them losses. But as economist Herbert Stein said, "If something cannot go on forever, it will stop." We look to be nearing that point, but a lot of clearly unsustainable trends, like the dot-com bubble, went a lot further than the sober-minded thought possible. But the flip side is the longer we go past logical correction points, the uglier the day of reckoning is likely to be.