During the protracted negotiations over what was to become the 49 state/Federal mortgage settlement, New York attorney general Eric Schneiderman was hailed as a progressive leader and California's Kamala Harris was characterized as an opportunist.
Turns out the opportunist cut a much better deal for her constituents than the supposed true believer. Admittedly, Schneiderman laid the groundwork by forming a group seeking tougher terms from the banks than the Administration and the putative leader of the AGs, Iowa's Tom Miller. But as readers know all too well, Schneiderman torpedoed his group by taking a deal with the Administration to be a co-chair of an obviously toothless mortgage task force. Harris insisted on cutting her own deal for California, which included having her own settlement monitor, and installed the able and knowledgeable Professor Katie Porter.
Harris then further stymied one of the key aims of the deal, which was to institutionalize lax mortgage servicing standards (they include "drive a truck through them" permitted error rates and laughably low penalties) by pushing for, and getting passed, a Homeowner Bill of Rights.
One amusing contrast between the State/Federal settlement and the California Homeowner Bill of Rights: both called for an end to dual tracking, the process by which banks move forward with the foreclosure process even if the borrower has asked for a mod and the application/evaluation/approval process is underway. Porter found in late 2012 that servicers were still dual tracking; we also had a whistleblower report in 2013 that the practice was alive and well at Bank of America. Even the national settlement monitor Joseph Smith 'fessed up that gambling in Casablanca dual tracking continues: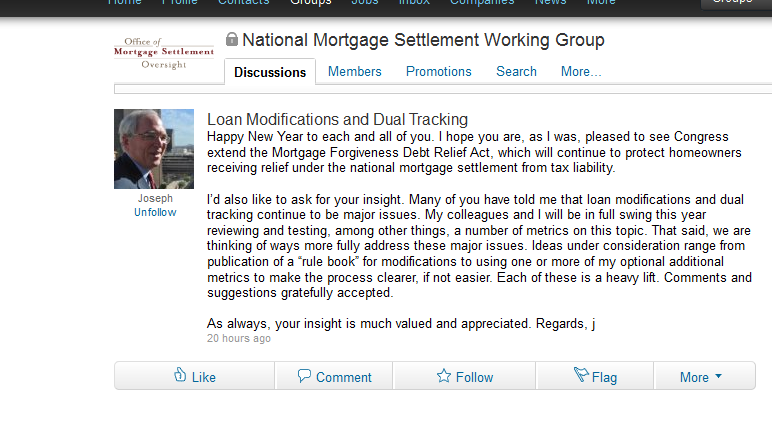 The California bill, however, gives homeowners a potent weapon: if the bank loses on an injunction, he pays the borrower's legal fees. And banks (well, in this case, a bank-friendly attorney) are howling like stuck pigs that they might have to pay when homeowners catch them breaking the law. From Housing Wire (hat tip Deontos):
A California man successfully halted a foreclosure sale on his property using the newly minted California Homeowner Bill of Rights to obtain a court injunction against two foreclosing parties: Bank of America and its ReconTrust Co. subsidiary.

For simply obtaining the HBOR injunction, the homeowner's attorney is requesting $20,255 in legal fees and costs – a compensation request that is permissible under HBOR since the legislation allots borrowers reasonable attorneys fees and expenses for successfully obtaining an injunction….

This is one of the first legal disputes to show the real strength of HBOR and it's effectiveness in stalling proceedings and increasing expenses for servicers that are accused of violating one of the provisions of HBOR.
Note that the award of fees is based on a preliminary assessment of the merits of the case:
The new case in question – Singh v. Bank of America (Recontrust Co.) – was filed by a borrower who accused BofA and Recontrust of violating HBOR's ban on dual-tracking.

Singh claimed the bank failed to respond to his request for a loan mod before filing for a foreclosure sale….

In evaluating HBOR and the plaintiff's allegations, the court said the homeowner "has adequately shown he is likely to succeed on the merits in light of California's new Homeowner Bill of Rights."
So the judge's view is the borrower is likely to win. Ahem, so that means it is probable that BofA did indeed dual track, which is hardly surprising given the independent reports of continuing abuses. Yet the amusing part of this article is the misplaced righteous indignation of the only commentator this case, attorney Robert Jackson of Jackson and Associates. The nerve of borrowers using their rights under the law!
f you add in the bank's own attorney fees, the injunction alone could carry a $60,000 price tag, Jackson estimates.

"They now have to file an answer to this thing, and they have to produce evidence showing they are in compliance before this case can go on," he added.

Not to mention, the bank is now subject to discovery – with those costs possibly running the financial firm another $50,000 at least, Jackson said.

The servicer also will have to pay legal fees and expenses to make a factual showing to set aside the injunction, which could be another $50,000 to $60,000 in legal expenses, Jackson suggested.

Meanwhile, the property in question has an online estimate of around $273,000, the veteran real estate attorney pointed out. So when you assess legal fees long-term, servicers could face $100,000 or more in legal expenses on a property not worth much more.
This is a classic example of the Upton Sinclair saying, "It is difficult to get a man to understand something when his salary depends on his not understanding it." Servicers and their allies continue to regard breaking the law as their prerogative. The fact that violating dual tracking requirements in California can result in servicers incurring all sorts of costs is a feature, not a bug. It's clearly going to take a lot of being whacked between the eyes with a two-by-four to get the message, so the sooner more borrowers come after them, the better.