Readers have asked from time to time for us to provide T-shirts so you can let friends and colleagues know you are a member of the Naked Capitalism community.
Since we are chronically in "cobbler's children go unshod" mode on almost everything admin related, it has taken an embarrassingly long time to get around to your requests. But hopefully the caliber and range of offerings will make up for the delay!
We now have a little shop at CafePress with NC T-shirts (mens and womens and long sleeved) in two designs, a jaunty llama and a fierce croc: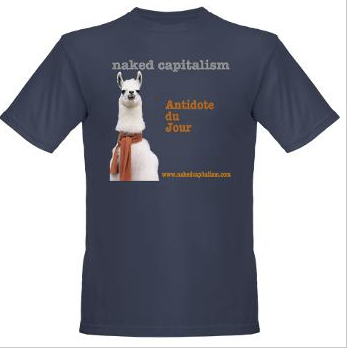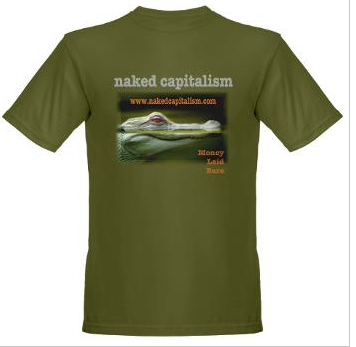 We also have a range of device covers: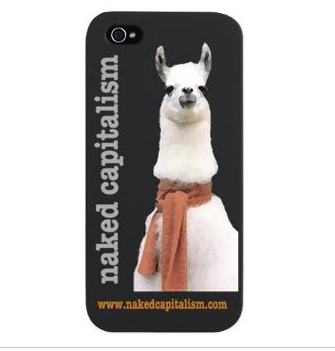 They normally come in more colors. I suspect CafePress has had a bit of a run with people making Mother's Day gifts. For instance, in many of the device covers they normally have acid green and bubble gum pink. To each his own, but the llama did not look so swell on those backgrounds, so I don't think the current color shortage is a great loss. However, the T-shirts normally are in more colors. Although the colors they have now actually work really well with our designs, they normally have a maroon-ish red and a blue, so if you are really set on those colors, try back in a week or so).
And totes: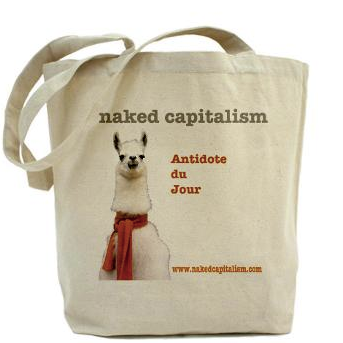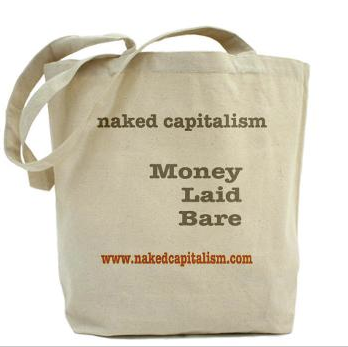 You can find them and more here: www.cafepress.com/nakedcapitalism
Hope you like the "Money Laid Bare" tagline too, which I've been waiting to deploy.
The designer, Maura G, dealt patiently with input from quite a few people who did not always agree, so a big BIG thanks to her, as well as the people who looked at the many versions she devised and gave considerable feedback (Lambert, Lynn, Scott, Kim, Marshall, Nathan).
Our intern Jessica found Cafe Press, which is making the goodies, and I hope you'll be pleased with their quality and service. They are super duper politically correct: union-made T-shirts (organic too!) and totes. They also print everything individually with state-of-the-art printers and ship around the world. And they have a 30 day money-back guarantee.
And yes, showing that you are a member of the Naked Capitalism community will help us, but perhaps in a different way than you anticipate. Not only will NC readers no longer have to identify themselves to each other by a secret handshake, but on each item we also get a small royalty. However, I have so many people who've helped with the site to whom I owe "thanks yous" that I'm likely to spend more on NC gifts to them than we'll get in proceeds. But it's all part of the keeping this enterprise moving forward.
I hope you'll find something you like and display it proudly!