Yves here. So what is the Fed going to do, now that it has delivered a big blow to the nascent housing recovery? Risk its credibility by beating a serious retreat on taper talk, or keep whistling in the dark and wait and see what happens to July and August home sales (and remember, most housing market data is reported with a nearly two month lag…)?
By David Llewellyn-Smith, founding publisher and former editor-in-chief of The Diplomat magazine, now the Asia Pacific's leading geo-politics website. Cross posted from MacroBusiness
From Bloomberg:
Mortgage rates for 30-year U.S. loans surged to the highest level in almost two years, increasing borrowing costs at a time when the housing market is strengthening and prices are jumping.

The average rate for a 30-year fixed mortgage rose to 4.46 percent from 3.93 percent, the biggest one-week increase since 1987, McLean, Virginia-based Freddie Mac said in a statement. The rate was the highest since July 2011 and above 4 percent for the first time since March 2012. The average 15-year rate climbed to 3.5 percent from 3.04 percent.
Here's the chart: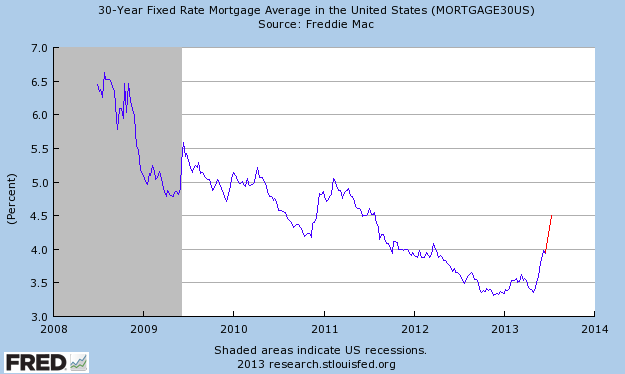 In short, the Fed has just tightened by five rate rises in two months. Why so fast? Well, as we know, central banks did blow a little bond bubble and deflating it is hard to control. For instance, foreign investors are fleeing the 30 year Treasuries that determine mortgage rates: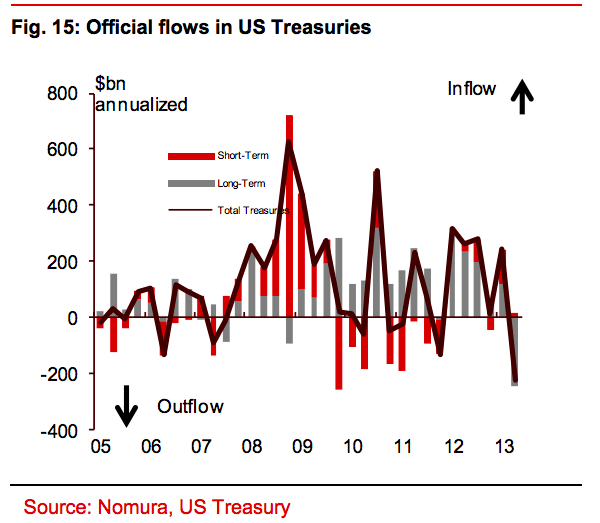 Still, the leap in rates is not as bad as it looks for the reason that most US mortgages are fixed-rate for the life of the loan. But it is a sore test for new lending which is showing its effects. From the MBA:
Mortgage applications decreased 3.0 percent from one week earlier, according to data from the Mortgage Bankers Association's (MBA) Weekly Mortgage Applications Survey for the week ending June 21, 2013.

The Market Composite Index, a measure of mortgage loan application volume, decreased 3.0 percent on a seasonally adjusted basis from one week earlier to the lowest level since November 2011. On an unadjusted basis, the Index decreased 3 percent compared with the previous week. The Refinance Index decreased 5 percent from the previous week to the lowest level since November 2011. The seasonally adjusted Purchase Index increased 2 percent from one week earlier. The unadjusted Purchase Index increased 1 percent compared with the previous week and was 16 percent higher than the same week one year ago.

"Interest rates moved up sharply following the Federal Reserve press conference last Wednesday where it was indicated that the Fed could begin tapering their asset purchases later this year," said Mike Fratantoni, MBA's Vice President of Research and Economics. "Mortgage rates increased by the most in a single week since 2011, and refinance application volume dropped to its lowest level in almost two years. However, applications for conventional purchase loans picked up by more than 3 percent over the week, and total purchase applications were 16 percent higher than one year ago, indicating that homebuyers are not yet dissuaded by the increase in mortgage rates. Government purchase applications dropped again, likely a function of the recent increase in FHA mortgage insurance premiums."
Good to see applications holding up for now but refis point the way for house prices which will slow in the next few months. I'm sure the FOMC had in mind some easing in asset markets when it embarked on its "tapering" rhetoric. But in an economy growing under 2% in the first quarter, rhetoric is really all it can be for now. As stock markets have suddenly realised.
Yves here. I'm not sure the MBA information is as comforting as it appears on the surface. The reactions I've gotten from people who were seriously interested in buying a home is "OMG, I had better jump on this before the rates go even higher." So I'd hazard you see a cross-current between people who have decided to accelerate their buying timetable (to the extent they can), which will have the effect of pulling forward some demand, and people suffering from rate shock, who are adjusting to the decline in their purchasing power and rethinking their plans. Some of them will presumably still go ahead over the summer and buy less or less well located homes, but others will wind up not finding anything they like in their new diminished budget. Reader input encouraged.