Dear readers, if you are on RSS or Twitter, you are not getting the final version of Links. I had to launch at 7:00 AM. Please come to the site later.
Melody Modulates Choir Members' Heart Rate Science Daily (Susie Madrak)
Hero Fukushima ex-manager who foiled nuclear disaster dies of cancer RT (martha r). Sad but also notice official denials that his death of cancer was due to exposure to high levels of radiation.
The Rise of The Science Philistines: Canada's Chief Science Regulator Announces That "Scientific Discovery Is Not Valuable Unless It Has Commercial Value." Jonathan Turley (Chuck L)
The Looting of Asia Chalmers Johnson. London Review of Books (Lambert). Ten years old but still interesting, particularly if you read Cryptonomicon.
China Trade Surplus Widens Wall Street Journal
The Struggle for Influence in Syria CounterPunch (Carol B)
First Look at Egypt's Constitutional Declaration Al-Monitor (furzy mouse)
Europe's rich 'could face uprising similar to Peasants' Revolt' Telegraph
IMF slashes global growth forecasts Financial Times. Quelle surprise!
'When the facts change, the IMF won't change its mind' Jeremy Warner, Telegraph
Mad Latvia defies its own people to join the euro Ambrose Evans-Pritchard, Telegraph
English revolution in House of Commons: Plan to give England's MPs right to veto on issues not affecting Scotland, Wales or Northern Ireland Independent (Chuck L)
Libor interest rate to be controlled by NYSE Euronext BBC
The Lac-Mégantic Tragedy and American Capitalism Knut, Firedoglake
Big Brother is Watching You Watch:
Cameras Catch Mystery Break-In at Whistleblower's Law Firm Foreign Policy
Linchpin for Obama's plan to predict future leakers unproven, isn't likely to work, experts say McClatchy (ginnie nyc). OMG, look at how they suggest screening for people. 1. The criteria are vague and stupid and 2. Many would not be hard to game!
News Flash: Obamacare Haters Hate Obamacare Cass R. Sunstein, Bloomberg. This is REALLY REALLY lame. Not even a pretense at a substantive defense.
Why the City of Miami Is Doomed to Drown Rolling Stone (Chuck L)
Protecting a Drowning Man from Sunburn Robert Rapierm . On Keystone. Lambert is curious as to what readers make of this blogger.
The shale gas revolution: is it already over? Cassandra's legacy. I don't think this is right. I don't follow this space closely, but basically Chesapeake developed way too many wells way too fast and created a glut, which cratered nat gas prices. Much consternation from producers about this. That was expected to lead to a postponement of development projects until the enough of the wells currently in production start tailing off (as the chart shows is happening, shale gas wells peak quickly and have very short lives compared to oil wells). So once pricing reaches a level developers like better, one would expect to see more wells being drilled.
Rent-a-Paramilitaries Freak Out Wisconsin TPM Cafe (barrisj)
Quantitative easing and the curious case of the leaky bucket John Kay, Financial Times
Brussels sets up clash with Berlin over banks Financial Times
Wall Street Rips Off 'The Sting' Matt Taibbi
The Costs of "Good" Economics James Kwak
Antidote du jour: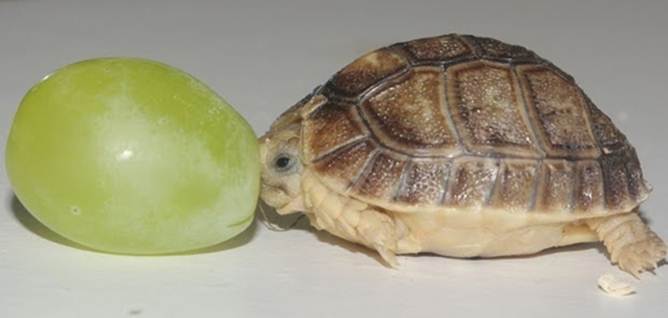 And deviating from NC's usual practice…a non-animal bonus antidote (Lawrence R):