By Patrick Durusau. Cross posted from Another Word for It
Just in case you missed it, Groklaw has gone dark.
In Forced Exposure, Pamela Jones outlines why Groklaw cannot continue when all email is subject to constant monitoring by the government.
From the post:
I hope that makes it clear why I can't continue. There is now no shield from forced exposure. Nothing in that parenthetical thought list is terrorism-related, but no one can feel protected enough from forced exposure any more to say anything the least bit like that to anyone in an email, particularly from the US out or to the US in, but really anywhere. You don't expect a stranger to read your private communications to a friend. And once you know they can, what is there to say? Constricted and distracted. That's it exactly. That's how I feel.

So. There we are. The foundation of Groklaw is over. I can't do Groklaw without your input. I was never exaggerating about that when we won awards. It really was a collaborative effort, and there is now no private way, evidently, to collaborate.

I'm really sorry that it's so. I loved doing Groklaw, and I believe we really made a significant contribution. But even that turns out to be less than we thought, or less than I hoped for, anyway. My hope was always to show you that there is beauty and safety in the rule of law, that civilization actually depends on it. How quaint.
I won't say that I always agreed with Groklaw but I am sad to see it go.
While I respect Pamela's judgement to go offline, I won't be following her nor should you.
What revolution ever started and continued without innocent victims?
Would the march from Montgomery to Selma been the same if the police issued misdemeanor summons?
We know the use of Bull Connor's police dogs: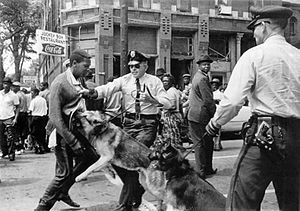 and fire hoses: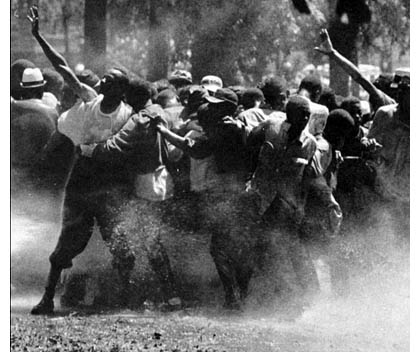 during the Children's Crusade, lead to the passage of the Civil Rights Act of 1964.
The sacrifices of many nameless (to television viewers) victims gave the civil rights movement its moral impetus.
How could others turn away after watching victims simply accepting abuse?
The same will be true for the current police state. The longer it exists the more mistakes it will make and the more victims it will accumulate.
Innocent people going to be harassed, innocent people are going to lose their jobs, innocent people are going to die.
Without innocent victims, there will be no moral impetus to dismantle Obama's police state.
Ask yourself, would you have been on the Edmund Pettus Bridge with the marchers, or on the other side?