By Lambert Strether of Corrente.
I'm not going to be mowing the lawn this Labor Day weekend.
That's because I won't and don't have a lawn, and mowing the lawn sounds like work; in fact, it was work, when I undercharged all the neighborhood for doing it when I was a teenager. I don't like work, unless it's work I want to be doing, like blogging. Anyhow, I recommend gardening for a lot of reasons, but one of them is sheer pleasure. Here's the view from my summer office, out in the garden: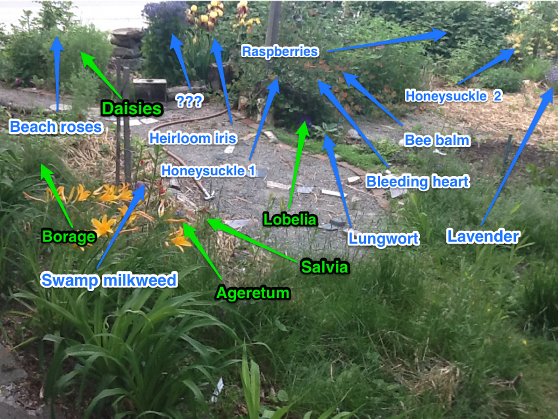 (Green is annual; blue is perennial.)
So, from where I sit at my desk, I can see sixteen kinds of flower. (This photo was taken in June, before the zinnias, poppies, morning glories, and tomatoes. Not counting the weeds. And I now see that I've forgotten to mark the pink clover, and the white clover.) And I can see and hear the honeybees, bumblebees, butterflies, and hummingbirds that these flowers evolved to entice and seduce. And the entrance to my office is framed by beach roses — tough plants resistant to sand and salt spread by the town in the winter! — so I begin my day outside with a welcome fragrance. (The Japanese beetles were very light this year.) Running a construction-grade, grounded extension cord from the house through the winter squash and tomato beds to my desk for power is one of the best things I ever did for myself. And WiFi means I didn't have to figure out how to do the same thing thing with an ethernet cable!
As you can see, my garden is informal and ragged round the edges, although edges it does have, and by design: People like to talk to me, but they're on one side of my living fence, the raspberry bushes, and I'm on the other, the ideal existential position for an INTJ, curb appeal or no. But informality means I don't have to weed, which is work, which I don't like, so I just mentally reformulate "weeds" into "future mulch" and rip the bastards up when I think they might give rise to comment in the town. I don't know what my rose-growing grandmother would have thought of that attitude, which could matter since, as it turns out, what I've created is a grandmother's garden:
ELLSWORTH — Bachelor's buttons, borage, sweet peas, foxgloves, pinks, bee balms, larkspur, comfrey, hyssop, rosemary and more, would have been found in gardens of yore.

The Ellsworth Garden Club invited Heirloom Garden of Maine to speak at Woodlawn Museum Monday about the Grandmother's Garden movement [Really? Hmm….] in American history.

The term Grandmother's Garden is used to describe a style of garden in America between 1865 and 1915.

Grandmother's Gardens would be enclosed, informal gardens close to a house and tended by one woman [or person]. They were often framed with rosebushes.
Well, that sounds an awful lot like my garden. I've underlined the similarities; borage (hat tip, insanelysane) was the first one that jumped out at me. And my grandmother Strether was a great one for old-fashioned roses.
So I thought I'd go looking for this "movement," which as it turns out is not all the easy to find information about. Readers?
This is the best material I can find. I've included two images from the Alabama Cooperative Extension, and prose from the University of Vermont Extension. The flowers I've grown are underlined; not all appear in the photo above:
… Many of the plants and the gardening styles today are similar to those of a century ago, giving credence to another saying that nothing is really new, just rediscovered. This gardening style and accompanying plant palette is a trend often known as "Grandmother's Garden."

It is really the American cottage garden, an old-fashioned garden of hardy perennials, annuals (many self-sown like Johnny Jump-ups), and native American plants. Although native plants are increasing in popularity now for reasons such as helping pollinators, a century ago they often were more readily available than new introductions.
Permaculture teaches us to be very conscious of pollinators: Bees, butterflies, hummingbirds.
In addition to native plants, sunflowers were popular then, as they have become once again. Tropical plants, especially those with bold foliage [like hostas?]., were introduced into the more formal Victorian gardens, another trend rediscovered in today's gardens. These include such as the canna and castor bean [or Scarlet Runners?], large elephant ears and smaller but similarly shaped caladiums. These days we see lots of ornamental grasses used in gardens, such as the fountain grass, just as they used then. Roses, peonies, phlox, and hollyhocks were among the perennials commonly planted and are still popular now.

Often appearing haphazard or growing at random, grandmother's garden was actually designed as a painting with an eye to composition using color, shape, and texture. It is no wonder then that so many painters, writers, poets, and other artists created such gardens. These gardens inspired them and often are seen in their works. …

If you'd like to create such a garden, to be an "artist" or "genius", landscape architect Thomas Rainer notes that three design principles should be employed. Cottage gardens were overflowing with massed plants; individual plant types aren't as important as sheer volume.
For example, the raspberry patch, where "sheer volume" means the patch also works as a living fence; this is the permaculture principle of stacking functions.
You shouldn't be able to see soil or mulch, and don't use groundcovers.
Here I differ from Grandmother's practice, because I use sheet mulch over the soil, and clover as a groundcover, too (pollinators).
Secondly, many "filler" plants were used. These perform as their name indicates, to fill in around other plants. Examples of fillers might be the spreading perennial geraniums or masses of low ornamental grasses.
This I don't do, and it sounds like a good idea.
Thirdly, cottage gardens had a mix of flower types for variety. You'll want to use upright spikes such as hollyhocks or foxgloves or false indigo, along with button shapes such as bee balm, daisies such as cone flowers, clusters such as tall garden phlox [or Black-eyed Susans?], and plumes such as astilbe or goatsbeard [or milkweed?].

These American old-fashioned gardens of yesteryear differed from gardens abroad, such as the English gardens, in that they were most often the work of one person (usually a woman) instead of a team of gardeners (usually men). They were often rectangular beds, bordered by planks, stones [and bricks], or low-growing plants, compared to the English borders.

These old-fashioned gardens also were different from the more formally designed estate gardens of the period, the formal Victorian gardens, or the functional gardens of working farms. The old-fashioned garden often incorporated vegetables and fruits for aesthetics and show, rather than just for food as in the working and prior colonial gardens. Such "multi-functional" gardens are once again popular, and a component of permaculture.
My garden is indeed multi-functional, but I don't use vegetables decoratively (except for the Scarlet Runners that I ran up a tree inspired by those English permaculturalists with the extraordinary cardigans).
Unlike the larger estate gardens and those of England, which were separate from the living quarters and entities unto themselves, the old-fashioned gardens were located close to the house. They often were used as intimate living spaces or an outdoor room, much as we see in today's home gardens.
My garden is in permaculture's Zone 0, right next to the house, and is, as we have seen, my office during the warmer months.
Most of our garden traditions and trends today originated during the period of Grandmother's Garden (1865-1915). While we often hear of the influence of English gardens and horticulture literature of that period on American gardens, many of these concepts actually were written about prior to these books and ideas being known in America.
One wonders why the 1865 starting point? Perhaps it's from the title of the goto book on the topic, May Brawley Hill's Grandmother's Garden: The Old-Fashioned American Garden 1865-1915, though an Amazon search of the book on "1865" gives no help. Still, the book sounds pretty neat:
An art historian specializing in American art, Hill combines her expertise in this area with her passionate interest in gardening in a splendid book focusing on gardening in the U.S. between the Civil War and World War I. She traces the development of a native garden style through poems, letters, journals, and garden writing found in period books and magazines. The book's most impressive aspect is the 75 opulent impressionist paintings reproduced in full color.
So, herewith, an iPad-manufactured "impressionist" version of the beach roses on either side of the path to my office: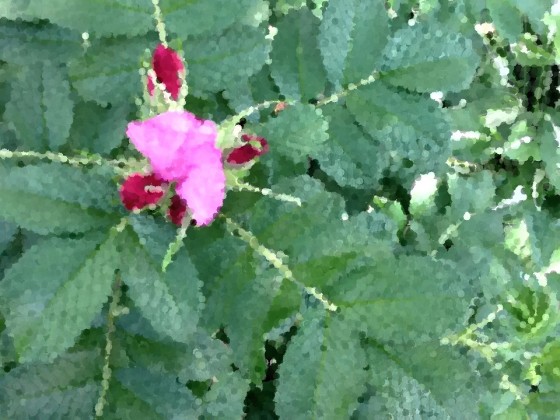 I like gardening because it's forgiving (assuming the woodchuck doesn't chow down on all my vegetables, in which case there will be no forgiving at all). I don't always do the right thing, but much more often than not, I find myself having done the right thing without knowing what I was doing. So, I've been working on this patch for about five years now, each year making it more and more both itself and what I want, and it turns out that for the whole five years, I've been working toward a "Grandmother's Garden," without knowing it.
Very strange. I don't know if there's a political aspect to this, unless it be that labor that is not alienated is much more like play; fun, not grim. And of course there's a social aspect to gardening, in that I discuss design and technique with others of like mind, and we sometimes help each other out, or exchange seeds and scions. Then, too, I grow much more than I eat (not having closed the seasonal circle to canning), so I get a lot of pleasure out of giving vegetables away. But if there's one lesson I'd take away from my gardening experience, it would be along these lines:
Take my street address as a proxy for my house and garden, together; my "patch," as it were. My patch is a node embedded within a number of networks: The USPS delivery route; the water system; the sewage system; the power grid; the local loop of the phone system; the road system; the financial system from the nearby ATM; propane, wood, and heating oil delivery; and my social network, online and off. These stacked systems, all bearing down on the single node of my "patch," seem complex individually and in the aggregate: And yet they are as nothing, childish toys, beside the interwoven complexity of a tiny little garden, itself as nothing beside the scale and complexity of the mycelial mat within the soil (which the fanciful might consider Gaia's nervous system).
But back to the lesson, which would be: As for binary categorization, less of it. And as for systems thinking, both historically grounded and dynamic, more of it. It's more fun, it's more true, and it's more performant: More likely to get us out of the hole we're in. I wish I were a lot better at it!*
NOTE * Of course, the way NC tracks financial flows and their discontents is exactly the sort of systems thinking I have in mind….
ADDENDUM
And not to count my tomatoes before they are ripe, but from another "grandmother's garden" post:
Sun-Warmed Beefsteak Tomatoes

The key to this dish is that the rest of the meal must already be on the table before it is prepared.

Ingredients

Fresh, ripe, garden Beefsteak tomatoes, or farmers market, organic tomatoes

Olive oil

Fresh ground pepper & salt

Method

The tomatoes should be warm and fragrant from the sun, just picked if possible. As everyone begins eating, slice and serve the still warm tomatoes. They may be drizzled with olive oil if desired. Add fresh ground salt and pepper to taste. If using organic farmers market tomatoes try leaving them outside to 'sun warm' them.
Yum!