By Lambert Strether of Corrente.
Yes, ObamaCare, even if it has been driven off the front page by the NSA and Syria, is still lurching along; there are 23 days 'til open enrollment begins, even if October 1 has been very conveniently redefined as a "soft launch" that doesn't really matter, the only date that really matters being January 1, 2014, when you can actually purchase the ObamaCare product, because Jeebus, who wants to make huge household budget decisions that could affect your 2013 1040 in 2013? (But can't somebody tell HHS that October 1 doesn't matter? Because it's all over their site.)
The administration, as it is wont to do when faced with a tough sell, has deployed The Big Dog. The Times called Clinton's speech "wonkish," but, alas (rather, necessarily) it was filled with evasions and half-truths. Selecting one:
"This does give us the best chance we have to achieve , provide higher quality health care and lower the rate of cost increases, which we have got to do in a competitive global economy," he said.
Well, "nearly universal" is what I'd call lawyerly parsing. Of the approximately 50 million uninsured, ObamaCare projects to cover only 7 million of these in its first year, and 30 million of those uninsured uncovered when fully implemented. So how "nearly" is that? I'd say not very. I'd also say that any American deserves health care just as much as any other American — we are all equal in suffering — yet this thought somehow never occurs to ObamaCare apologists like former President Clinton, who, like Obama and the rest of the political class, is ever comfortable throwing millions under the bus.
And for those who are covered, coverage is, basically, random. Luck of the draw. As the launch date, soft or not, approaches, we're getting more detail:
Residents in Seattle and Portland, Ore., will pay $213 and $165 monthly respectively for the same lowest-cost Bronze plan, which will cost $308 in New York City and $336 in Burlington, Vt.
First, look at the sleight of hand in the phrase "the same … plan"; the benefits in the plans are the same on paper (or on the website), but "words are wind," as they say in Game of Thrones. The plans will have different networks, different definitions for services, different delivery of services. Anybody who's had to cobble together health care from different providers knows this; and Kaiser did a study that proves there are "substantial variations among plans," even when insurance actuaries are given the same set of definitions for plan benefits.
So now we've got ObamaCare being random in two dimensions: Random because the price depends on where you live; in California, it depends on what county you live in. And random because you really can't compare individual plans on the Exchanges, as ObamaCare promises, like flat-screen TVs: The plans are incommensurate! So Beltway triumphalism — "Get. Excited." — that we finally have some notion of what ObamaCare will cost the average citizen — is completely misplaced: We've got a price, but we don't have a product, and the price of the (incommensurable) product varies whimsically by our location. If the Post Office worked like ObamaCare, every zip code would have a stamp with a different price on it!
And why is the ObamaCare product random? And why are the prices random? Because for all the bluster about ObamaCare being universal — as we have seen, it isn't — ObamaCare makes no commitment to universal coverage, and does not treat health care as a right, unlike single payer Medicare for All. That's because ObamaCare is in its essence a market state solution, a splendid example of cognitive regulatory capture, where the government — using the word "consumer" instead of the word "citizen" is the tell here — adopts the private health insurer mindset, and actually forces people to buy a product, while all the while turning over the profits to corporation whose markets it made!
Perhaps that's why, when a Democratic loyalist blog finally decides to do some education on ObamaCare, it doesn't start with the actual benefits ObamaCare will deliver*, and certainly doesn't mention let alone advocate for proven programs, like single payer Medicare for all, that could actually deliver the services ObamaCare claims to. No. What do they do? They begin a series that will explain the arcana of private health insurance. Good call, because that's what ObamaCare is.** Balloon Juice:
I'm a bureaucrat at a health insurance company which most of you have never and will never hear about. My job is to be a subject matter expert on a fairly arcane set of knowledge. I have seen some posts and some great comment threads at Balloon Juice where great questions are being asked and basic mechanical knowledge would be very useful. I will be writing a series of posts over the next couple of weeks/months that attempts to explain why a profit seeking insurance company does what it does.
A project which struck me, as it struck others more tactful, as the final collapse of the "progressive" Obama supporter into whimpering irrelevance (if constitutional scholar Obama's gutting of the Fourth Amendment with the NSA scandals and peace candidate Obama's warmongering on Syria had not already achieved that). If we'd passed single payer Medicare for All in 2010, we would already have saved a trillion dollars and a lot of grief. So why is a putatively progressive blog explaining how the completely parasitical, rentier-driven business of private health insurance works, instead of trying to abolish it? If you've got a tapeworm in your gut, you don't try mitigate it, or "tweak" it, or have a talk with it, to persuade it to devour less of your substance: You get treatment and kill it!
Finally, I've been saying for awhile that the ObamaCare rollout feels like a political campaign because it is a political campaign. The rollout, remember, does not target the sick who actually need care. Nor does it treat all citizens equally; instead, market segmentation is used, and only those likely to respond to marketing are targeted. And who is targeted? Well, youth — we are told that the not-yet-old must subsidize the no-longer-young*** — Blacks, and Hispanics, especially in important Democratic states like CA. At this point, a suspicious mind might notice that these demographics are suspiciously close to Obama's demographics as a candidate. And a suspicious mind did. The LA Times:
Administration officials are also including Latinos and African Americans to encourage them to sign up for coverage.
So that cat's out of the bag now.**** Maybe if I have the energy I can get to how ObamaCare is also throwing walking around money to Democratic front groups for ill-defined services, but that will have to wait for another day.
Meanwhile, just think: If we had single payer Medicare for All, maybe Breaking Bad's Walter White — who had health insurance, after all — would have remained a prideful, resentful, ego-driven sociopath chemistry teacher, instead of becoming a drug lord. It's a funny old world.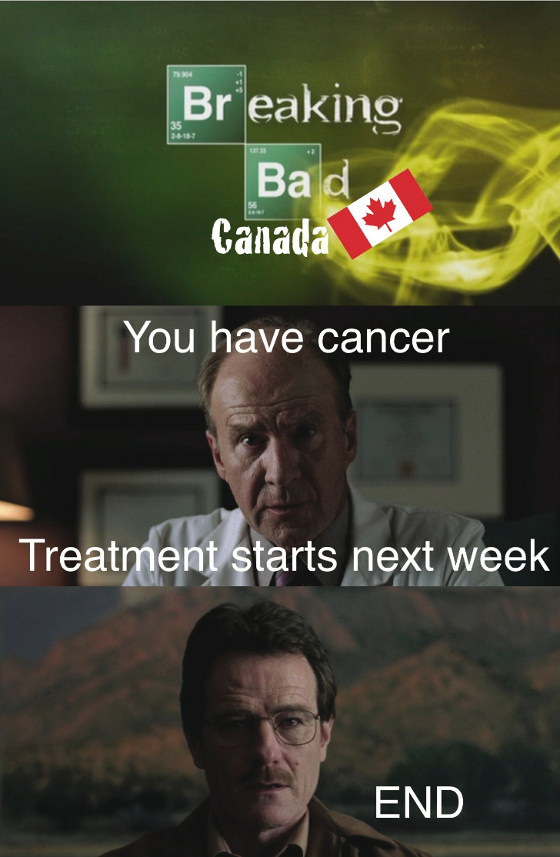 NOTE * Ritual caveat: A program as huge as ObamaCare will undoubtedly deliver benefits to some. However, it cannot and will not deliver benefits to all, equitably. It's not designed to do that.
NOTE ** Which would be why Medicaid and Medicare are both left as entirely separate systems. Eh?
NOTE *** Note privatized actuarial logic, so distant from a sense of "provide for the common welfare."
NOTE **** One does not need to assume that ObamaCare will provide real benefit even if Obama is trying to sell it (or, in this case, upsell it, his 2008 and 2012 elections having been the initial sale).