One of the reasons I haven't weighed in with the obligatory Lehman five year anniversary piece is that so many of them are variations on a limited range of themes, to wit:
The Horror of the Meltdown

Hagiography (and Revisionist History) of the Great Men Who (Allegedly) Saved Us from the Horrors of the Meltdown

Revisionist History on Behalf of Various Parties Who Let the Perps Get Away with Wrecking the Economy for Fun and Profit

How Nothing Much Was Fixed

How/Why All Those Smart People Didn't See It Coming
Mind you, we've been getting a steady diet of these types of stories for years, so a concentrated dose, particularly for someone like yours truly, who was pretty attentive to the events in real time and all the flailing around to deal with the upheaval and engage in reregulation theater, is cloying.
And aside from all this rehash feeling more like an overdose of tired tropes than new insight, the focus on what has come to be known as Lehman weekend is also the most bankster-flattering frame for viewing the crisis. Making Lehman the critical episode averts attention the fact that the perturbations began more than a full year earlier, when the asset-backed commercial paper market seized up, and went through two additional acute phases, each requiring more radical interventions before the turmoil of September-October 2008. It also puts the spotlight on the collapse of Lehman itself, the loss of the next domino, AIG, and the political and market mayhem of the next few weeks to prevent further wreckage.
If I were a propagandist, I'd want the public to equate the crisis with the Lehman implosion. The Lehman death spiral is strongly identified with the Andrew Ross Sorkin "great men struggling to save the world economy" version of events, as well as the "could/should Lehman have been saved?" debate. It also takes attention away from the bigger questions of how much the crisis really cost, and how the Obama Administration and the Fed continued to subsidize the banks even while pretending that the crisis was past and everything was fine (ZIRP and QE, which are taxes on savers and retirees, the continuing foreclosure/mortgage mess, which was acknowledged in Geithner's infamous "foaming the runway" comment to be all about sacrificing homeowners for the benefit of bank balance sheets). Perhaps the ugliest part of this picture is that the officialdom believes its own PR, that a zombified economy with broadly-measured unemployment in the mid-teens and years of a desperately difficult job market for young adults is a good outcome and they can rest on their laurels.
This year, the Lehman meltdown anniversary has brought out some new variants on old post-crisis themes. The add-on to the "Great Men Who Saved Us From the Meltdown" account is to contend that their efforts were successful when viewed over a longer time frame. An example is New York Magazine's Yes, Wall Street Has Changed Since Lehman Went Bust. Let's look at one of its arguments:
Complaint: Nobody on Wall Street has been punished for what happened.…

[I]t's true that the Jimmy Caynes and Dick Fulds of the world are free men, and that this fact is emotionally grating….

The truth is, the big banks have been punished for the crisis in the way that hurts them much more than jail time: on their balance sheets. They've spent a staggering $103 billion on lawsuits stemming from the crisis (more than their entire 2012 profits, Bloomberg notes), traded below their book values, and seen their returns on equity (a core measure of profitability) plummet so low that bankers are worried that investors will give up on them.
Huh? This obtusely misses the issue. Who gets hurt by this litigation? Not the responsible parties, the bank executives and producers, but bank shareholders.
In addition, the legal costs he cites are all legal costs since the crisis, not all legal costs that resulted from the crisis. Recall that Josh Rosner developed a rap sheet as long as an arm for JP Morgan. Here is his list of of the matters underlying this $8.5 billion of regulatory settlements:
Bank Secrecy Act violations;
Money laundering for drug cartels;
Violations of sanction orders against Cuba, Iran, Sudan, and former Liberian strongman Charles Taylor;
Violations related to the Vatican Bank scandal (get on this, Pope Francis!);
Violations of the Commodities Exchange Act;
Failure to segregate customer funds (including one CFTC case where the bank failed to segregate $725 million of its own money from a $9.6 billion account) in the US and UK;
Knowingly executing fictitious trades where the customer, with full knowledge of the bank, was on both sides of the deal;
Various SEC enforcement actions for misrepresentations of CDOs and mortgage-backed securities;
The AG settlement on foreclosure fraud;
The OCC settlement on foreclosure fraud;
Violations of the Servicemembers Civil Relief Act;
Illegal flood insurance commissions;
Fraudulent sale of unregistered securities;
Auto-finance ripoffs;
Illegal increases of overdraft penalties;
Violations of federal ERISA laws as well as those of the state of New York;
Municipal bond market manipulations and acts of bid-rigging, including violations of the Sherman Anti-Trust Act;
Filing of unverified affidavits for credit card debt collections ("as a result of internal control failures that sound eerily similar to the industry's mortgage servicing failures and foreclosure abuses");
Energy market manipulation that triggered FERC lawsuits;
"Artificial market making" at Japanese affiliates;
Shifting trading losses on a currency trade to a customer account;
Fraudulent sales of derivatives to the city of Milan, Italy;
Obstruction of justice (including refusing the release of documents in the Bernie Madoff case as well as the case of Peregrine Financial).
Mind you, most of the ones that resulted in large dollar amounts likely resulted from the filing of litigation. Also note this list and thus the $8.5 billion total excludes payouts made by JP Morgan resulting from private lawsuits, like the $50 million awarded to billionaire Len Blavatnik because the bank lost $100 million of his money as a result of violated its guidelines for investing funds in a low-risk cash management vehicle. Finally, that total is the amount of regulatory settlements only and does not include JP Morgan's legal costs.
Now admittedly JP Morgan has the most extreme skew of all the major banks in terms of how much bad conduct it has engaged in outside the mortgage arena. Nevertheless, you get the picture that calling all the legal costs that banks have incurred since the crisis as crisis-related is just plain misleading.
Finally, in many (likely nearly all) cases, the damages would be tax deductible, and third-party legal expenses certainly would be. So comparing these largely pre-tax charges to after-tax dividends is yet another bit of misdirection.
Let's now turn to the stories you should be reading but from what I can tell, aren't:
The Media and Pundits Are Wrong When They Call the Crisis a "Housing Crisis". Repeat after me: it wasn't a "housing crisis." A "housing crisis" would still have been ugly, but it would not have produced a meteor-hitting-the-planet level of disruption to the markets. Look, subprime was a $1.3 trillion market. Losses were roughly 40%. That crisis would have produced a really serious recession, but not a financial system near- death experience.*
This was an "wildly interconnected and undercapitalized big financial firms got high on CDOs and other leveraged bets on housing and killed themselves and got turned into zombies" crisis. CDOs and credit default swaps allowed banks, monolines, and AIG to wind up with exposures way way in excess of the real economy value of subprime lending.
How Gillian Tett Ran Rings Around All the Financial Regulators in the Runup to the Crisis. There's been some effort in recent years to single out economists like William White, Claudio Borio, and Steven Keen, who warned that the bubbles underway were likely to end badly. But the commentators warned about the uniquely destructive feature of this crisis, the amplification of real economy exposures, haven't gotten the kudos they deserve. The Financial Times' Tett and an astonishing analyst named Henry Maxey were among the few that wrote about how the leverage-on-leverage created by CDOs prior to the crisis and their potential explosive impact. The regulator that was closest to having a good real time reading (as in had many of the critical details and risks right but didn't appreciate the key mechanisms till later) was the Bank of England in its terrific semi-annual Financial Stability Reports. Tett has been indirectly acknowledged with her star turns (the most notable in Charles Ferguson's Oscar-award-winning Inside Job) but more formal recognition of the significance of her pre-crisis work is way past due.
Simon Johnson Was Right, Dammmit, and the Looting Continues. While many of the accounts of the last few days discuss regulatory reform and generally conclude not enough was done, few will take that sorry fact to its logical conclusion, namely, that the financial services industry is still predatory and parasitic.
Simon Johnson, in May 2009, described the crisis as a "quiet coup" that cemented the control of financial oligarchs. The resolution of the crisis has left them even more deeply entrenched. Not only did they come out richer from the "blow up the economy for fun and profit" exercise (Wall Street bonuses in 2009 and 2010 were higher than record 2007 levels), but the rescues also placated the monied classes by goosing asset values and accelerating the redistribution of income away from ordinary people to the 0.1% and their bag-carriers. Emmanuel Saez, who with his regular co-author Thomas Piketty is generally recognized as the most authoritative expert on income and wealth inequality in the US, just released his latest update last week. It's clear who benefitted from how the crisis was resolved: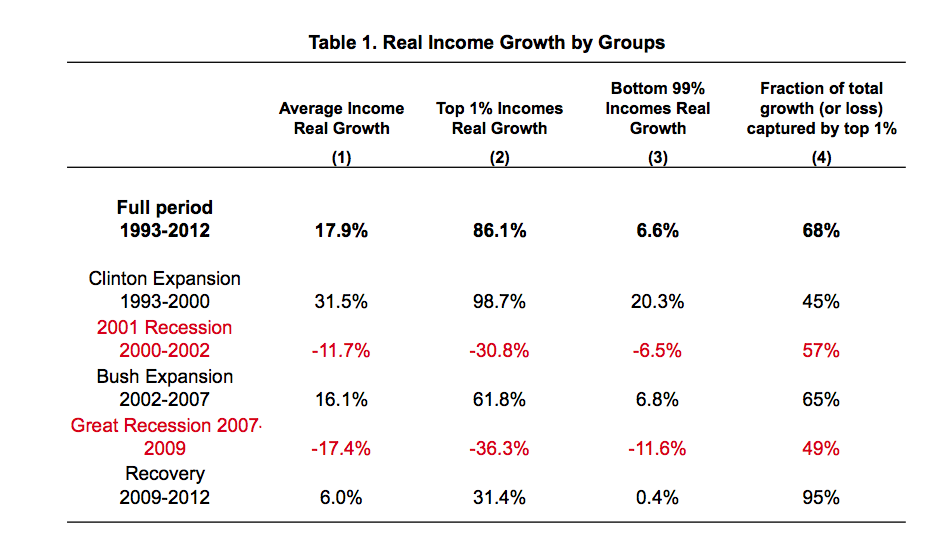 Big Finance Could Have Been Reformed and Obama is the Reason it Wasn't. The resigned "the banks were too powerful" meme is convenient and completely untrue. We wrote in 2010:
Recall how we got here. Early in 2009, the banking industry was on the ropes. Both the stock and the credit default swaps markets said that many of the big players were at serious risk of failure. Commentators debated whether to nationalize Citibank, Bank of America, and other large, floundering institutions.

The case for bold action was sound. The history of financial crises showed that the least costly approach is to resolve mortally wounded organizations, install new management, set strict guidelines, and separate out the bad loans and investments in order to restructure and sell them…

The widespread, vocal opposition to the TARP was evidence that a once complacent populace had been roused. Reform, if proposed with energy and confidence, wasn't a risk; not only was it badly needed, it was just what voters wanted.

But incoming president Obama failed to act. Whether he failed to see the opportunity, didn't understand it, or was simply not interested is moot. Rather than bring vested banking interests to heel, the Obama administration instead chose to reconstitute, as much as possible, the very same industry whose reckless pursuit of profit had thrown the world economy off the cliff. There would be no Nixon goes to China moment from the architects of the policies that created the crisis, namely Treasury Secretary Timothy Geithner, Federal Reserve Chairman Ben Bernanke, and Director of the National Economic Council Larry Summers.
Now that we've had more commentary from insiders like Sheila Bair and Neil Barofsky, it's clear that Obama, who whipped for the TARP and has finance Machiavel Bob Rubin as one of his major sponsors, was never going to do anything that might inconvenience Big Finance. One of the most important measures to rein in banks would have been to restructure Citigroup, to demonstrate that persistently reckless institutions (Citi nearly failed in the early 1990s and had gotten in deep doo-doo in the Latin American lending crisis of the late 1970s) would be cut down to a less dangerous size. But that would never happen with Rubin as a Citi board member.
Had Obama been serious about banking reform, it would have been possible to get the other major actors on the same page. The Bank of England has been keen to fix banks; Mervyn King and Andrew Haldane, along with Adair Turner at the FSA, have been fierce critics (you've heard nothing remotely comparable from US regulators) and fought to get a version of Glass Steagall implemented. Had the US been leashing and collaring its financial firms, the Bank of England and FSA would have has more success in beating back opposition from the UK Treasury, which has been a stalwart bank defender. And the ECB? Remember how it needed US dollar swap lines in a pinch to save its financial institutions? The ECB might have grumbled a lot, but with the top regulators in the two major financial centers taking a tough stance, it would have fallen in line.
But this section of ECONNED, published in early 2010, not only recaps the crisis but anticipates where we are now. And it's disappointing to see that there really is not much to add:
It is easy to be overwhelmed by the vast panorama of financial instruments and strategies that have grown up (and blown up), in recent years. But the complexity of these transactions and securities are all part of a relentless trend: towards greater and greater leverage, and greater opacity.

The dirty secret of the credit crisis is that the relentless pursuit of "innovation" meant there was virtually no equity, no cushion for losses anywhere behind the massive creation of risky debt. Arcane, illiquid securities were rated super-duper AAA, and with their true risks misunderstood and masked, required only minuscule reserves. Their illiquidity and complexity also meant their accounting value could be finessed. The same instruments, their intricacies overlooked, would soon become raw material for more leverage as they became accepted as collateral for further borrowing, whether via commercial paper or repos.

But even then, the bankers still needed real assets, real borrowers. Investment bankers screamed at mortgage lenders to find them more product, and still, it was not enough.

But credit default swaps solved this problem. Once CDS on low-grade subprime was sufficiently liquid, synthetic borrowers could stand in the place of subprime borrowers, paying when the borrowers paid, and winning a reward when real borrowers could pay no longer. The buyers of CDS were synthetic borrowers that made synthetic CDOs possible. With CDS, supply was no longer bound by earthly constraints on the number of subprime borrowers, but could ascend skyward, as long as there were short sellers willing to be synthetic borrowers and insurers who, tempted by fees, would volunteer to be synthetic lenders, standing atop their own edifice of risks, oblivious to its precariousness.

Institution after institution was bled dry. Yet economists and central bankers applauded the wondrous innovations, seeing increased liquidity and more efficient loan intermedation, ignoring the unhealthy condition of the industry.

The firms that had been silently drained of capital and tied together in shadowy counterparty links teetered, fell, and looked certain to perish. There was one last capital reserve to tap, U.S. taxpayers, to revive the financial system and make the innovators whole. Widespread anger turned into sullen resignation as the public realized its opposition to the looting was futile.

The authorities now claim they will find ways to solve the problems of opacity, leverage, and moral hazard.

But opacity, leverage, and moral hazard are not accidental byproducts of otherwise salutary innovations; they are the direct intent of the innovations. No one at the major capital markets firms was celebrated for creating markets to connect borrowers and savers transparently and with low risk. After all, efficient markets produce minimal profits. They were instead rewarded for making sure no one, the regulators, the press, the community at large, could see and understand what they were doing.

Magnetar and its imitators made unbelievable profits by finding a nexus of spectacular leverage, eager demand, and camouflaged risks. Whether you like the results or not, their novel use of an arcane instrument was exceptionally clever. If the world had been spared their cunning, the insanity of 2006-2007 would have been less extreme and the unwinding milder. But the hedge funds were not the only ones who fed this strategy: the other institutions who carried out the same correlation trade strategy and European bank staff padding their pockets with negative basis trades are just as culpable.

Viewing the underlying problem as one of bubbles misses the true dynamic. When borrowed funds to pump up asset values, the unwind damages financial intermediaries, and that has far more serious repercussions than the loss of paper wealth alone. Leverage offers a strategic point at which regulators can intervene. Regulators can tackle debt levels surgically by barring certain types of instruments and practices. But this effort can take place only if authorities do not cede control of the financial system to the inmates. Unfortunately, to a large degree, that has already happened.
The reason that so many words continue to be spilled on the crisis with so little fresh insight is that most pundits are unwilling to describe the degree to which it enabled the bankers to cement their control, and how much that sorry fact is costing the rest of us.
_____
* It's almost quaint to compare the scale of interventions in global-financial crisis to that of our last banking blowup, the savings & loan crisis, in which Congress was really unhappy to for having to advance $50 billion in working capital to fund the balance sheet of the Resolution Trust Corporation (oh, and Alan Greenspan engineered a really steep yield curve for a few years to help banks rebuild their balance sheets).