This is Naked Capitalism fundraising week. 624 donors have already invested in our efforts to shed light on the dark and seamy corners of finance. Join us and participate via our Tip Jar or another credit card portal, WePay in the right column, or read about why we're doing this fundraiser and other ways to donate, such as by check, as well as our current goal, on our kickoff post. And read about our current target here.
Lambert here. Most coverage of ObamaCare (ACA) policies available through the Exchanges, especially Democratic-friendly coverage, has focused on the price of policies, rather than their value. This post focuses on value, and shows why the distinction between "in-network" and "out-of-network" coverage is important. At least in the case tested here, insurance companies are shown to "narrow" their networks, and hence the coverage available to their policyholders, to exclude specialties like oncology, cardiology, internal medicine, and neurology.
By Dromaius, who blogs at Corrente. Originally published at Corrente.

As we venture into the world of narrow health care provider networks, I thought I would take some time to study what they really mean, in terms of how the new networks might affect patients' access to specialty care services. To do this, I compared the current landscape of provider networks with those that will be available on the Exchanges. I used Washington State as a case study. Your mileage may vary, but you will very likely find similar information by querying insurance providers in your state, given that the narrow networks on the Exchange plans are a nationwide paradigm change.
I used Premera Blue Cross in my case study. I did so for a couple of reasons:
They are the only state-wide insurance provider offered on the Washington State Exchange.
They are the only Blue Cross Affiliate on the Washington State Exchange. Thus they have the best search engine for accumulating this information and for finding direct comparisons between networks.
I visited the Premera Find a Doctor site. For each doctor specialty listed in my graph below, I queried the site for "specialty name" (such as oncology) within 500 miles of 98109 (the Space Needle zip code). Theoretically, this broad search would give all of the doctors in Washington State.
Here is a graph of my findings. Posted at the bottom of this page are general instructions on how to reproduce my data. I have proof-read my data but if you find any errors or discrepancies, please let me know immediately and I will update my graph, especially if you find errors that materially affect the trends seen in my graph.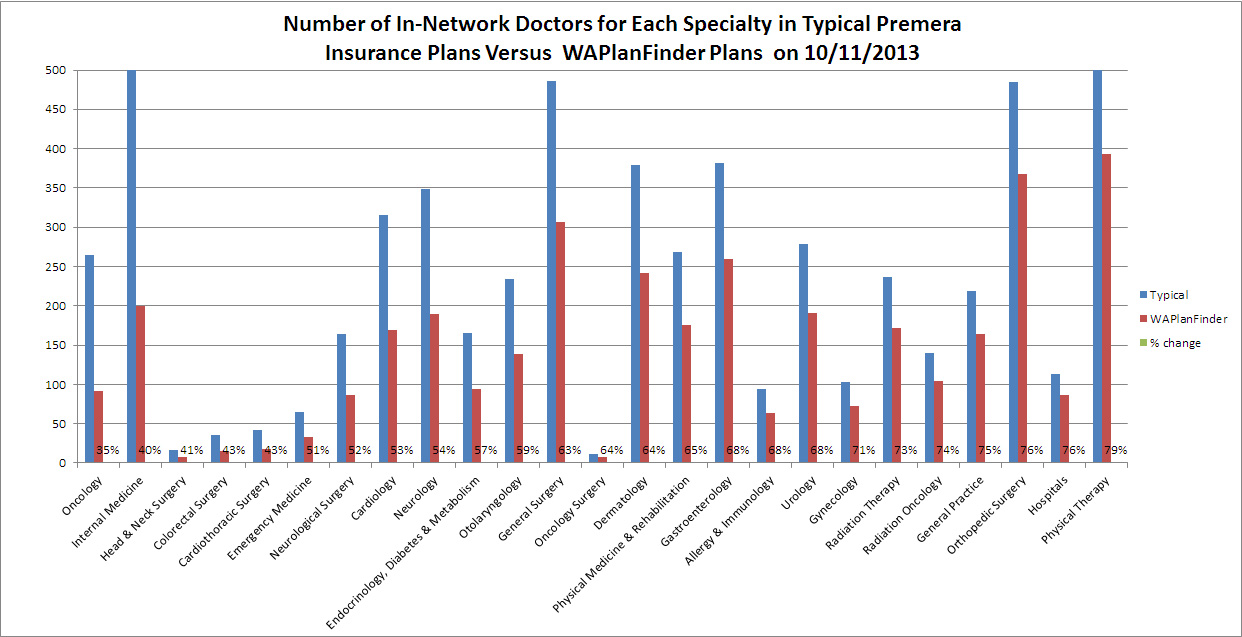 The blue bars represent the numbers of in-network doctors for each specialty in the Premera Blue Cross "Heritage" provider network, the network that Premera historically felt compelled to support for its subscribers. The red bars represent the numbers of in-network doctors on the Premera WAPlanFinder Exchange plans' provider network, called "Heritage Signature". I've sorted my data from left to right according to which doctor specialty has the LOWEST representation on Exchange plans.
[Update] I updated my graph today and have seen a slight drift toward more providers in the Exchange network. The change was very small and did not materially affect the trend I'm seeing, which matches the national trends. I have archived my previous chart here. I will revisit my data every week or two and will keep archives of all charts.
Bending the "cost curve" in this way appears to also bend "the care curve"
As you can see from my results, the most under-represented specialties (on the left) are the ones that typically provide services to truly sick patients, such as oncology, cardiology, internal medicine, neurology. And no doctor specialty has more than about 75% representation on the Exchange provider networks. Hospitals are also included on the right of the graph. Their numbers are diminished in the Premera Exchange plan network via excluding specialty hospitals that are crucial to good care in this region, such as Children's Hospital and the Seattle Cancer Care Alliance.
Quasi-Medicaid
What we're seeing has been described as a quasi-Medicaid level of doctor access. I would have little problem with plans that "streamline care". But using Premera as a case in point along with reading about left-out doctors and hospitals all over the nation, I see a pattern of drastically reducing access to care for the sickest patients. This is a method for insurers to subvert the mandated yearly patient out of pocket maximums, (as well as the loss of insurers' ability to cap lifetime maximum payouts) by making access to expensive care difficult or impractical, especially for the poorest and sickest patients. And by limiting tax subsidies to Exchange plans only, I believe the Democrats wrote their law deliberately to let insurers do this.
[Update] I see that Paul Krugman praises the Medicaid Model for its "willing[ness] to say no," a trait that allows Medicaid to control costs better than any medical care institution in this country. I just want to say that I know all about that. When I was a teenager, my mother was hospitalized on Medicaid for acute clinical depression. She was discharged from the hospital during a time when her counselor was on vacation, and while she wasn't ready. Apparently Medicaid had said no to more hospitalization. My mother committed suicide 3 days later. My personal experience is that when Medicaid says no, people die. Is this the level of care we want for the whole country?
Action, Action, Action
Come on, progressives! Is your party so important to you that you don't care anymore about the principles that led you to join it? Don't you think you need to fight this? Maybe you should do so for the sake of your party? I would love to spend 24-hours-a-day, 7 days a week in action on this myself. However, besides the fact that I feel powerless, I'm finding that the Exchange plans create in me an urgent need to leave self-employment and venture back into the world of employer provided health insurance. So those of you with a national audience, maybe those of you who have insurance yourself, how about stepping up!
To reproduce my data
Visit Premera Blue Cross Find a Doctor search engine
For each specialty you would like to search,
Click Search by specialty.
Enter , search within 500 miles of zip code 98109, the Space Needle zip code (Click go)
In the next dialog box, choose 'All' in the first pulldown, 'Bluecard PPO' in the second pull-down. Click search.
Pull down the "Plans" list. It gives the provider networks.
You'll see a dialog that looks like this.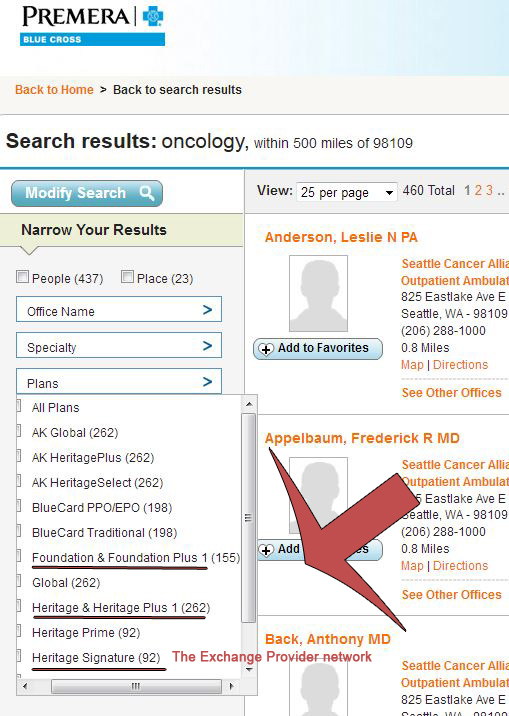 Heritage/Heritage Plus is the provider network used for the blue bars
Heritage Signature is for the Exchange plans, and is the network used for my red bars.
As for Foundations and Foundations Plus, it is the network that seems to have been traditionally used for the "slumming" plans.
The other networks are either in Alaska or are part of the Blue Cross nation-wide network. They don't apply particularly to Washington.
If you need more details about this, message me and I'll send them to you.
Here is a screen capture of the best of the Premera Exchange plans. Looking at the table headings on the right, you will see that "Exchange Signature" is the provider network.