Wow, this is amazing. Word has apparently gotten out even to Congressmen who can normally be lulled to sleep with the invocation of the magic phrase "free trade" that the pending Trans Pacific Partnership is toxic. This proposed deal among 13 Pacific Rim countries (essentially, an "everybody but China" pact), is only peripherally about trade, since trade is already substantially liberalized. Its main aim is to strengthen the rights of intellectual property holders and investors, undermining US sovereignity, allowing drug companies to raise drug prices, interfering with basic operation of the Internet, and gutting labor, banking, and environmental regulations.
The update from the New York Times:
The Obama administration is rushing to reach a new deal intended to lower barriers to trade with a dozen Pacific Rim nations, including Japan and Canada, before the end of the year.

But the White House is now facing new hurdles closer to home, with nearly half of the members of the House signing letters or otherwise signaling their opposition to granting so-called fast-track authority that would make any agreement immune to a Senate filibuster and not subject to amendment. No major trade pact has been approved by Congress in recent decades without such authority.

Two new House letters with about 170 signatories in total — the latest and strongest iteration of long-simmering opposition to fast-track authority and to the trade deal more broadly — have been disclosed just a week before international negotiators are to meet in Salt Lake City for another round of talks…

Many members have had a longstanding opposition to certain elements of the deal, arguing it might hurt American workers and disadvantage some American businesses. Those concerns are diverse, including worries about food safety, intellectual property, privacy and the health of the domestic auto industry.

Others say that they are upset that the Obama administration has, in their view, kept Congress in the dark about the negotiations, by not allowing congressional aides to observe the negotiations and declining to make certain full texts available.
This development is more significant than it might appear. "Fast track" authority limits Congress's role in trade negotiations. The Administration presents a finished deal, and individual members have only an up or down vote. At that point, because the pending agreements have been misleadingly presented as "pro trade," dissenters will be depicted as anti-growth Luddites.
But the loss of fast track authority would substantially undermine America's ability to bully the other parties in the negotiations. Our Japanese-reading regular Clive parsed an article in the Asahi Shimbun as saying that the Japanese were positioning themselves to resist the US onslaught:
The pretty clear subtext of this Japanese newspaper feature is, this is supposed to be an agreement – a negotiation. If a negotiation stalls, it's because of intransigence on behalf of one or more parties. Let's count [in the graphic accompanying the article] the flags of the countries who have gone along with things in the TPP proposal… Look-ee there, there's two Japanese flags. Let's count the flags of the countries who are opposing things… that's two – yes, dear Asahi Shinbun readers, T-W-O please note – star spangled banners. So don't blame us (Japan). It doesn't actually come right out and hit readers on the head with that editorial, but, in classic Japanese passive aggressive fashion, it is, by the standards of Japanese journalism, sticking a chop stick up Uncle Sam's behind.

Shortform: Japan to the US "If this is supposed to be a negotiation, be prepared to come and negotiate. You'll put stuff in the TPP we don't like. If you expect Asia to swallow it, you'd better be prepared to have to accept things you're not too keen on. If you don't, then it'll be a case of Yankee Go Home from some countries. PS. If it all ends in tears, Japan is completely blameless, it's all those other countries at fault."
So the TPP was already in danger of going pear-shaped, independent of well-warranted Congressional opposition.
Let's give more detail on how heinous this deal and its ugly sister, the Transatlantic Trade and Investment Partnership, aka the Trans Atlantic Free Trade Agreement, are. They would extend the authority of secret arbitration panels to hear cases against governments and issue awards. Mind you, the premise of these panels is that some of the signatory nations have banana republic legal systems that might authorize the expropriation of assets, like factories, so foreign investors need recourse to safe venues to obtain compensation. This is a ludicrous proposition to most of the signatories, not only to signatories of the Atlantic agreement (all advanced economies with mature legal systems) as well as potential signatories like Singapore, Japan, Canada, and Australia (and while America's judicial system leaves a lot to be desired, it can hardly be accused of being unfriendly to commercial interests).
A post in Triple Crisis by Martin Khor gives a good overview:
In the public debate surrounding the Trans-Pacific Partnership Agreement (TPPA), an issue that seems to stand out is the investor-state dispute settlement (ISDS) system. It would enable foreign investors of TPPA countries to directly sue the host government in an international tribunal.

In most US free trade agreements (FTAs) with investor-state dispute provisions, the tribunal most mentioned is the International Centre for Settlement of Investment Disputes (ICSID), an arbitration court hosted by the World Bank in Washington.

ISDS would be a powerful system for enforcing the rules of the TPPA, which is currently being negotiated by the US and 11 other Pacific Rim countries. Any foreign investor from TPPA countries can take up a case claiming that the government has not met its relevant TPPA obligations.

if the claim succeeds, the tribunal could award the investor financial compensation for the claimed losses. If the payment is not made, the award can potentially be enforced through the seizure of assets of the government that has been sued, or through tariffs raised on the country's exports.

ISDS is related to relevant parts of the TPPA's investment chapter. One of the provisions is a broad definition of "investment" which includes credit, contracts, intellectual property rights (IPRs), and expectations of future gains and profits. Investors can make claims on losses to these assets.

Under the "national treatment" provision, a foreign investor can claim to be discriminated against if the local is given preference or other advantage.

Under the clause on fair and equitable treatment, which is contained in many existing trade and investment treaties, investors have sued on the ground of non-renewal or change in the terms of a licence or contract and changes in policies or regulations that the investor claims will reduce its future profits.

Finally, investors can sue on the ground of "indirect expropriation". Tribunals have ruled in favour of investors that claimed losses due to government policies or regulations, such as tighter health and environmental regulations.
Even though no one has seen the exact language of the text, since it is being kept under wraps, both deals are believed to strengthen and extend investor rights, which means give them easier access to the courts. Consider this description from a July presentation by Public Citizen:
What is different with TAFTA [pending Trans Atlantic Free Trade Agreement] (and TPP) is the extent of "behind the border" agenda

• Typical boilerplate: "Each Member shall ensure the conformity of its laws, regulations and administrative procedures with its obligations as provided in the annexed Agreements." …

• These rules are enforced by binding dispute resolution via foreign tribunals with ruling enforced by trade indefinite sanctions; No due process; No outside appeal. Countries must gut laws ruled against. Trade sanctions imposed…U.S. taxpayers must compensate foreign corporations.

• Permanence – no changes w/o consensus of all signatory countries. So, no room for progress, responses to emerging problems

• Starkly different from past of international trade between countries. This is diplomatic legislating of behind the border policies – but with trade negotiators not legislators or those who will live with results making the decisions.

• 3 private sector attorneys, unaccountable to any electorate, many of whom rotate between being "judges" & bringing cases for corps. against govts…Creates inherent conflicts of interest….

• Tribunals operate behind closed doors – lack basic due process

• Absolute tribunal discretion to set damages, compound interest, allocate costs

• No limit to amount of money tribunals can order govts to pay corps/investors
• Compound interest starting date if violation new norm ( compound interest ordered by tribunal doubles Occidental v. Ecuador $1.7B award to $3B plus

• Rulings not bound by precedent. No outside appeal. Annulment for limited errors.
And that's alarming in light of some of the cases already brought before these panels in existing trade agreements like NAFTA. For instance:
Eli Lilly is suing the Canadian government for not having the same extremely pro-drug-company patent rules. It is seeking $500 million in damages for two drugs that Canada approve to be sold as generics. If Eli Lilly prevails, other drug companies are sure to follow suit.

Vattenfal, a Swedish company, is a serial trade pact litigant against Germany. In 2011, Der Spiegel reported on how it was suing for expected €1 billion plus losses due to Germany's program to phase out nuclear power:

According to Handelsblatt, Vattenfall has an advantage in seeking compensation because the company has its headquarters abroad. As a Swedish company, Vattenfall can invoke investment rules under the Energy Charter Treaty (ECT), which protect foreign investors in signatory nations from interference in property rights. That includes, according to the treaty's text, a "fair and equitable treatment" of investors.

The Swedish company has already filed suit once against the German government at the ICSID. In 2009, Vattenfall sued the federal government over stricter environmental regulations on its coal-fired power plant in Hamburg-Moorburg, seeking €1.4 billion plus interest in damages. The parties settled out of court in August 2010.

Phillip Morris threatened suit against Australia for its plain cigarette packing rules and is suing Uraguay for anti-smoking regulations
Now consider what this means. These companies are not suing for actual expenses or loss of assets; they are suing for loss of potential future profits. They are basically acting as if their profit in a particular market was guaranteed absent government action. And no one else enjoys these rights. Consider highly paid workers in nuclear plants. Will they get payments commensurate with the premium they've lost over the balance of their working lives from the phaseout of nuclear power? Will cigarette vendors in Australia get compensated for the decline in their sales? Commerce involves risk, which means exposure to loss, yet foreign investors want, and seem able to get, "heads I win, tails you lose" deals via these trade agreements.
And it's even worse than you imagine once you understand how these panels work. Recall how Public Citizen mentioned the role of the panelists who go between working for the companies and serving on the panels? A small and tight-knit group has disproportionate influence (click to enlarge):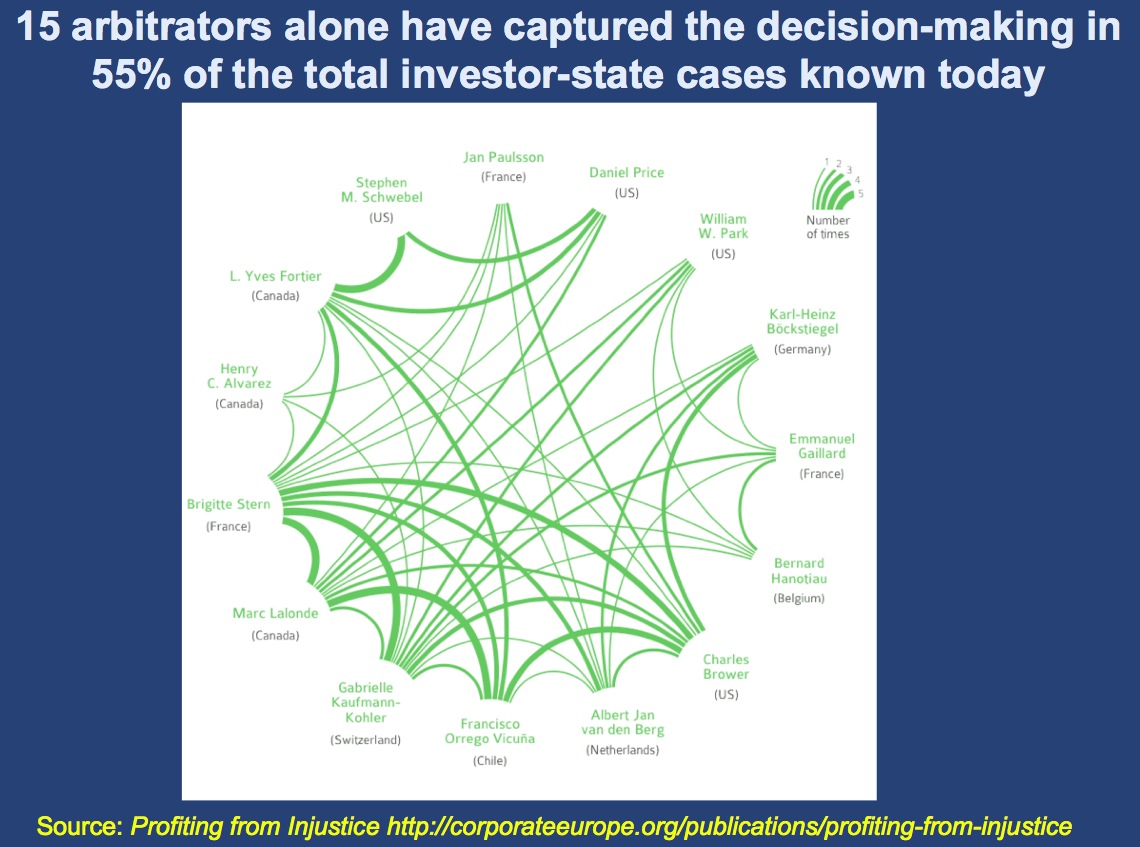 Consider the implications of the fact that the 15, and the larger community of panel "regulars," work both sides of the street. They draw cases that go before the trade panel, as well as hear them. Thus it's in their interest to issue aggressive rulings in order to facilitate more cases being filed.
Not surprisingly, this self-reinforcing system is, as expected, producing more claims even before its gets its hoped-for turbo-charging through the pending trade deals: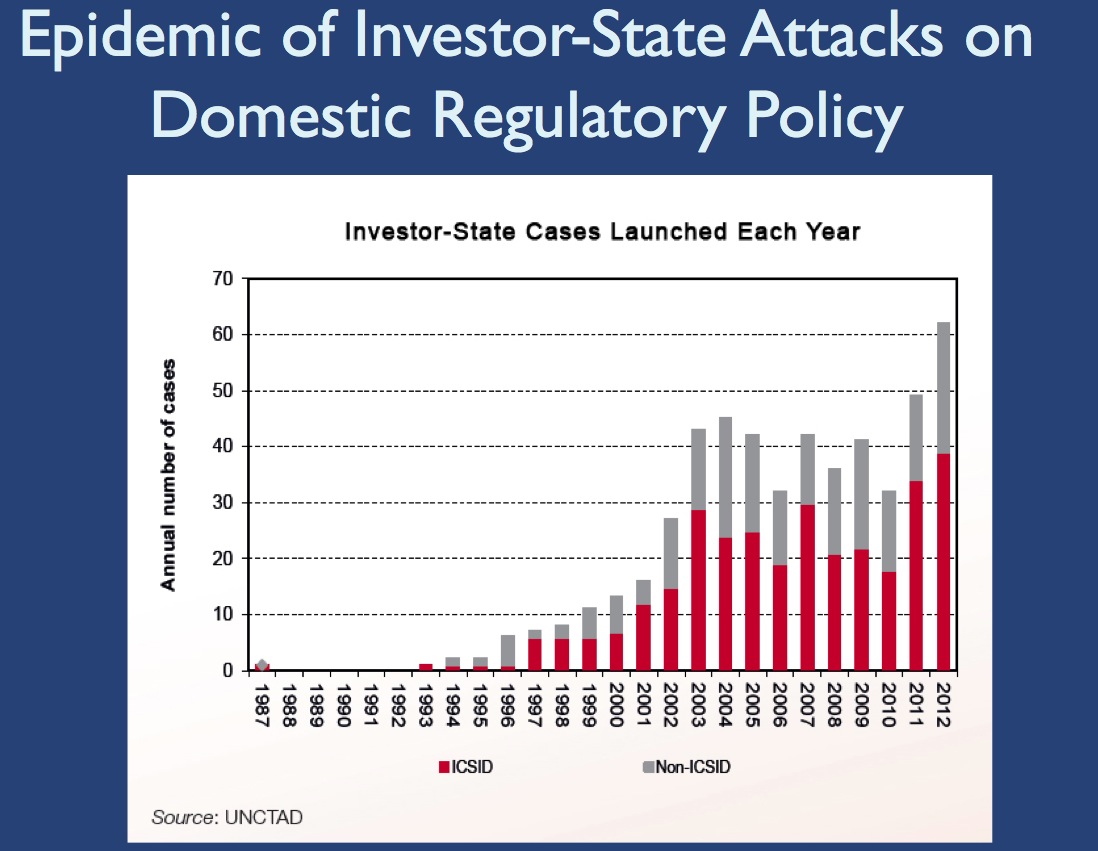 Now while the House pushback is promising, this isn't over until the fat lady sings. Obama has been really keen to get these deals done. Of the roughly 170 Representatives upset enough to sign letters, roughly 150 are Democrats (the Times says an additional 40 to 50 have signaled concerns). With the opposition overwhelmingly in the Democratic party, the Administration is much better positioned to get the votes than if more Republicans were opposed.
So this is the time when it is REALLY important to call or e-mail your Representative and let him or her know how terrible this deal is and how firmly opposed to it you are. Use the link to the Public Citizen overview (http://www.citizenstrade.org/ctc/wp-content/uploads/2013/07/GlobalTradeWatch_TAFTAslides_070913.pdf) or cite other posts or articles you think they should see. Trade is normally not a hot topic for voters, so five or ten calls in a district would be a serious show of opposition. This is a case where you can have an impact. I hope you'll act and rally any sympathetic friends and family members to take a few minutes and make your voice heard.