Yves here. From what Lambert and I can tell, Michael Olenick is the first to publish any sort of comprehensive analysis of Obamacare plans. And when you read his piece, you will see why we're are likely to continue to be subjected to barrages of cherry-picked anecdotes in lieu of analysis.
His three-person family in his Florida zip code has 132 plans available to them. As he describes, the one mechanism that Obamacare stipulated to simplify the shopping task a bit, that of showing what the each plan would pay out under two specific treatment situations, was not disclosed for the overwhelming majority of plans on the healthcare.gov site. That meant that Olenick had to find the the information elsewhere and input it into his comparison.
But the most stunning part is the degree to which the plans fall short of their stipulated "actuarial" payouts. At least for Olenick's family, the plans fall well short of the mandated level of reimbursements (for instance, a bronze plan is touted as covering 60% of expected medical costs). It's unlikely that Olenick's family would produce results that are out of line with results for states with similar regulations (note that some states have additional requirements that will influence plan structure and pricing).
It is finally important to recognize that the overwhelming majority of reporters and commentators have not been gone the route Olenick has, of obtaining actual detailed plan data for a particular family or individual. Instead, for the most part, they have relied on a dataset provided by the Centers for Medicare and Medicaid Services for every health care plan in the Federal marketplace. It has the appearance of being comprehensive, as Charles Ornstein tells us in his post "Not a good price calculator"(hat tip Lambert):
For every plan, it includes sample rates for a 27-year-old adult, a 50-year-old adult, a family (2 adults age 30, 2 children), a family with a single parent (1 adult age 30, 2 children), a couple (2 adults age 40, no children) and a child of any age.
But then Ornstein tells us that the use of specific ages in those illustrative cases is illusory. The price tool uses only two huge age ranges!
But CBS News reported Wednesday that the tool could be wildly misleading because it quoted prices for only two groups (49 and younger, and 50 or older). The first group was based on a 27-year-old's cost while the 50 and older was based on a 50-year-old's. If you're, say, 48 or 63, your prices could be much higher.
And remember how all sorts of Obamacare-friendly stories have been saying (more or less): the critics are idiots! Look at how low the new premiums are! Well, it turns out the premiums are all that tool shows, and that leaves reporters and consumers very much in the dark as to actual plan costs. Ornstein shows how even a summary with a price based on the actual age and other basic plan features changes the picture (and notice the definition of a bronze plan, highlighted in dark blue on the left; this becomes important in Olenick's discussion below):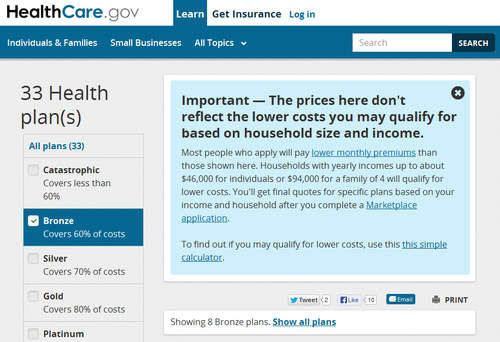 The tool shows ONLY an estimated premium: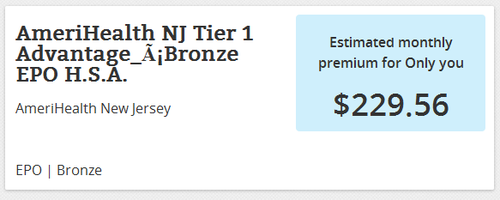 Here is an actual quote: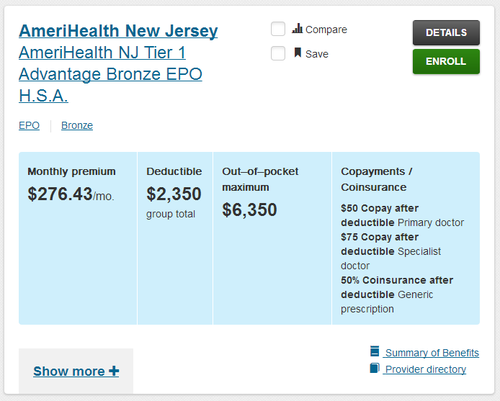 So not only is the actual premium for the same plan $562 per year higher, it also has a $2350 deductible. A rather different picture, no?
By Michael Olenick, a regular contributor on Naked Capitalism. You can follow him on Twitter at @michael_olenick
After five weeks healthcare.gov presented insurance policies for my family to purchase. No wonder the website was dark for so long: the plans are expensive, atrocious, and the insurance companies look like they are cheating.
Transparency when buying healthcare insurance was seen as a raison d'etre of the insurance exchanges. Healthcare.gov fails miserably. I could neither export nor print the plans or plan information. I could not even view them all on one page: there is no option to change the number displayed on a page, a standard website feature. Intuitively I could see the plans looked terrible but, without the ability to analyze them as a whole, I didn't realize how terrible. Finally I decided it was worth the time to throw open the blinds on this fiasco and type it all into a spreadsheet. Political partisans cherry-pick scenarios to support their narrative but, in much the same way that a picture quickly conveys a story, data itself defeats spin doctors.
I don't like disclosing personal information but it's impossible to entirely understand these plans without doing so, and it isn't that difficult to find anyway. We are a three person family. I am in my mid 40's, my wife is in her mid 30's, and we have a child. At the worry of putting a hex on I'm thankful that everybody is healthy. Our ZIP code is 33405. Nothing more should be needed to obtain healthcare quotes (one question outside the scope of this piece is why, without a login, it's impossible to type that information into healthcare.gov to view the plans and costs). You can look at my results below.*
There are 132 plans, a relatively large sample size: 38 are bronze, 46 silver, 33 gold, and 15 platinum. Florida Blue offers 76 plans, Ambetter Health has 27 plans, Cigna has 11 plans, Aetna has six plans, Humana offers five plans, Coventry Health offers four plans, and Molina Health has three plans. Sixty-three plans are HMOs, 17 are PPOs, and 52 are EPOs. The average premium is $916.14; the median is about the same at $923.90. The average deductible is $6,581.82 and the median is $6,000. Thus the average plan requires families that actually plan to use healthcare pay $17,575.54 (total monthly premiums plus deductible) before the plan pays much (or anything, depending on the plan); the median is $16,971.38.
The average out-of-pocket maximum is $10,854.55; the median is $12,500. Finally the maximum paid per year – the price people with conditions like cancer would be expected to pay for their "affordable" care, with premiums, deductibles, and copays (but not balance-billed and other games) – is $21,848.27 per year; the median is $22.415.96.
The plans carry average premiums by metal level of $759.14, $910.86, $1,019.28, and $1,103.20 for bronze, silver, gold and platinum respectively. Average deductibles are $10,571, $7,209, $3,633, and $1,040 and average out-of-pocket maximum amounts are $12,600, $12,026, $10,115, and $4,467. Total out-of-pocket annual costs for people who rely on the plans – the sick people the ACA was meant to help – are $21,710, $22,956, $22,346, and $17,705 (if you're sick, buy platinum, assuming that you can afford anything).
Moreover, the overwhelming majority of plans violate what is arguably the most important disclosure requirement in Obamacare, one designed specifically to allow consumers to make "apples to apples" comparisons. Data showing how little the plans actually pay under specific real world scenarios, as required by the ACA, seems to be purposefully omitted from healthcare.gov. The law stipulated that insurers calculate and disclose projected out-of-pocket costs for the delivery of a baby and one year's treatment of well regulated Type II diabetes. These comparisons go the heart of the plans' transparency. However, this data was missing from healthcare.gov for 98 of the 132 plans, available only by burrowing into the plan brochures.
Even for the 34 plans that disclosed the data on healthcare.gov it was, seemingly by design, a hassle to view, requiring an extra click. All four of the seven largest insurance companies failed entirely to provide this information. This field reads "No data" for every plan from Humana, Aetna, Cigna, and Florida Blue (Blue Cross). It's hard to believe that this is a technical glitch – the information shows up just fine for the small insurers that uploaded it.
Rather than accept this sleight of hand, I decided to plow into the brochures and collect the data. On Sunday morning my wife washed the dogs while I aggregated undisclosed coverage data. We both managed to wash away a figurative and literal bad stench.
Healthy baby delivery is projected to cost $7,540 in my area. Bronze plans, which are supposed to pay 60% of out-of-pocket healthcare expenses, cover only 27% leaving families to pay $5,516 of $7,540. Silver, gold, and platinum plans are supposed to pay 60%, 80%, and 90% respectively but pay 47%, 64%, and 85%.
Type II diabetes is projected to cost $5,400 per year to treat. Plans pay 47%, 62%, 78%, and 94% on average, for bronze, silver, gold, and platinum, of the cost. Although the bronze plans average better for diabetes seven bronze plans pay less than $100 towards the $5,400 yearly expense.
Using this relatively large real-world sample we see there is only one category – Type II diabetes insured by a platinum plan – that is projected to pay out at the mandatory actuarial level. At 27% bronze plan payouts for routine births are abysmal, especially considering deliveries are one of the primary conditions the subsidized bronze plans should cover. If a family put aside $500 per month they'd leave the hospital with a $1,540 bill. Instead, by buying insurance, they start out with a $5,516 bill. Maternity coverage is not useful if it never pays.
I was encouraged by one of the HMOs, Humana, that looked both affordable and comprehensive until I checked their provider directory. According to the census, my county has 1,356,545 people: 7,540 are children under five years old and 227,666 are under 18 years old. To serve almost a quarter-million youngsters, Humana has nine pediatricians. The American Diabetes Association estimates 8.3% of the population has diabetes, so there would be 112,593 diabetics. To take care of them, the HMO has three endocrinologists, the closest which is 24.7 miles away, each way. There are sixteen different primary care providers, though one is a clinic that has 18 locations. I suspect these clinics are basically HMO staffers who do most of the work. So the only affordable plan is actually Soviet-style rationed medicine, which might be fine but wasn't what the ACA promised.
Even without tricks like balance billing, a person insured under the ACA could easily run up a healthcare bill of $43,696.54 (two calendar years of the maximum out-of-pocket) if they get seriously sick. Before the ACA they'd end up bankrupt. After the ACA, they'd also end up bankrupt. By any measure this is expensive and lousy insurance, sold under a mandate that requires people to purchase it or pay a fine to the US tax collector. I know many ACA defenders say the fine isn't a big deal because it's small though none of them same seem willing to just drop it for the same reason.
Real data reveals that major healthcare insurers started cheating immediately by failing to disclose the projected out-of-pocket expenses for insured events. Predictably, the government seems to be doing nothing. These plans are supposed to carry an overhead margin of 20% maximum but, no doubt, this figure will be massively gamed assuming that they're even being audited.**
For years, Republicans have been trying to kill the ACA but for all the wrong reasons. For all the rattling – they shut down the government – they never said "these will suck lots of money from the middle class into worthless insurance policies." Similarly, Democrats have defended this nonsense in a knee-jerk reaction despite that if Republicans had come up with this scheme they'd be rightfully enraged. This is a bipartisan hit job on the American public.
Obama promised to legalize drug imports and re-importation. Not only did he quickly break that promise but pushed the Department of Justice, which could find nothing wrong about the mortgage/foreclosure mess for years, to fine Google half a billion dollars for running ads from international pharmacies. Obama promised no mandate .. nope. These plans will not result in bankruptcies. Nicht. People can keep their own plans. Nyet. The middle class will have affordable coverage. Non. Transparency will reign in the marketplace. I've run out of ways to say no.
CMS has ignored my emails though I'd be happy to speak with them, or any similar government official who can explain away these problems because I see no legitimate explanation. The same goes for any insurance company or healthcare provider; throw me a bone and give me a credible narrative why this isn't a public policy disaster from the my family's vantage point. It would be helpful if the mainstream media would start to do their job and focus away from the edges and more towards the core problem that these plans are both inadequate and unaffordable.
Americans deserve, and with just little will, can do a lot better than this.
_____
* Yves here: for some peculiar reason, the line numbers from Olenick's spreadsheet did not export from Google Docs, which was the best vehicle for creating an embedded version of an Excel spreadsheet, but everything else came over correctly.
** By capping profits, the Administration was trying to make cheating pointless, because the insurers would just have to pay it back, but I'm sure they'll still figure out ways to cheat. It's not even that hard: buy a hospital or medical device company and sell services at inflated costs. The ACA plans "cost" 80% or more but the funds are still flowing back to affiliates and thus ultimately to the parent company.