By Lambert Strether of Corrente.
You've heard of popular sovereignty, right? It's embodied in the Preamble of the United States Constitution.[1] I'll quote it for the sheer majesty of the language, archaic though it may seem in these "innovative" days:
We the people of the United States, in order to form a more perfect union, establish justice, insure domestic tranquility, provide for the common defense, promote the general welfare, and secure the blessings of liberty to ourselves and our posterity, do ordain and establish this Constitution for the United States of America.
A popular website ("We Speak Student") explains in its Constitution FAQ:
What is the principle of popular sovereignty?

The principle of popular sovereignty is the idea that a government's power derives only from the consent of the people being governed. The Constitution's first three words—"We the People…"—establish from the very start that the United States government draws its authority and legitimacy directly from the people. The concept of popular sovereignty differs from the old monarchical belief in the divine right of kings (in which the monarch was said to draw his right to rule directly from God) and also from the British principle of parliamentary sovereignty (in which ultimate authority rested with Parliament rather than with the people directly).
Making it all the more remarkable, or not, that our political class — Barack Obama, Hillary Clinton, Max Baucus and Orrin Hatch,  a bipartisan caucus, the Chamber of Commerce, and the Editorial Board of The New York Times, to name a few of the usual suspects — would pursue an agreement, the Trans Pacific Partnership (TPP) that sells out popular sovereignty to transnational investors, and allows them to rule us. I know your friends think this sounds like nutty black helicopter stuff, but it's true! It's true! (Tell them to watch Yves on Bill Moyers, in a really sharp transcript.) So bear with me, please, as I work through the thesis. First, I'll look at how TPP replaces popular sovereignty with transnational investor rule, in two ways. Next, I'll take a very quick look at the state of play. Finally, I'll suggest that all is not lost, and in fact the TPP can be defeated.
First, TPP undermines popular sovereignty because it's being written in secret. I'll give a few quotes here, mostly to illustrate that the farther away you get from K Street, the more precise the language becomes. First, Campaign for America's Future:
The next "trade" treaty will be the Trans-Pacific Partnership (TPP). This is a huge treaty with only a small part covering trade. Most of the agreement (according to leaks) sets down [what does that mean?] for the giant corporations that would supersede the ability of any country to rein them in. The treaty is being negotiated in with only business interests "at the table." Representatives of others with a stake in the outcome are not part of the process. Groups representing the interests of consumers, labor, human rights, the environment, democracy or even smaller and innovative companies that might want to compete with the giant multinationals are not part of the negotiations.
To bad about the verticals, not to mention the American people, or their elected representatives. CEPR:
Of course the TPP is not about free trade, in most cases the formal trade barriers between the countries negotiating the pact are relatively low. The main thrust of the negotiations is to impose in a wide range of areas — health, safety, environmental — . This has little to do with trade and in some cases, such as the increased patent protection for prescription drugs being pushed as part of the deal (which is noted in the article), will actually involve increased barriers to trade.
And now Expose the TPP, which makes "regulatory structure" just a wee bit more precise while, again, agreeing on the secrecy:
The Trans-Pacific Partnership n. 1. A "free trade" agreement that would set rules on non-trade matters such as food safety, internet freedom, medicine costs, financial regulation, and the environment. 2. A that would require the United States, Australia, Brunei, Canada, Chile, Japan, Malaysia, Mexico, New Zealand, Peru, Singapore, Vietnam, and any other country that signs on to conform their domestic policies to its rules.  3. A trade negotiation that has included over 600 official corporate "trade advisors" while hiding the text from Members of Congress, governors, state legislators, the press, civil society, and the public.
Fortunately, and bringing me to the second and more important reason the TPP undermines popular sovereignty, the investment chapter for the TPP was leaked, and the excellent Public Citizen[2] published it (link to the PDF). Their summary in relevant part describes the investor-state dispute settlement (ISDS) provisions:
These provisions are so extreme that many people unfamiliar with them tend to dismiss description of them or their implications…

Procedural rights that are not available to domestic investors to sue governments outside of national court systems, unconstrained by the rights and obligations of countries' constitutions, laws and domestic court procedures (Section B). There is simply no reason for foreign investors to pursue claims against a nation outside of that nation's judicial system, unless it is in an attempt to obtain greater rights than those provided under national law. Moreover, many of the TPP partners have strong domestic legal systems . For example, TPP partners New Zealand, Australia and Singapore are all ranked by the World Bank as performing at least as well as the United States with regard to control of corruption and adherence to rule of law. Yet in a manner that would enrage right and left alike, the private "investor-state" enforcement system included in the leaked TPP text would empower foreign investors and corporations to skirt domestic courts and laws and sue governments in foreign tribunals. There, they can demand cash compensation from domestic treasuries over domestic policies that they claim undermine their new investor rights and expected future profits. This establishes an alarming two-track system of justice that privileges foreign corporations in myriad ways relative to governments or domestic businesses. It also exposes signatory countries to vast liabilities, as foreign firms use foreign tribunals to raid public treasuries.
So that explains the "new kind of" "regulatory structure," the "binding international governance system" a lot better than I can. Because this new "governance system" is literally, and not metaphorically, revolutionary[3], I took a look at the actual text of the Investment Chapter, made some screen shots, and added some (really sloppy) yellow magic marker highlighting. I should say that I am by no stretch of the imagination a subject matter expert in the language of international trade treaties, though I do know a "shall" when I see it; my purpose in highlighting the text is simply to show passages that the cynical would characterize as "weasel wording," or subject to "lawyerly parsing," or containing, in the vulgate, "loopholes that you could drive a truck through." Also, you may wish to contrast the majesty of the language of the U.S. Constitution with the fluorescent-lit, Orwellian bureaucratese of the Investment Chapter. Also too, you've really got to read this stuff to believe it. So herewith, all from Section 12 and following:

The goal: Equal treatment for investment capital, globally. Does anybody think that's going to be a race to the top for anybody but the global investor class?

Note that the expectation of profit is one of the characteristics of an investment. And what better judge of those expectations could there be than the investor?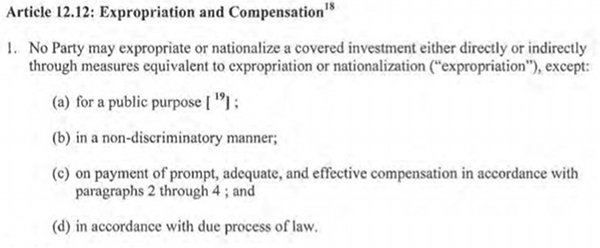 Can "expropriation" include state actions that damage an investors expectation of profit? You betcha! Here's how that "direct " wording gets teased out: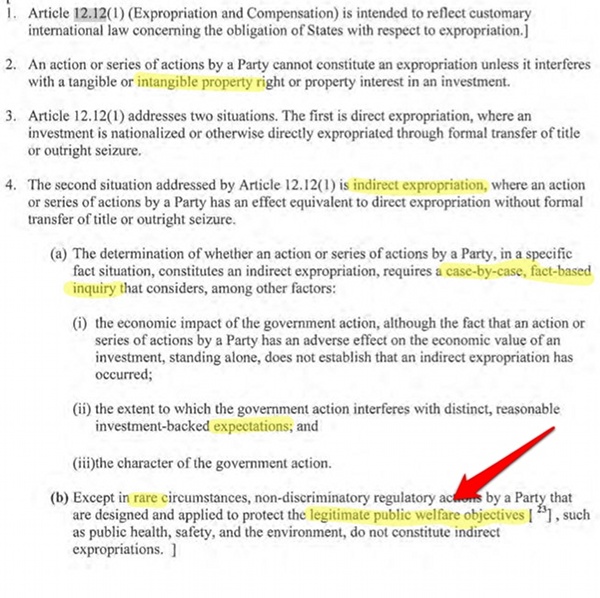 Get a load of those loopholes! "Intangible property rights" and  "indirect expropriation" are to be determined on a "case-by-case, fact-based inquiry" as to whether "distinct" (sez who) and "reasonable" (sez who) "expectations" (sea who) were "interfered with." But don't worry, little governments! Only in "rare circumstances" will your "legitimate" (sez who) "public welfare objectives" be considered expropriations. And never mind that one "rare circumstance," if the "expectations" were large enough — say, the expectations of the health insurance companies that ObamaCare would never be repealed? — could sink a sovereign state entirely.

I really like the part where the writ of your government runs "where applicable." 

So the proceedings of the tribunal are "open," unless one of the parties decides it should be closed.

This is the part where, after its open except when randomly closed hearing, the tribunal can order your government to pay an investor for damages to their investment which may, as we saw in the definition of investment, include expectations of a return. (And just in case you think it can't happen here, here's one example, and here's another of the same sort of tribunal, though not yet the TPP.)
Second, and briefly, the state of play. Via AEI:
[T]he potential impact of the president's no-show at TPP negotiations [a positive result of the government shutdown] is a likewise negative development but not necessarily a fatal one to the successful conclusion of the agreement. With or without Obama's presence, the situation with regards to the negotiations stands as follows. Since 2010, when serious bargaining began, there have been 19 negotiating sessions. At this point, most if not all of the technical underbrush has been cleared away by the trade bureaucrats from the 12 member states. Among the issues outstanding are rules and commitments related to state-owned enterprises (SOEs), the environment, labor, market access and rules of origin, intellectual property (IP), government procurement, services and investment, regulatory coherence and coordination, and data flows and protection, among others. (The list will vary from observer to observer and cannot be conclusive since no actual potential text has been made public).
No potential for conflict there! But to get the TPP passed, Obama needs "fast track" trade promotion authority (TPA) that he doesn't have. Can he get it? Politico:
As the administration is trying to wrap up talks on the Trans-Pacific Partnership by the end of the year, "they have handicapped themselves by not having trade promotion authority," said a former U.S. trade official who asked not to be identified. "You cannot strike the right balance of ambition in the agreement [whatever that means] if you have one hand tied behind your back."

Leaders of the 12 TPP countries wound up announcing the goal of finishing the talks by the end of the year, but some think if Obama had been there, they would have declared the deal virtually complete, creating the impetus for key committees in Congress to take up the trade promotion authority bill. Instead, it waits in the wings, assembly required, with no agreement yet on how to put it together.
Good. Let's hope it rots there.
Finally, all is not lost, for at least four reasons:
1.) Obama is a lame duck. A guy who can't launch a website for his signature domestic initiative shouldn't be let anywhere near an international agreement that creates a "binding international governance system." Yikes! Bad idea!
2.) Fast track is on the rocks because of yet another "strange bedfellows" alliance. FT:
The Obama administration's efforts to secure "fast track" authority deemed vital to seal trade deals with Europe and Asia have run into resistance from "an unholy alliance" of Democrats and conservative Republicans on Capitol Hill.
3.) Lots of resistance back in the district. Here's a handy map that states and localities can look at if they want to see who can sue them; and here's a letter state legislators wrote.
4.) Other democracies don't like the TPP any better than we do. Here's one view from Japan.
So get it together, talk it up, write that letter to the editor, and do whatever else you can! The Constitution we've got will do 'til another one comes along, and the TPP isn't that. Did you vote for this, or anything remotely like it?
NOTES
[1] In connection with putative trade deals, there is also this language in Article I, Section 8:
To regulate commerce with foreign nations, and among the several states, and with the Indian tribes…
[2] I sure wish Public Citizen weren't so PDF heavy. It's really hard to deep link into their stuff, or quote from it, and their work deserves the widest possible circulation.
[3] I know that the approach of TPP is similar to NAFTA, but TPP covers ~40% of the world's GDP.