"You know nothing, Jon Snow." George R. R. Martin, A Storm of Swords
By Lambert Strether of Corrente.
Thailand, "one of the great development success stories," the second largest Southeast Asian economy, the Detroit of Asia, a potential TPP signatory (or not), a long-time strategic partner of the United States, and a long-time, though coup-prone (18 total, 11 successful, and counting, or not) democracy, is having another political meltdown.
Here, I'm not going to ask why, let alone predict any sort of outcome, or even pick sides. In international, global coverage, the scorecard has two sets of players: The poor Northeast slash government slash Pheu Thai Party slash Shinawatra family slash Thaksin Shinawatra, former prime minister and international fugitive (Thai politics is nothing if not colorful) slash the Reds versus Rich Bangkok slash protesters slash PRDC slash Democratic Party slash Suthep (leadership figure) slash the Yellows. Guelphs and Ghibellines, donchya know. Except not. The conflict is multi-sided. And compromise — a good operational definition would be avoiding civil war — is possible.
As we shall see, Rich Bangkok vs. Poor Northeast is a narrative that's just as simplistic as Blue States vs. Red States in the US, a that which we would probably try to talk a Thai journalist out of, were they to write about the 2016 horse race, say. "The situation is more nuanced than that!" we would cry. So, I'd like to try a more nuanced approach for Thailand in three ways:
1) By looking directly at the protesters themselves;
2) By classifying the non-violent tactics used by the protesters;
3) By presenting a recent an example of people who are seeking to heal Thailand's divides, rather than inflame them.
Again, this post is not in any way Inside or even Outside Baseball and I hope old hands in Asia will correct or clarify as required. I think we in the United States should probably spend more energy cleaning our own side of the street by fixing the many flaws in our own democracy, rather than lecturing others on how they should fix theirs. The idea that the United States in 2013 is any sort of democratic avatar, or "shining city on a hill" is ludicrous.
1. The Protesters
First, it has to be said that the protesters have gotten terrible international press, and earned every bit of it. From the billionaire beer heiress driving a bulldozer at the barricades and proclaiming that the Thai people lack a "true understanding" of democracy "especially in the rural areas" to signage riddled with poor English, to virulently misogynist rhetoric from the stage, the protesters have done themselves no favors at all. In a global world, a class needs to make a case for itself on the global stage; we should see editorials like this one in WaPo as reflecting that failure, and serious for that reason (since Fred Hiatt? Come on). It must also be said that postponing an election so Suthep's council of "good people" can straighten the country out is a loser. If it even gets off the ground, it's not going to fly for long. [NOTE: One of the most pleasant aspects of the Federalist Papers is that it doesn't assume that anybody is good.]
That said, here's an image of a march going through Silom, near Lumpini Park, a major protester occupation site: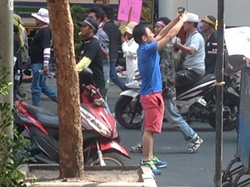 Those marchers just aren't "middle class." No iPhones, no fancy shoes, no teeth with braces, no selflies. And the march went on and on and on ("Do you how hard it is to convince 150,000 Bangkokians to walk in the sun for hours?")
It's also worth pondering the sheer numbers:
Global commentators should spend more time pondering why some 500,000 – 1 million people – many of whom used to be quite complacent about and uninterested in politics – have taken to the streets demanding an end to the Thaksin regime. There must be compelling reasons to this uprising against an elected government. Its size alone makes this an unprecedented phenomenon in Thai political history.
These figures are exaggerated, but no matter: Drone views of the crowds (at least in the initial stages) showed truly impressive turnout by any standard. And the protesters colors (red, white, and blue wristbands, whistle lanyards, hair extensions, shirts, hats, and so forth) are not worn by "iPad-loving hi-sos only good for spending their days on Facebook," but by street vendors, small business owners, and even the occasional taxi driver. I'm not saying the colors are universal, or even ubiquitous, but they are worn by all sorts and conditions of people, and not just by Rich Bangkokians.
2. The Protester's Non-Violent Tactics
Taking Gene Sharp's 198 The Methods of Nonviolent Protest and Persuasion as the classification scheme, we see the protesters using many of them: Public Speeches (#1), daily by Suthep; Caricatures (#7), often viciously misogynistic; Displayed Communicatios (#8), as posters and placards, sometimes misspelt; TV (#11), the Yellows actually own a TV station, Blue Sky, which sells the protesters' iconic whistles; Color (#18); Wearing Symbols (#19) and Symbolic Sounds (#28), the whistles; Marches (#38); and #173 Nonviolent Occupation.
Of these, Symbolic Sounds (#28, "whistle blowing") and Nonviolent Occupation (#173) are the most important. The whistle blowing, beyond the symbolism, also seems calculated to let the protesters know their own strength, and also to drown out opposing views, through sheer volume. The Nonviolent Occupations seem to seek to delegitimize the government, in hopes of achieving the protesters' demand: That the Shinawatras "get out," a demand very similar to the Egyptian demand that Mubarak "leave!" ("Arhal!")
We might hope that the Thai protester have better ultimate outcomes than the Egyptians did. Nevertheless, they have not yet, and it may be that the nonviolent methods not used show us why. No methods of Economic Noncooperation or Intervention are used. Thousands of office workers may come out to rallies at 5:00PM and blow their whistles, but there is no attempt at a strike. And to an observer of the Occupations, the lack of a general assembly is striking. The result is that the Occupations, increasingly, become "walking streets" where vendors sell red, white, and blue protest merch. Whatever Suthep's movement is about, it was surely not about shopping.
3. Beyond Binary Opposites
Here's an interesting Op-Ed in today's The Nation — a strong, not to say FOX-intense, supporter of the protests — by the opera composer Somtow Sucharitkul, and Cod Satrusayang, a freelance journalist (I'm leaving out which side each on is on). From Non-Extremists are Reaching a Consensus, a headline you would not see on FOX:
Satrusayang:
To those that support the current government:

There are many good reasons for the supporters of the current government to not listen. One can only be called uneducated, backwards or traitors for so long before harboring some sort of resentment. One can only be accused of having their vote be manipulated or bought for so long before being disillusioned with the opposition and their ilk. But that would be wrong. …

It is true that every side of this is corrupt but it is time that we stop pointing fingers at the other side and take a long hard look in the mirror. The inconvenient truth is that all sides are riddled with scandals and the time is ripe to break free from the cycle of corruption. The only way to break free from our political free fall is to unite together to oppose those that lead us for surely we have more in common with one another than the multimillionaires claiming to represent the people. …

If it is true that [Thaksin] has awoken the political awareness of many Thais in society then the time is now to showcase true political understanding.

The reality of the situation is this, the PDRC may treat your voices and votes with disdain but don't be fooled into thinking that the current government and its backers care about your votes anymore than what it takes to hold onto power. Just ask the poor farmers asking for their rice back because the government defaulted on the rice scheme, ask the red shirts still rotting in jail, ask the dead of Rajprasong. Also remember that in the long run, you have already won. The rural vote will never be disregarded again.

Democracy is here to stay and long may it do so.
Somtow:
To those that support the opposition:

There is a fairly good chance that you will "win" this struggle — if by winning you mean the removal, for a time, of the Thaksin influence from Thailand's politics. …

Winning the war, however, would be a piece of cake compared to winning the peace.

The people you believe to be your enemies have managed to put a very powerful myth in place: the myth of the simple peasant fighting an oppressive elite for the simple right to be free. …

You have also created some myths of your own which you need to reexamine thoroughly. …

"This is a struggle of good against evil." Sorry, guys, that one only works in Bibles and comic books. There are no angels here, and no demons. There are only people with agendas.

"Eliminating Thaksin will eliminate the ills of Thai society." I'm afraid those ills probably have deeper roots. …

"The poor are too stupid to vote." This one will never fly. Lack of education and money does not translate into stupidity nor does it deprive anyone of any rights.

"It's all about corruption." No. Every government in Thailand has been corrupt. Thaksin merely broke the gentlemen's agreement about how corrupt you are allowed to be. ….

To win the peace, you need to accept the reality that most people in this country have cast their votes on the other side. You must stop these childish sour grapes, stop saying all their votes were bought — you would have bought them if you could! — and roll up your sleeves and start convincing people who voted against you that you would be better for them. …

I think you will discover that most of them want the same things you want: fairness, freedom, and unselfish governance. I think you will see that you have a great deal more in common than you thought. "Loving thy enemy" may be a hard pill to swallow. But if you really want to be the messiah, the crucifixion is in the contract.
* * *
I hope this shows something of the complexity — and the opportunities — of the Thai political crisis. From the 30,000 foot level, I actually do think there are two sides: Those who want to kill for their goals, and those who don't. The use or surrender of strategic hate management is the issue, in Thailand as here.
NOTE Thailand is a monarchy, and the Lèse-majesté laws are enforced, even against foreigners. Therefore, readers, discussion of the Thai monarchy or royal family is off-topic. Guests in Thailand must obey its laws. Their house, their rules.