Naked Capitalism readers have frequently called for the Post Office to offer basic banking services, as post offices long have in many countries, notably Japan. That idea has gotten an important official endorsement in the form of a detailed, extensively researched concept paper prepared by the Postal Service's Inspector General. I've embedded it and strongly urge you to read and circulate it.
One of the stunning parts in reading the document is to see how wildly successful this program could be, precisely because traditional banks are withdrawing from many of the neighborhoods in which moderate and lower-income people live, and non-banks offer targeted, richly priced services, too often designed to take advantage of desperation or simple lack of alternatives. Even though most of us are aware of this general picture, the USPS IG, dimensions the scale of this problem and the costs to the affected households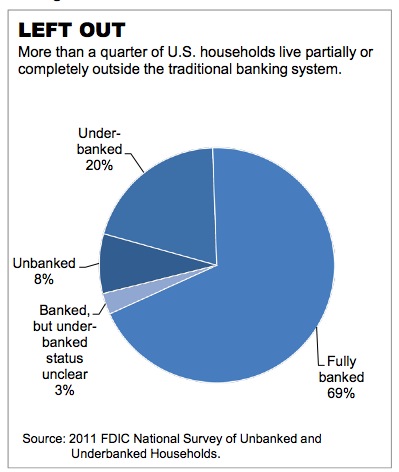 There are 34 million un and underbanked American households, which translates into 28% of the population. And consider what this second-class status translated into in fees and other charges:
The average underserved household has an annual income of about $25,500 and spends about $2,412 of that just on alternative financial services fees and interest. That amounts to 9.5 percent of their income. To put that into perspective, that is about the same portion of income that the average American household spends on food in one year.5 In 2012 alone, the underserved paid some $89 billion in fees and interest.
And this level of charges plays directly into financial distress:
For the most vulnerable Americans — including many of the underserved — the difference between making it and not is a small amount of money. Among the 1.1 million people who filed for personal bankruptcy in 2012, their median average income of $2,743 a month was just $26 less than their median average monthly expenses. Put another way, these people were just $26 a month away from making ends meet.
Despite the enormous amount of taxpayer and stealth public support (the taxes on savers known as ZIRP and QE), banks continue to reduce service levels to the broad public, closing 2300 branches in 2012 alone. 93% of the cuts since 2008 have, not surprisingly, taken place in lower-income neighborhoods.
The Postal Service's existing branch network and its presence in payment services (it currently offers domestic and international postal money orders and prepaid debit cards via American Express) and positive customer perceptions (it is widely seen as highly trustworthy) makes it easy to expand its financial service offerings. In some ways, this move would represent the Postal Service returning to its roots, since the Postal Savings System provided savings accounts from 1911 to 1967, and at its peak served over 4 million customers. And even though banks are certain to squawk, the fact that they've abandoned many communities and districts strengthens the Postal Service's case for filling the gap: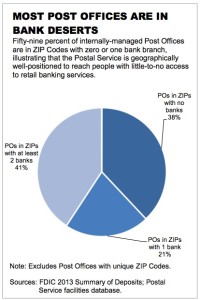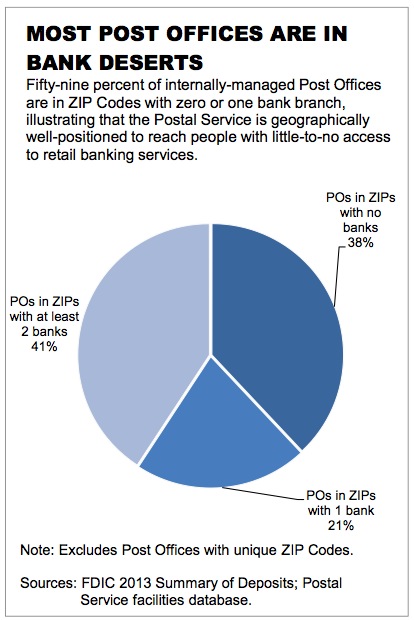 Remember that in some rural communities, where the USPS has been closing branches due to cost pressures, the demise of the local post office is the death knell for the town. The addition of financial services would not simply help keep a critical service going by providing the additional revenues to keep these branches open; the addition of banking services would be a real boon to these struggling small towns.
The document outlines product opportunities for the Postal Service. The low-hanging fruit is expanded payment services, via a Postal Services reloadable prepaid card, which could be FDIC insured through partnership with a bank, and check cashing. But the more interesting and socially valuable opportunities like in helping citizens save more, say via an interest-bearing savings feature on the prepaid cards, and undercutting payday lenders. It says quite a lot about how rapacious this market is when a product with an effective interest rate of 28% is a screaming bargain:
Postal Loans would be available to people who have their paychecks directly loaded onto their Postal Service prepaid card (this also could be for government payments, such as Social Security or disability benefits) and have received at least two straight payments. For those whose employers do not offer electronic transfer, they could be eligible for a loan if they load at least two consecutive paychecks onto a Postal Service prepaid card.

People could borrow up to 50 percent of their gross paycheck. For a person who earns $18,000 per year and gets paid twice a month, that is $375. Every borrower could be required to pay a minimum of 5 percent of their gross pay from each paycheck until the loan is paid off. In this scenario, that would be $38 from each paycheck.47 The Postal Service would automatically withhold loan payments from borrowers' paychecks before putting the difference on their Postal Card. If the Postal Service charged a $25 upfront loan fee and a 25 percent interest rate, the borrower would pay off the loan in 5 1⁄2 months, paying a total of $48 in interest and fees across the life of the loan.
And as Dave Dayen points out at The New Republic, the Postal Service has the authority to launch these products now:
The Postal Accountability and Enhancement Act (PAEA) of 2006 put restrictions on offering new "non-postal" services. However, the report points out, "given that the Postal Service is already providing money orders and other types of non-bank financial services, it could explore options within its existing authority."

This transforms postal banking from a nice idea that works in other countries but would never get through Congress to something the USPS could test right away. While the Inspector General does not represent the final legal word on the subject, precedent would be on the side of the Postal Service if it wanted to construe the PAEA this way. The 1984 Supreme Court ruling in Chevron v. NRDC generated what is known as the "Chevron deference," which gives fairly generous latitude to federal agencies in interpreting statutes. Congress could always act at the behest of payday lenders and other operators to ban the USPS from specifically offering financial services, but then gridlock would work in the Postal Service's favor, foiling Congress' effort to stop postal banking.
I'm not as confident that the incumbents won't be able to throw sand in the gears via a court challenge. While there's good reason to think they might not ultimately prevail, mere delay would stymie the Postal Service at a time when it is in keen need of more revenues. That means branch closures would continue apace, reducing somewhat its effectiveness as a competitor.
The flip side is that this idea has such obvious popular appeal that raising awareness of this option and cultivating public support would increase the PR cost of trying to stymie this idea in courts. Imagine Elizabeth Warren and Sherrod Brown grilling big bank execs on their profit margins on these products and how much they earn by gouging low and moderate income Americans, particularly after having gotten all sorts of support from the long-suffering public during and after the crisis.
So please talk up this proposal up with friends and colleagues. The more support we can garner for providing good, fairly priced products to the many customers banks have chosen to neglect or abuse, the better.
Providing Non-Bank Financial Services for the Underserved