Yves here. Among other things, this post shows what passes for analysis among elite technocrats.
By Matt Stoller, who writes for Salon and has contributed to Politico, Alternet, Salon, The Nation and Reuters. You can reach him at stoller (at) gmail.com or follow him on Twitter at @matthewstoller. Originally published at Observations on Credit and Surveillance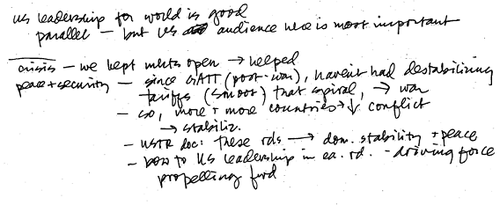 People don't naturally enjoy doing bad things to each other. But people do end up doing lots of bad things to each other. How does this happen?
It comes from something my friend Jonathan Schwartz calls "an inner lawyer." Everybody, even and especially bad people, have "an inner lawyer". This is that voice inside you that always argues that what you are doing is morally acceptable, the voice that says that your anger is justified, that it's someone else's fault, that not saying you got extra change is fine, that stealing a cookie is ok because the other person doesn't really want it, and so forth. No one is just greedy and cynical, a la Frank Underwood, even and especially the uber-greedy and uber-cynical need a justification to themselves for doing the terrible things they do. That's why maniac political leaders argue, to themselves, that doing a terrible thing is necessary for some greater national purpose, instead of just saying "We should do this terrible thing because I'm a maniac!" This need for an inner lawyer is universal.
It's not just true of people, it's true of institutions, and countries. It's true for global, ie. US trade policy post-World War II. It's true for anything that people get together and do. So when looking at US trade policy, which at first helped create prosperity for most Americans from the 1930s to the early 1960s, and then turned increasingly into destroying prosperity for most Americans after that, it's useful to find the inner lawyer for the people who knowingly organized a schema that would do this.
Well, here we are. Above is are just released notes from an Oct, 1999 meeting between Clinton trade officials Lael Brainard and Rick Samans. The meeting was organized to prepare for the upcoming Seattle round of the World Trade Organization negotiations, the expansion of the trading regime of NAFTA and the WTO that had already begun eviscerating the American middle class (temporarily masked by the Greenspan-induced dot com boom). Now you'd think that these two would be discussing some aggressive economic rationale here, or corporate consolidation or soft power or any number of other McKinsey-consultant derived master of the universe rhetorical concepts. But these two actually sound like… hippie peaceniks. Their argument for expanding trade boils down to give peace a chance, man.
Here's the basis of the meeting, transcribed:
Peace and security

– since GATT (post-war), haven't had destabilizing tariffs (smoot) that spiral, —> war

– so, more and more countries —> less conflict —> stabiliz.

– USTR doc: these rds —> dom. stability + peace"

– US leadership in each rd —> driving force propelling forward
The note says Brainard and Samans talked "peace and security". Then they discussed GATT and the Smoot-Hawley tariff. GATT was the General Agreement on Tariff and Trade, established in the 1960s in the first round of trade talks that actually involved meddling within domestic lawmaking. This was the round that George Ball, who believed in a world government by glorious multi-national corporations, organized. I wrote about that here. Smoot-Hawley was a high tariff implemented in 1930, and economists sometimes like to pretend that it was the single most important factor in causing the Great Depression and then World War II. For people crafting the global trade agenda, GATT and Smoot-Hawley are the touchstones. For them, GATT means peace and prosperity, and Smoot-Hawley means world war and depression.
"Since GATT, haven't had destablizing tariffs that spiral" is how Brainard and Samans characterize it. "So more and more countries – so, more and more countries —> less conflict —> stabiliz." There you have it – Brainard and Samans had a simple thesis. More countries in more agreements meant more peace, and fewer countries in fewer agreements meant spirals into world war. And only US leadership, the "driving force propelling forward" each round, could ensure peace.
So that's what the inner lawyer of multi-millionaires who seek global trade agreements to ensure corporate hegemony sounds like! Cool.
Incidentally, in terms of trade and peace, this meeting took place in October, 1999. That was 23 months before 9/11 and the whole endless war on terror, which US trade agreements did not prevent.
* And what happened to these two souls? Well, Brainard became the chief diplomat for the US Treasury Department under the Obama administration during the bailouts, and will shortly be confirmed to the Board of the Federal Reserve. Rick Samans went on to run the Davos convention for many years before joining the United Nations. Brainard is also married to Kurt Campbell, who was the driving force behind the Trans-Pacific Partnership in the State Department until February, 2013.