Finian Cunningham, in a post on the Ukraine, struggled to describe the alternative reality in which American officials were operating, and came up with this formulation:
Welcome to the world of surrealpolitik, where anything you assert to be true is true, notwithstanding the factual evidence….

NATO and Washington are not only inverting fact and reality over Ukraine and the wider serious geopolitical implications. The reckless distortion is delivered with a contempt born of the most fatuous purblind arrogance. The conundrum is how to deal with such insanity?
On the Obamacare front, Lambert describes how the overdue ouster of Health and Human Services chief Kathleen Sebelius reveals more deep-seated dysfunction in the Administration. I'm sure the kingmakers and breakers thought they were terribly clever. Sibelius was clearly a political dead woman walking due to the huge embarrassment of the multidimensionally botched Obamacare site launch. In the private sector, when you have a train wreck and you need to restore confidence, you clean house and bring in someone who looks credible as a toxic waste remediation expert. But Sibelius instead became the official Obamacare pinta doll until the Administration though it could declare victory by virtue of having reached the 7 million enrollment mark. So the motivation, as ever, is about perception management, and is at best only tangentially related to reality.
By Lambert Strether. Cross posted from Corrente
Health and Human Services Secretary Kathleen Sebelius is resigning six months after a disastrous rollout of President Barack Obama's signature health law, according to administration sources.

On Friday, Obama will nominate Sylvia Mathews Burwell, the director of the Office of Management and Budget, to replace her.

Sebelius, 65, gave no hint of her imminent departure as she testified Thursday before a Senate panel.
So, did she fall or was she pushed? I say pushed:
Sebelius's departure was unexpected by at least one person close to her, Kansas Insurance Commissioner Sandy Praeger, a Republican who has worked with her since 1991. Praeger said she was at a dinner where the health secretary spoke last week and that "she seemed like she was in it for the long haul."
Alas, with Obama, falling on your sword is no guarantee you won't be stabbed in the back:
HHS chief: President didn't know of Obamacare website woes beforehand

In an exclusive interview with Health and Human Services Secretary Kathleen Sebelius, CNN's Dr. Sanjay Gupta asked when the President first learned about the considerable issues with the Obamacare website. Sebelius responded that it was in "the first couple of days" after the site went live October 1.

"But not before that?" Gupta followed up.

To which Sebelius replied, "No, sir."
Which, if true, raises even larger questions:
The Times has a horrifying story under a dull headline:

Tension and Flaws Before Health Website Crash

Yes, well, an oncoming "train wreck" will do that.

[O]ver the past three years five different lower-level managers held posts overseeing the development of HealthCare.gov, none of whom had the kind of authority to reach across the administration to ensure the project stayed on schedule.

As a result, the president's signature initiative was effectively left under the day-to-day management of Henry Chao, a 19-year veteran of the Medicare agency with little clout and little formal background in computer science.

Mr. Chao had to consult with senior department officials and the White House, and was unable to make many decisions on his own. "Nothing was decided without a conversation there," said one agency official involved in the project, referring to the constant White House demands for oversight.

Yet that same White House also let Obama swan around the country making ludicrous statements like this, four days before launch:

"[OBAMA:] This is real simple. It's a website where you can compare and purchase affordable health insurance plans side by side the same way you shop for a plane ticket on Kayak, same way you shop for a TV on Amazon. You just go on, and you start looking, and here are all the options."

That's complete management dysfunction.[1]

As we asked earlier, how was this even possible? At the best, Obama's staff — who were constantly demanding oversight — can't pass bad news on to him; at the worse, Obama's just telling outright lies that are going to be exposed in days.

Or, even worse, I suppose, we have a political class — like the ruling class in the FIRE sector, in its own way — that's completely disconnected from all basic reality. It's not merely that the political class can't distinguish between campaigning and governing: They cannot distinguish between what can be done and what can't; they don't see any difference between bullshit and lies; they cannot be honest with each other, or with us, because they literally do not know what it means to be honest; they confuse empathy and compassion with manipulation and public relations; and they experience no consequences for their actions, whether good or bad.
Anyhow, it was important to get Sebelius out of the way before the midterms. (Of course, if the Republicans were the fearsome, feral oppositional force the entire political class tells us they are, they'd be roasting the entire HHS leadership, and the White House team, over a slow fire, in hearings, on television. They aren't, so they don't. What we get is more kayfabe about repealing the law, to be followed by a whimpering acceptance that hey, maybe RomneyCare isn't so bad.)
* * *
And
Sebelius's successor
:
President Barack Obama intends to nominate Sylvia Mathews Burwell, current director of the Office of Management and Budget, to replace Sebelius, according to the official.

Burwell, 48, was confirmed to her current Cabinet-rank position in April 2013. She came to the White House from her spot atop the Walmart Foundation — the giant retail chain's charitable organization which, according to its website, donated nearly $1 billion to causes worldwide in 2011.

Prior to that, Burwell worked for the Bill and Melinda Gates Foundation and in President Bill Clinton's administration under then-Treasury Secretary Robert Rubin.
How cozy.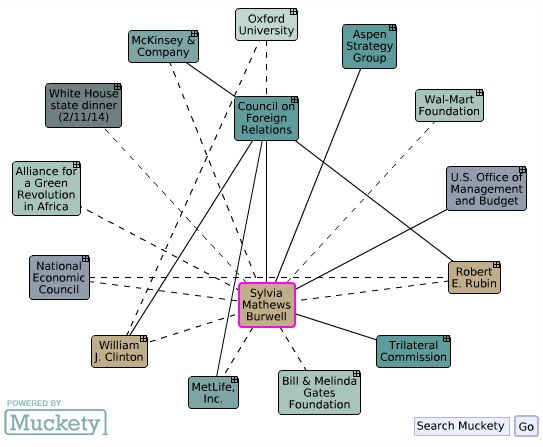 Burwell certainly seems well-connected. I'm sure ObamaCare is in good sucking mandibles hands.
NOTE [1] CNN:
Although the website has been repaired and enrollment has recovered strongly, the debacle continues to baffle many outside experts who have blamed weak leadership at the White House and the health agency that Sebelius heads.
They're baffled! "Obama couldn't have fucked up, we can rule that out…." So, 'tis a puzzlement!