Truth be told, I had really wanted to ignore Andrew Ross Sorkin's artfully packaged Timothy Geithner puff piece in the Sunday New York Times magazine. It's is a major element in the pre-publication public relations push for Monday's release of Geithner's rewriting of history book, Stress Test.
I've described the Geithner's repeated claim that the TARP made money as three card monte, since looking at the TARP in isolation from the hidden tax on savers of ZIRP and QE was misleading. ZIRP alone is estimated to have cost US savers over $300 billion a year, more than 10x in a single year of the total "profit" attributed to TARP. And as we'll discuss shortly, even that claim does not stand up to scrutiny.
Lambert astutely pointed out that this technique wasn't just a device used relative to TARP, but applied more broadly to Sorkin's and Geithner's messaging. And upon inspecting the Sorkin article, Lambert is even more on target than he realized. Separately, I think it's important to identify this propaganda technique, since it is distinct from other types of dishonest communication or rhetorical tricks, such as cherry picking.
It's critical to remember that three card monte is a three person con. The roles are the dealer, who throws the cards in a way so as to mislead, a mark, who is the intended victim, and a shill who helps instill overconfidence in the mark's level of insight to encourage him to play the game.
So what distinguishes three card monte as a narrative trick is deception and misdirection. As indicated above, it is different than cherry picking, in that it is not merely expunging unflattering elements so as to present an unduly rosy picture, but engaging in deliberate deception. But it is also distinct from the Big Lie, where something that is clearly untrue is stated repeated with the understanding that dint of repetition will sway quite a few people.
Here's a classic three card monte example from the article:
This criticism that he was too close to Wall Street was also fueled by the fact that Geithner, with his English spread-collar shirts and his perfectly coifed hair, just looks like a banker. He often tells a story about how Emanuel's wife, Amy Rule, once told him at a dinner party, "You must be looking forward to going back to that nice spot you have waiting for you at Goldman." During an April 2009 hearing about the financial-bailout program, Damon A. Silvers, a panel member, seemed almost incredulous that Geithner had never worked on Wall Street.

"You have been in banking — " Silvers said.

"I have never actually been in banking," Geithner interrupted. "I have only been in public service."

"Well, a long time ago. A long time — "

"Actually, never."

"Investment banking, I meant — "

"Never investment banking."

"Well, all right," Silvers conceded. "Very well then."
Did you catch it? Geithner was the president of the New York Fed. The Fed is a bank. The fact that it is a central bank, as in a banker's bank and also happens to have an awkward public-private status does not make it any less a bank. Let us turn to the authoritative Palgrave Dictionary of Money and Finance (no online version), in an entry written by Richard Sylla:
The Federal Reserve System, or "Fed" in common parlance, is the central bank of the USA. It was founded explicitly as a central bank in 1913. In this respect the Fed differed from the central banks of the leading European nations of the last [19th] century. These central banks evolved gradually over decades into bankers' banks, holders of the nation's ultimate monetary and banking reserves, lenders of the last resort, sole issuers of banknote currency, and supervisors and regulators of ordinary banks. This was after earlier phases in which they had served primarily as agents of government finance and, in most cases, as as ordinary banks of discount, deposit, and note issue. From its inception, the Fed took on all these functions save one. It never carried on an ordinary commercial banking business; it was an exclusively a bankers' bank.
In addition, the New York Fed, the most powerful of the Fed's member banks, has interest rate and currency trading desks, which are important activities to large banks. He was considered to be sufficiently experienced as a banker to be asked in 2007 by Sandy Weill to become CEO of Citigroup.
But see the misdirection? Even Damon Silvers, who is widely considered to be very sharp, fell for it. Americans are so deeply acculturated to see banks as private, profit-making entities that the "public servant" palaver threw him off track. And Andrew Ross Sorkin uncritically parrots Geithner's ruse.
That isn't to say that all of the three card monte in this article originated with Geithner. The entire edifice of the piece is a sleight of hand. Sorkin starts out depicting Geithner as having to defend his record, showing Geithner fieldinh questions from not-terribly-friendly economics undergraduates in Larry Summers' economics class:
On this morning, as was the case many times before, his responses generally coalesced around the plan that defined his tenure: the wildly unpopular authorization of $700 billion in taxpayer money, known as the Troubled Asset Relief Program, to bail out Wall Street's biggest banks. "To oversimplify it, and I think this was Jon Stewart's framing," Geithner told the students, "why would you give a dollar to a bank when you can give it to an American? Why not give them a dollar to help them pay their mortgage?"
Sorkin uses this device to make the story of Geithner's (by implication) unfairly hostile reception as due to his association with the unpopular TARP. Huh? The TARP was designed by Hank Paulson's Treasury and depended on Obama, as leading Presidential candidate, whipping for it aggressively in Congress after its initial defeat to secure its passage. It was most decidedly not Geithner's baby.
The focus on TARP (and to a lesser degree, Lehman) allows Sorkin to omit mention of actions that were clearly Geithner's doing, including: his fighting Sheila Bair tooth and nail on resolving the clearly insolvent Citigroup; his decision to pay AIG credit default swaps counterparties 100 cents on the dollar; his defense of the failure to haircut AIG employees' pay; Treasury's acceptance of intransigence by AIG's CEO, Robert Benmosche; his refusal to use $75 billion in TARP that Paulson's Treasury had courteously left aside for homeowner relief; the clearly too permissive "stress tests,"; Geithner's Treasury allowing banks to repay TARP funds early rather than rebuild their balance sheets (get this: because they were eager to escape very limited restrictions on executive pay); Treasury letting banks repay TARP warrants at an unduly cheap price until Elizabeth Warren's Congressional Oversight Panel caught them out; his cynical policy of "foaming the runway," as in using what were billed as homeowner relief programs merely to attenuate foreclosures and thus spread out bank losses, which had the secondary effect of wringing more money out of already stressed borrowers before they were turfed out of their homes. And this is far from a complete list of Geithner's actions that favored banks over the public at large.
Sorkin instead tries to use the TARP to epitomize that Geithner has been treated unfairly. After all, the TARP was a success! The first paragraph is from Geithner's Harvard talk; after the ellipsis is Sorkin, much later in the article:
"People think we gave the banks this free gift of hundreds and hundreds of billions of dollars, using the taxpayers' money that we would never see again," he said. "People thought we would lose $2 trillion on our financial rescues."….

Geithner is confident that the empirical data has already vindicated his decision. And while there is some debate over how to calculate the proceeds from the various bailouts — TARP, the auto companies, the F.D.I.C. programs and Fannie and Freddie, among others — the evidence is persuasive. ProPublica, the nonprofit investigative organization, which keeps a tally of the bailout, puts the current profit at $32 billion. The White House Office of Management and Budget estimates that Fannie and Freddie will turn a profit of $179 billion over the next decade. (Critics might contend that these figures don't include the costs of the stimulus or the Federal Reserve's quantitative-easing programs.)
Notice how we've shifted terrain again, another three card monte trick. If we are going to make Geithner responsible for the TARP, then Sorkin should follow through with that framing. Paulson, and not Geithner, was responsible for putting Fannie and Freddie into conservatorship, as Sorkin knows full well, having written up that decision in detail in his book Too Big to Fail. Geithner has no business taking credit for that. Nor does he get points for the various alphabet-soup lending programs, which are widely credited to Bernanke (not that I think they deserve praise, mind you. They violated the Bagehot rule of "lend freely, against good collateral, at a penalty rate" and thus created a terrible precedent. And their "success" depended in large measure on ZIRP, which goosed collateral values, particularly of weak credits).
Moreover, the Geithner claim of "$2 trillion in losses" was a straw man, as Sorkin knew full well. Neil Barofsky sent me his e-mail to Sorkin in response to some questions:
[Sorkin] You have been critical of TARP. Should the public, in determining a view about TARP, measure the proceeds returned to taxpayers? You suggested in your book – I think– that the government could lose money. Do you think that stands? To the extent that I've seen estimates of profits, are those real? Or do you think govt is playing games?

[Barofsky] I believe that TARP should and will be measured, historically, by the moral hazard it created and what that means when the next financial crisis hits, as well as the millions of people that it could have helped (and were supposed to help) but did not. As to costs, I defer to CBO, which recently indicated a loss. It is of course good news that the losses will be far less than originally anticipated.

I can only hope, Andrew, that you do not repeat the rather stark misrepresentation that you did last time, which is to attribute a quote in my book about potential losses in the PPIP program on page 136 (regarding potentially catastrophic losses which did not occur after the programs were trimmed significantly based on our recommendations) to AIG or the program as a whole. It was unfair then, and it would be even more so now.
In fact, Barofsky is correct on the CBO's tally on the TARP as of April 2014: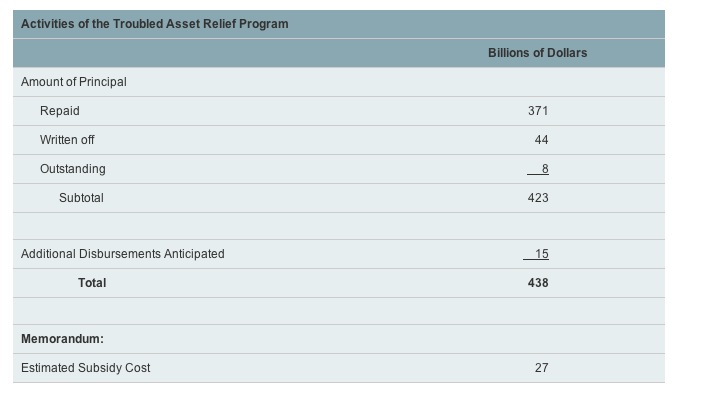 Amusingly, Tim Cavanaugh in the National Review, which really does not want to like Barofsky, since he's a "liberal," can barely contain his antipathy for Geithner:
But Barofsky (who became SIGTARP shortly before Obama's inauguration and left in 2011) was notably if not uniquely honest in the Obama brain trust. He correctly pointed out in 2010 that the design of federal housing efforts was to re-inflate the housing bubble — not exactly a Newtonian discovery, but something few people in government were willing to say outright. He consistently threw water on bogus claims that the TARP was on the verge of turning a profit. Despite or because of his soft spot for bad mortgage borrowers, he was unusually willing to admit [pdf] that the whole federal apparatus of trial loan modifications was a form of cruelty, dragging out the pain and false hope for people who would have been better off just getting foreclosed and moving on with their lives. He made an earnest effort to perform an essentially impossible task: safeguarding the taxpayers' interest in a program that was designed to rip off the taxpayers…

Barofsky's commitment to getting at the truth is in fact the source of the hatred between the two men.
Some other examples of three card monte in the story: Sorkin offers a weak defense of Geither's "Turbo Timmie" tax problems as being due to fact that he was a modestly paid public servant and couldn't afford big ticket tax advice. Please try that excuse with the IRS the next time you have a tax problem and tell me how well it goes. Similarly, Sorkin plays the modesty card again" "Last month, Geithner officially began a new job as president of a modestly sized private-equity firm, Warburg Pincus." He does concede that Geithner is "likely to make millions if not tens of millions of dollars over the next decade if he stays in the business." Is this the Andrew Ross Sorkin who is a finance maven? Top players in PE have pay packages that make bank CEOs look like pikers. And Warburg Pincus "modestly sized"? It's the fifth largest player.
These are far from the only misdirections by Geithner and his loyal water-carrier Sorkin, although many of them are more conventional rhetorical devices, such as straw manning or false dichotomies. For instance, Geithner repeatedly presents the alternative as bailing out the banks versus letting the system collapse, as opposed to preventing a meltdown and making sure that bankers and bank investors shared in the pain along with ordinary citizens. The idea of restructuring (as opposed to collapse) appears to be utter anathema to Geithner. Similarly, Geithner uses the straw man of half-hearted British measures to direct more credit to the real economy as proof that other approaches would have failed. And par for the course, Geithner deems ending "too big to fail" as " not just quixotic, it's misguided."
The one bit of good news here is that for three card monte to succeed, it takes a gullible mark. But Geithner is too well known to the American public for his efforts at record-burnishing to have much effect. The comments in the New York Times section were overwhelmingly critical of Geithner and often Sorkin, and the defenses were far shorter and less articulate, generally of the "if he hadn't done what he did, you wouldn't have been able to get cash from your ATM." Honestly, even that as a worst case scenario is overdone.
Americans would have accepted a week long bank holiday if they knew the system was being restructured. And the bigger point, which is not lost on the public, was there were plenty of other options for saving the system. The one chosen, that left the banks largely unreformed and no one of any consequence punished, was clearly just about the worst of the available options, unless, of course, you are, like Geithner, a banker.