At one level, it's vastly amusing to watch Big Pharma, through its powerful lobbying group PhRMA, complaining that its ox is being gored by insurers through how they've designed Obamacare plans. On another, though, the analysis prepared for PhRMA confirms what this site has long argued, that the Obamacare plans represent a deliberate effort to extract more rents from the public at large on behalf of the medical-industrial complex.
For those who remember the backstory, the Affordable Care Act was intended to enrich both insurers and drug manufacturers, by providing new requirements and subsides so that a whole new group of previously uninsured would have medical coverage. Both players also got some protection of their margins, the insurers through profit "limits" that allow them to pay even less out of premium dollars to health care than they do now, the drugmakers through a ban on drug reimportation. As a result, Health insurer and pharmaceutical company stocks rose when the ACA was passed.
But the drug companies apparently woke up only now to the fact that the insurers were in a position to, and would, game the design of Obamacare plans to their benefit and to the disadvantage of the pharmaceutical industry. The critical element is that health insurers are increasingly forward integrating into providing medical care via having their own networks of HMOs.
Let's focus initially on the pained recognition by the drug companies that the insurers are managing to cut a much bigger piece of the Obamacare cake for themselves.
PhRMA commissioned a study from Milliman, Inc. on Obamacare plans. Now on the one hand, one should look at any research paid for by a industry association with a good deal of skepticism. However, since the drug industry was expected to be one of the big winners out of Obamacare, if they are now complaining, in effect, that they aren't getting what they expected, there's good reason to think they've been out-maneuvered by the insurers.
The press release and study try to present the problem as one of the poor public being shafted. While that no doubt is true, it's not hard to see what the real agenda here is.
The study focused on Silver plans, since that is what the overwhelming majority (62%) of Obamacare enrollees selected. It notes that those plans still fall short of private insurer plans. The actuarial value of the typical employer-provided plan is 77%, versus 68.5% for an unsubsidized Obamacare plan (that also raises the specter that the insurers are cheating, since the actuarial value of Obamacare Silver plans is supposed to be 70%).
The issue is that the benefits are skewed to skim on drug benefits relative to other medical services. 46% of the Silver plans have a combined deductible, which means that patients must satisfy the deductible before they get reimbursed for drug coverage. By contrast, in employer provided plans, 89% do not have a deductible for medications. they are covered from the first dollar. From the report:

And they show how much of a difference this makes in how much extra patients pay for these Obamacare plans versus typical employer-provided plans: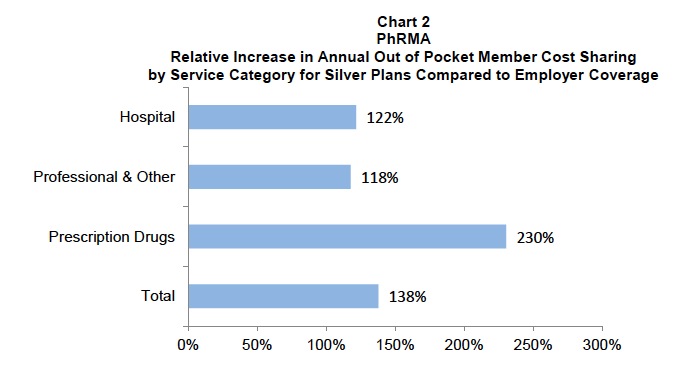 Now what one can actually conclude from this is certain Obamacare policyholders lose out in a big way on drug coverage relative to the baseline of what employers decided to negotiate for the bosses and employees. The reality, which the PhRMA doc tries to obscure, is that the clear loser is the drug companies themselves.
Now of course, you might say that this outcome reflects consumer choice. But I'd hazard in most cases not. From what I can tell, many people who were selecting Obamacare plans were overwhelmed by complexity, and tried to simplify the choice by focusing on the variables that they deemed to be most important. Getting a plan that gave them access to doctors and hospitals they cared about, as well as overall deductible levels versus premium levels, appeared to dominate over other elements of the plans.
Now one might ask why the insurers decided to skew so many of their plan offerings this way. Perhaps it did not occur to you that they have their tentacles much more directly in the provision of primary and hospital care? In other words, we have a Godzilla versus Mothra battle under way here, and it looks like Godzilla (the insurers) are winning. Big Pharma apparently didn't understand the degree to which insurers could use policy design to direct more of the Obamacare looting to their own pockets.
This trend of insurers getting more and more into the health care business itself has been under way for some time. For instance, from a 2011 article in Becker's Hospital Review:
Two related but distinct trends are emerging, and quietly: insurers buying physician groups and insurers buying hospitals. The first development has been subtle. Four of the five largest health insurers have increased physician holdings in the past year, according to a Kaiser Health News report. Recently, UnitedHealth Group has been buying medical groups and launching physician management companies. The same report said the strategy has stirred little controversy largely because few people know about it. One physician group mentioned in the report learned of United's new strategy only when it received a phone call from company with an offer.

So far, UnitedHealth is the payor with the largest revenue to buy physicians, but it is not the first. CIGNA Medical Group launched its CareToday clinics in 2006, providing "an alternative to traditional [physicians'] offices" in Arizona. Last December, Louisville-based Humana purchased Concentra, an urgent-care system based in Addison, Texas. In early June, Indianapolis-based WellPoint acquired CareMore Health Group, a health plan operator based in Cerritos, Calif., that owns 26 clinics.

"There is definitely a national landgrab over primary care physicians," says Ted Schwab, partner at the Health and Life Sciences practice of Oliver Wyman, an international management consulting firm. This creates a clash between the insurance industry and hospital industry as both fight to control primary care, the epicenter of care management. "We work with insurance companies all over the country, and every single one of them is discussing this in their board rooms. Some are very aggressive, some have decided not to do it," says Mr. Schwab.

The model poses a natural threat to providers, particularly hospitals. OptumHealth, UnitedHealth's subsidiary, has said its physician networks serve all players in a health system, including rival health plans with policyholders who use the same physicians. Still, the CMO of a physician group in Nevada declined UnitedHealth's offer, saying it would compete directly with the group's business model, according the same Kaiser Health News report. Primary care physicians are already in high-demand, and by acquiring them in certain markets, insurers could potentially wrest control of entire health systems by influencing referrals — whether that is an explicit intention or not.

A proposed deal in Pittsburgh has proven insurers can take their acquisitions one step further and buy entire hospital systems. While the concept may be making headlines, the unorthodox model is leaving many players in the healthcare industry with cold feet.
Now even though insurer acquisition of hospitals has gone in fits and starts, insurance company employees have been making their plans clear. In fact, they don't necessarily need to own hospitals directly to dictate their economics, so they may decide to leave them as stand-alone entities. From a post at Whole Health Chicago (emphasis original):
The speaker at these evenings is always a physician employed by the insurance company. His/her title is medical director (I begin to think there must be dozens and dozens on their payroll) and he always begins by reassuring the audience that he was in clinical practice himself so he understands something of what physicians–especially primary care physicians–are facing. I view this physician more as a "Judas steer," the animal that leads an innocent but doomed herd of cattle through the slaughterhouse corridors to the killing floor.

• The health industry hopes that individual medical practices and small medical groups will ultimately disappear from the landscape by being financially absorbed into larger groups owned by hospital systems. It's more economically sound for the insurance industry to deal with several large medical players than thousands of mom-and-pop operations. A health care consultant specializing in these mergers and acquisitions told me her firm was unbelievably busy, that small practices were being vacuumed up all over the country. In this construct, doctors who've owned their practices for decades sell to a mega-group and become employees…The ultimate decision-makers in these vast systems are called health care executives. They're usually non-MD MBAs, and we doctors refer to them as "suits." Unless you cross them the wrong way (in which case reading up on witness protection techniques might be a good idea), health care executives are quite pleasant and very well dressed. Little wonder. They take home enormous salaries and stock option bonuses.

• The name of the game now becomes low-cost standardization of medical care.

• You might be saying "Isn't this just like that HMO I was in once, but with bigger operators? When I was in an HMO, all I heard my doctor say was 'sorry, you can't have that.'" Yes, Virginia, this is just like an HMO, but with one major difference. If you hated your HMO, you could opt out and spend more money for good old-fashioned fee-for-service PPO (preferred provider organization) coverage. These were doctors who agreed to accept the insurer's fee rate, but still had the freedom to order tests and drugs they chose themselves and weren't penalized for doing what they thought best for you. The only problem? This PPO opt-out is headed for extinction.

• Let me close with a best-as-I-recall quote from an insurance company medical director. "We can no longer afford to pay for health care under the PPO model. Our plan is to phase out all fee-for-service care during the next few years. We'll pay you doctors a finite amount of money to take care of a defined population. We tell doctors, 'Don't spend much money and you can keep the difference. Period. Don't follow guidelines, and you'll be leaving behind some serious money on the table and we'll just take it back.'"
So in the end, all but the wealthiest patients, who will be able to pay for doctors who opt out of the insurance paradigm completely, will see a degradation of health care at insurers' hands. We only get a big of incidental comic relief in seeing the Big Pharma players getting a bit of the short end of the stick too.