Yves here. This post on largely-hidden hidden power assumptions might seem wide of the mark, but it's well night impossible to effect change without recognizing power dynamics and leverage points. One of our occasional themes at Naked Capitalism is the degree to which the coercive elements of capitalism aren't acknowledged; they are so deeply internalized by most people as "that's how things work" as to not be amenable to scrutiny. As we wrote last year:
One issue I've long been bothered by is the libertarian fixation on the state as the source of coercive power. The strong form version is that the state is the only party with coercive power (and please don't try denying that a lot of libertarians say that; there are plenty of examples in comments in past posts). Libertarians widely, if not universally, depict markets and commerce as less or even non-coercive.

What is remarkable is how we've blinded ourselves to the coercive element of our own system. From Robert Heilbroner in Behind the Veil of Economics:

This negative form of power contrasts sharply with with that of the privileged elites in precapitalist social formations. In these imperial kingdoms or feudal holdings, disciplinary power is exercised by the direct use or display of coercive power. The social power of capital is of a different kind….The capitalist may deny others access to his resources, but he may not force them to work with him. Clearly, such power requires circumstances that make the withholding of access of critical consequence. These circumstances can only arise if the general populace is unable to secure a living unless it can gain access to privately owned resources or wealth…

The organization of production is generally regarded as a wholly "economic" activity, ignoring the political function served by the wage-labor relationships in lieu of baliffs and senechals. In a like fashion, the discharge of political authority is regarded as essentially separable from the operation of the economic realm, ignoring the provision of the legal, military, and material contributions without which the private sphere could not function properly or even exist. In this way, the presence of the two realms, each responsible for part of the activities necessary for the maintenance of the social formation, not only gives capitalism a structure entirely different from that of any precapitalist society, but also establishes the basis for a problem that uniquely preoccupies capitalism, namely, the appropriate role of the state vis-a-vis the sphere of production and distribution.

What struck me about Heilbroner's discussion, as if he was tip-toeing around the issue, and it was not clear whether because he could not formulate a crisp description of the power relationships, or that it was clear to him but he really didn't want to come out and say what he saw.

Ian Welsh ventures where Heilbroner hesitated to go:

The fundamental idea of our current regime is one that most people have forgotten, because it is associated with Marx, and one must not talk about even the things Marx got right, because the USSR went bad. It is that we are wage laborers. We work for other people, we don't control the means of production. Absent a job, we live in poverty. Sure, there are some exceptions, but they are exceptions. We are impelled, as it were, by Marx's whip of hunger. It took a lot of work to set up this system, as Polyani notes in his book "the Great Transformation", but now that it has happened, it is invisible to us.

We have to sell our labor (or be supported by someone who does that) as a condition of survival. Now that may not seem peculiar since that has been the state of affairs in most advanced economies for generations. The seeming exceptions, like farmers and even fishermen, are now little capitalists; they own equipment and sell their goods to wholesalers of various sorts. This order was imposed after the feudal era. As Yasha Levine explained, citing Michael Perelmen's The Invention of Capitalism:

Faced with a peasantry that didn't feel like playing the role of slave, philosophers, economists, politicians, moralists and leading business figures began advocating for government action. Over time, they enacted a series of laws and measures designed to push peasants out of the old and into the new by destroying their traditional means of self-support.

"The brutal acts associated with the process of stripping the majority of the people of the means of producing for themselves might seem far removed from the laissez-faire reputation of classical political economy," writes Perelman. "In reality, the dispossession of the majority of small-scale producers and the construction of laissez-faire are closely connected, so much so that Marx, or at least his translators, labeled this expropriation of the masses as ''primitive accumulation.''

Perelman outlines the many different policies through which peasants were forced off the land—from the enactment of so-called Game Laws that prohibited peasants from hunting, to the destruction of the peasant productivity by fencing the commons into smaller lots—but by far the most interesting parts of the book are where you get to read Adam Smith's proto-capitalist colleagues complaining and whining about how peasants are too independent and comfortable to be properly exploited, and trying to figure out how to force them to accept a life of wage slavery.

And this might put the "failure of capitalism" theme in context. If you have a system that requires that people sell their labor as a condition of survival, yet fails to provide enough opportunities to sell labor to go around, you have conditions for revolt. Hungry, desperate people having nothing to lose. That, and not charity, is the root of the welfare state, to provide a buffer for when the capitalist system chokes up and presumably on a short-term basis, fails to provide enough jobs (that and to provide for people who are infirm, handicapped, or otherwise cannot work, which communities in England did in the early modern era).

So you can see the obvious tension: the capitalist classes in America, to increase their riches further, have been squeezing workers harder by not hiring as they did in the past. We've never had a "recovery" in the post-WWII era with so little of GDP growth going to labor (meaning both hiring and wage increases). In the past, the average was over 60% and the lowest was 55%. I haven't seen a recent update, but the last figures I saw was that the level for this "recovery" was under 30%. Yet simultaneously, theres's a full-bore effort on to gut the remaining safety nets. If this isn't a prescription for social and political instability, I don't know what is.
Back to the current post. Pilkington approaches power questions here from a higher level of abstraction. At first, I thought his use of Cody Wilson as a point of departure was a bit of a gimmick, but as I watched the BBC interview, I could see Pilkington's point: that it became intriguing to watch the BBC host try to interact (with not much success) with Wilson's frame of reference.
By Philip Pilkington, a writer and research assistant at Kingston University in London. You can follow him on Twitter @pilkingtonphil. Originally published at Fixing the Economists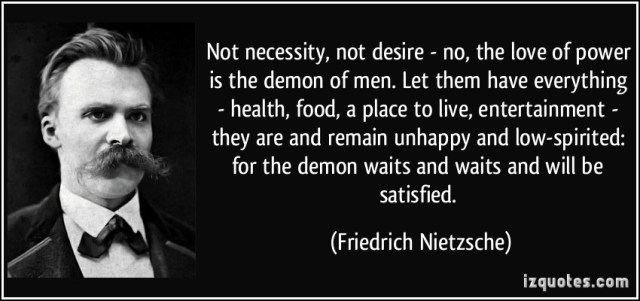 I don't usually do moral philosophy here; except, that is, when I'm pointing out the implicit moral philosophy inherent in certain economic concepts. However, I recently came across something that I found so interesting that I felt I had to comment on it. The only way I can justify this is that I know that some of my readers — or at least one of them — gets very uncomfortable when I make criticisms from this point-of-view and what follows may be of interest in this regard. I will try to tie this back to economic by the end, I promise.
The 'something' in question that I found intriguing was the following video on Youtube. It is an interview with Cody Wilson, the man most responsible for distributing software packages online that allow people to create firearms using 3d printers. I suggest watching the whole video before reading the rest of this post.
Wilson's Wikipedia page gives the impression that he is some moron anarcho-capitalist but watching the video you can clearly see that this is probably not the case at all. Rather he is quite clearly a Nietzschean of some form or other; this is confirmed by the following clip in which he, rather hilariously, suggests that Glenn Beck should read Michel Foucault. I think that Wilson's Wikipedia page reads the way it does because it was edited by pro-gun advocates in the US, the majority of whom are on the libertarian Right.
First I should say: Wilson does support some dubious ideas, such as the internet fad known as Bitcoin. Bitcoin is based on a naive view of the world where the Believer convinces themselves that a system of interacting, 'free' people can self-regulate (usually based on some fantasy 'non-aggression principle'). Implicit in this view is the idea that people are Naturally Good. All the turmoil in the Bitcoin market should be seen as a modern version of Robert Owen and the Utopian Socialists' attempt to create a perfect society. What actually happens in such situations is that selfish people come in and basically start stealing and wrecking stuff and those that are naive enough to believe in the Natural Goodness of people get the short end of the stick.
Oh well. Man is not Naturally Good and requires Laws and enforced moral norms to ensure that He doesn't do awful things. The reality of Unbridled Human Freedom is probably closer to a lynch mob than to a harmonious commune. Truth is the butt of a soldier's rifle when the commander turns the other way. Lesson learned. Everyone go home.
Tied to this Wilson believes — and it is a belief with no real evidence — that innovation will spring up if intellectual property laws are done away with. Presumably, being an anarchist, he is also against state-funding for innovation. All he has is his belief. Again, there is no evidence for what he is saying. It based on Utopian trust in the Infinite Potentialities of Man.
Anyway, I don't want to focus on that. Rather I want to focus on the way Wilson speaks in the interview. It is quite impressive. He completely avoids any of the moral questions as to whether what he has done by putting the instructions to make weapons on the internet is Right or Wrong. Rather he simply approaches the question of what he has done in a purely matter of fact way. He has, he says, completely circumvented the debate around gun control through a sort of Pure Symbolic Act. And he is correct. He has done just that. What's more, in doing so he has given us a really interesting piece of television.
What Wilson has succeeded in doing throughout this interview is to completely avoid moral issues and instead speaks a pure language of Power. This is something that Foucault and Nietzsche mastered too and it can be read in their writings (and seen when the former appeared on television; relevant discussion starts at around the 36 minute mark, English subtitles available by clicking the 'captions' button on the right-hand side of the video).
As we can see in the Wilson's interview, the language of Power is very strange when you encounter it directly in the formal Public Sphere. I do not mean by that 'in public' — the Foucault debate above is indeed 'in public' — rather I mean in a formal authoritative setting where everyone is supposed to behave and speak 'properly', like the BBC.
There is something disconcerting about the language of Power when it is presented in such a forum. The reason for this is because Power generally requires a cover behind which it operates in public. This is why, for example, politicians and lawyers are well-known dissemblers. Because they are engaging with Power directly and speak the language of Power, they always have to hide what they are really saying behind a sort of veil. Something similar operates on television shows like the one that Wilson is appearing on but that all breaks down when Wilson makes his appearance and the interviewer seems completely unable to get a handle on it.
Of course, in private politicians, for example, speak quite differently. They speak far more like Wilson in the interview than like the interviewer. This is not to say that either Wilson or politicians are wholly amoral. I don't believe that Wilson is and I think most politicians do, in fact, have a moral compass (even if this may be badly oriented due to convenience and ideology). In the case of politicians they tend to decide which way they want to lean on an issue but then understand that their main duty is to simply carry it out. That is where the language of morality falls away and the language of Power kicks in.
With Wilson the situation is more complex. He clearly does not want to consider the moral ramifications of what he has done by putting plans for weapons on the internet. If someone was shot tomorrow with one of the weapon designs he would not want to know anything about it. Rather he is interested in doing something that will, through a pure Symbolic act of Power, shake up the Power Structure as a whole. Once again, that is what the language of Power is all about. It is about changing, as it were, the objective coordinates that everyone finds themselves in. Beyond a certain point the language of Power avoids all moral considerations and simply intervenes to change the frame of the debate itself.
In principle, I think that this is very interesting. Interviews like Wilson's really do, in a sense, give us a glimpse behind the mask. They scramble the circuits of the formal public space in which they are presented and the aesthetic effect, to me at least, is very pleasing. But the language of Power can never operate in a vacuum. Every intervention in the objective coordinates of a situation will channel more Power to one group and less to another. In undertaking any such intervention you are implicitly siding with those who gain more Power through your action. Those that will gain more Power by Wilson's actions will be the ones who use Wilson's weapons designs to gain Power over other people.
Who are these people? We have no way of knowing. But something tells me that they will not turn out to be anarchist liberators. Rather they will likely be people who hold Power over others through direct and very immediate and brutal acts of violence. Is Wilson responsible for their actions? Not really. But he has tipped the scales in their favour by releasing weapons designs to them. Looked at from the point of view of Power, Wilson is like a biased referee letting one side get an edge over the other. What they do when he turns his back is ultimately (and legally) their responsibility but you can't avoid the feeling that in manipulating the game and implicitly favouring one group over another Wilson has some culpability in the outcome.
Perhaps this is where we can bend this discussion back to economics. Macroeconomics is, to a very great extent, a language of Power. (It is not a truly objective 'science', don't be fooled by that guff!). When we make suggestions as to policy prescriptions a good economist should be weighing up how the action is going to distribute Wealth and Power. What people like Wilson can show us is that behind the moral facade of Rational Agents and Pareto Optimality, just as behind the language of television and politics, there resides a hidden language of Power. And every use of that language in real policy situations is an act of Power. Ignore that, and you're a slave to your own intellectual constructions or, worse still, to intellectual constructions that you have been spoon-fed. And while I am by no means an anarchist, I do believe that people have a right and a duty to think for themselves.