I don't mean to point fingers at a perfectly unobjectionable article by Neil Irwin at the New York Times' Upshot feature. It gives a compact, highly readable summary of some new information on student debt in the latest report on household debt from the New York Fed, and a related post on its Liberty Street Economics website. However, readers who have been following burgeoning student debt problems are likely to find the anodyne tone of the Times article and the underlying New York Fed work a tad aggravating.
The New York Fed has endeavored to determine whether student debt is undermining the recovery. One element that has a lot of commentators concerned is the low level of household formation and homebuying among the young. It's not hard to see that a terrible job market for college grads is a big culprit. But the New York Fed fingers that student debt is clearly playing a role, as one might expect. If jobs are hard to find and generally not as well paid as before the crisis, it's going to make all but the high fliers or those with rich parents cautious about making a commitment like buying a house. And those with debt they can't discharge in bankruptcy are already burdened and in less of a position to take risks.
This is the chart that supports that intuition: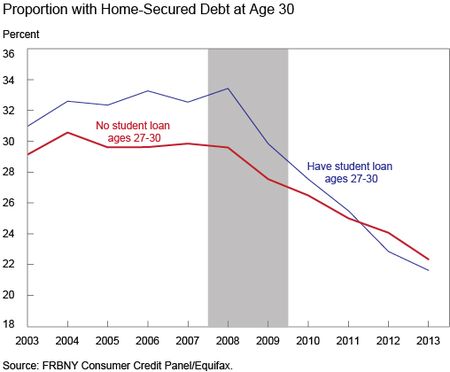 Prior to the crisis, those with student debt on average were still more likely than those without student debt to own a home by age 30. That was indirect proof of the belief that getting a college or graduate degree was an investment that paid off via access to better paid jobs. But now, the hostile job market and still-rising education costs have upended that picture. The Fed researchers also point out that young people may be less keen about homeownership than their elders were. Again, in an uncertain job market, a house is a huge impediment to mobility. Transaction costs are usually 5-7%, unless you are in a hot market and can sell without using a broker. That's significant relative to a 20% down payment.
Policy solutions are outside the ambit of these New York Fed reports. But there are several things that are striking when the subject of student debt comes up. The first is the lack of a real economy coalition demanding that Something Be Done. Homebuilders, realtors, and durable goods manufacturers are clearly making less than they would if there were fewer young adult debt slaves. Why aren't they talking up student debt or the terrible condition of the job market as a serious problem that has knock-on effects for the entire economy?
Similarly, among soi-disant progressives, there's perilous little discussion of the big drivers of the problem, which is that more and more of educational dollars have gone to a bloated, overpaid adminisphere and gold plated facilities rather than educators. But somehow criticizing the looting by the "professional administrators" who have become increasingly powerful at these institutions is taboo. And a second factor is the gutting of budgets for public universities, which used to provide a check on tuition and fees at private colleges and universities.
Similarly, the few current proposals are timid. Elizabeth Warren's idea of making borrowing cheaper in interest rate terms is rearranging the deck chairs on the Titanic. So you get a short-term improvement in "affordability" which will quickly lead to more cost increases by the universities. You are quickly back to square zero. Why isn't Warren, a top US expert on bankruptcy, talking (at a bare minimum) about making student loans dischargeable in bankruptcy? Or how about subjecting school administrators, who have too often been reported in the media of overstating the returns to a college education, to truth in advertising laws?
It seems as if there's a lack of willingness to engage this issue seriously, that it falls in the "it's too hard" and the "we can't get anything passed now anyhow" categories. Those are lame excuses. There will be no remedy if real solutions aren't pushed into political discourse. Even if they can't be implemented now, making them a subject of debate at a minimum gets them on the list of policy options and shifts the perception of what is possible and viable. The alternative isn't merely the perpetuation of a bad status quo. The internal dynamics are that the educational complex is starting to hit the limits of what students are willing to pay, as sharp drops in law school enrollments attest. But absent external pressure, the top administrators at colleges and universities are certain to emulate their corporate counterparts and squeeze everyone else to preserve and better yet increase their compensation (see this example from the University of Saskatchewan, hat tip Jason, of the sort of thing likely to be in the offing in the US). So there are well-founded reasons for external pressure, as well as some logical pressure points, as in critical scrutiny of bloated budgets. But those who are losing out need to stand up for themselves and find allies, or they will only continue to be the losers.