New male baldness patterns unveiled Daily Mash
"Extroverts Could Cause Problems on a Mission to Mars" Lambert
Re-routing flights could reduce climate impact, research suggests PhysOrg
Thorium: Energy Savior or Red Herring? OilPrice. A useful overview
The "Cholesterol Con"– Eggs Angry Bear
Fake Antibiotics Feed Growing Worldwide Superbugs Threat Bloomberg
Despite the explosion in online analytics, marketers still don't know what they're doing Pando
A game of mega-city states Izabella Kaminska, FT Alphaville. A proposal for how to deal with the London housing bubble.
Argentina fears new crisis as vultures circle after US supreme court ruling Guardian
Can Argentina Not Pay Yet Not Default? Perhaps. And Maybe There's Still a Route to NY State Court… Adam Levitin, Credit Slips
Ukraine
Ukraine outlines plans for ceasefire Financial Times
Iraq
Big Brother is Watching You Watch
Julian Assange Hopes New Information Filed in Swedish Court Next Week Will Remove Arrest Warrant Kevin Gosztola, Firedoglake

Help FOIA how police across the country are tracking cell phones MuckRock

U.S. Funds "Terror Studies" to Dissect and Neutralize Social Movements Black Agenda Report (Chuck L)
The Collapsing Obama Doctrine Dick Cheney and Liz Cheney, Wall Street Journal. EM: "The Big Swinging Dick is apparently trying to one-up Tony Blair in the 'unbridled hypocrisy and self-delusion of unindicted war criminals' department."
How to Tell If Your Member of Congress Is a Crony Capitalist Alternet
House Panel Is Subpoenaed as Trading Probe Heats Up Wall Street Journal. From comments: "Bharara reminds me of the cop who gives a ticket to an illegally parked car and ignores the dead body lying across the front seat."
Rape victims say Bob Jones University told them to repent Aljazeera (Chuck L). Only in America.
Ta-Nehisi Coates, Blackwashing, the Reparations Brand, and a Last Refuge For Scoundrels Bruce Dixon, Black Agenda Report
Detroit Rolls Out New Model: A Hybrid Pension Plan New York Times
Federal Reserve
Six banks sued over trustee roles Financial Times. Don't get excited. This is a replay of the strategy that Kathy Patrick used with Bank of America and Bank of New York Mellon, by which Bank of New York Mellon got broadened indemnification in return for letting the bank off the hook for cheap.
Class Warfare
This has happened to my local office in Montgomery County, a short walk from a regional rail station. We are now told to go to an Office in the city. Needless to say, the elderly of the inner suburbs do not want to go to dangerous neighborhood, with little street parking. Social Security, like the Post Office and other government services is being made to provide the poorest possible service by design. Not only are offices being shut, but staff is being cut, hours reduced etc etc. Everything possible to provide the worst possible experience furthering the perspective of government's inability to do anything at all without a long inconvenient wait.
Antidote du jour. Swedish Lex:
Our daughter likes NC, in particular the antidote (of course). She got a cat a year ago, Icetea, although the cat seems to think that we belong to him. On the attached photo Icetea is posing (asleep) in what we call the gigolo position, something that he does a lot.

What is the procedure to qualify for the honor to be NC centerfold?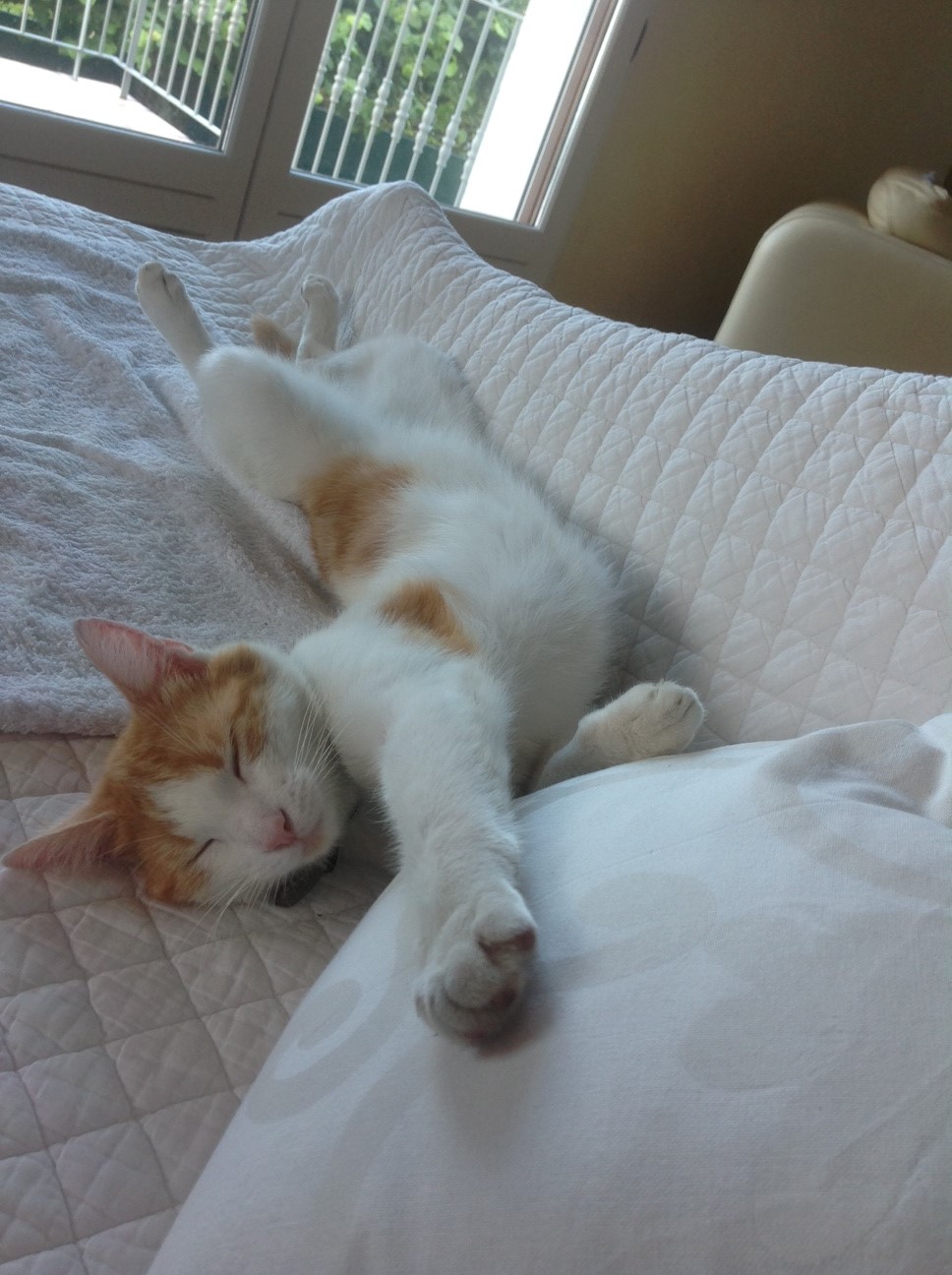 See yesterday's Links and Antidote du Jour here.