By Ignacio Portes, a freelance journalist who lives in Buenos Aires. He has been published in English at PandoDaily and NsfwCorp
See part I for background on the legal battle
With Argentina's payment to the holders of its restructured debt on June 30th in limbo at the Bank of New York Mellon, blocked by Federal Judge Thomas Griesa, and the 30 day grace period to official default ticking away, financial pundits have taken a keen interest in the biggest debt struggle in memory.
Some have been very critical of both the judge's interpretation of the pari passu clause that created this mess and, more importantly, of his damaging precedent. Martin Wolf at the Financial Times compares Argentina's position to that of a debtor prisoner extorted by the US judiciary. Floyd Norris, in the New York Times, highlights how the ruling could allow a single creditor to block beneficial and consensual restructuring plans.
But no one seems able to resist adding digs at Argentina, even when generally supporting its position in the litigation. Wolf, the most understated of the lot, still says:
It was difficult to feel much sympathy for the country, which suffered from chronic mismanagement before its default in December 2001 and was to suffer yet more thereafter.
And there's no doubt Argentina has suffered from mismanagement, but the nature of nation-states means that often that management comes from a very different section of society to the ones that end up suffering its consequences. Dictatorships are the most obvious examples but far from the only ones: the idea of any country being so economically democratic that harsh outcomes for vast parts of its populations are deserved should be seen as preposterous. But it's such a tenet of neoliberalism and IMF "reforms" that the notion is treated more seriously than it should be.
Floyd Norris repeats almost verbatim that it's hard to feel sympathy for the country and goes further:
The case concerned an appeal by Argentina, a country that the United States Court of Appeals for the Second Circuit called, with ample reason, "a uniquely recalcitrant debtor." This is a country that has made default a national habit over the last two centuries, making you wonder why anyone ever lends to it…

It is hard to muster much sympathy for Argentina, which chose to cram down a brutal restructuring plan years after defaulting, when it reasonably could have been more generous.
Norris opts for easy clichés about reckless abuse of honest lenders by a country of irresponsible conmen rather than considering that entire populations aren't naturally inclined to be recalcitrant debtors, but that they can become skeptical towards lenders for understandable reasons, or that at some instances they simply can't find a way of paying even if they went hungry trying.
If you actually look at the last two centuries that Norris mentions, Argentina has been far from a particularly irresponsible debtor. Whatever you think about them, Carmen Reinhart and Kenneth Rogoff made possibly the most comprehensive study on the matter up to date in This Time Is Different: Eight Centuries of Financial Folly, and here's what they concluded:
Our dataset reveals that the phenomenon of serial default is a universal rite of passage through history for nearly all countries as they pass through the emerging market state of development. This includes not only Latin America, but Asia, the Middle East and Europe. We also find that high inflation, currency crashes, and debasements often go hand in hand with default. Last, but not least, we find that historically, significant waves of increased capital mobility are often followed by a string of domestic banking crises.
Pick almost any developing country and you'll find that debt crises, restructurings and defaults are far from rare. But not only is the problem structural, the history of Argentina that Norris pretends to know actually shows it in quite a different light.
If you exclude the delays in payment caused by the 1982 debt crisis (more on that soon), you have to go to 1890 to find a previous case of clear-cut, unilateral default of foreign debt in Argentina, and it didn't last long: an armed uprising forced oligarchic president Miguel Ángel Juárez Celman to resign one month after it decided to stop paying back its suddenly skyrocketing debts. The remaining government promptly raised taxes, froze corrupt public works, sold assets and gold reserves and took new debt in order to restore payments and stabilize the economy, with relative success.
Since then, Juárez Celman has been universally remembered as an authoritarian crook (a rare event in a country where someone's villain is always someone else's hero), while the revolutionaries are generally portrayed in a positive light in Argentina's public education and media. Doesn't look like what a default-happy country would do.
The new century came with a booming economy for Argentina. Its public debt-to-GDP ratio fell sharply, from about 120% at the time of the 1890 crisis to below 40% 15 years later. Throughout the first three quarters of the 20th century, it would never grow higher than that, not even after the 1929 Wall Street crash, when Argentina was one of the very few countries in the region that avoided default. At times, debt even dropped below 10% of GDP. Again, far from the performance of a stubborn gambling addict that doesn't know whose door there's left to knock for a bit of cash; quite the opposite, in fact.
So what changed? Reckless gamblers took control of the country and broke its bank.
After oil-exporting Arab countries shocked the world's markets in 1973 by concerting a rationing policy that sent oil prices through the roof, massive amounts of petrodollars started to flood into their coffers, and capitalist logic indicated that all this surplus had to be invested somewhere. Latin American was a big target for petrodollar investments, especially the private sector. In 1976, the bloodiest coup in Argentina's modern history installed a military government that, following a continental trend, decided that controls over capital flows should be loosened.
The whole policy of indebtedness changed in Latin America. As Robert Devlin and Ricardo French-Davis describe, standard procedure in previous decades was that states borrowed money from multilateral institutions for concrete development projects, with clear goals in mind. Growth was slow, but typical boom and bust bubble-like crises that end with massive unemployment were avoided. Then, those international organizations were optimistic about these sudden capital inflows, because markets were supposed to be more efficient allocating those funds than centralized institutions. They ignored that private debt can burden a country's economy, especially if it is as short-term as this was.
As long as private credit kept being cheap, banks and other companies kept re-financing those short-term, low interest bonds. It was great business for them in Argentina, because the dictatorship allowed them to commit all kinds of fraud against the state's coffers to ensure that the loans would always earn those companies money, free of any entrepreneurial risk.
The fraudulent mechanisms were almost unlimited, as Argentineans from all over the ideological spectrum have documented over the years, from nationalist Alejandro Olmos to US-friendly liberal Carlos Escudé.
Interest rates on bank deposits were deregulated, allowing them to rise, but the military junta declared that all deposits would be covered by the state in case of bankruptcy. That eliminated all incentives for bank counterparties and clients to check the creditworthiness of particular institutions: any bank was good for an investor, and banks could re-invest that money anywhere too, as the state would cover the bill if things went badly.
At the same time, the military junta established a crawling peg system of scheduled mini-devaluations. That meant investors could anticipate how many pesos they could get for a dollar at any point during the next year. Combined with the short-term, high interest rates deposits that the new banking regulations allowed, this meant the bigger and safer gains for the financial sector were done by moving all its resources away from productive industries and into speculative but risk-free bets against the local currency, the peso.
Shrewd traders got dollars from abroad, sold them just after one of the scheduled mini-devaluations, and put the resulting pesos into fixed-term deposits, at a high interest, for short periods that lasted just until the day before a new devaluation was scheduled. At that point, they took the pesos plus interest out of the bank, and bought slightly more dollars than they initially had, at the same price at which they had originally sold them, but knowing they would be worth more the next day, when the cycle would be restarted.
Money was magically multiplied, with the speculators having produced nothing, nor taken any risks. The only loser was Argentina's Central Bank, whose dollar reserves kept shrinking.
That wasn't the only form of financial gamesmanship at the expense of the public. Other loans were used to invest in infrastructure projects that the state auctioned, such as the highways that today make Buenos Aires' traffic hellish. But the state guaranteed by contract that it would chip in with several hundred million dollars to ensure that the projects would always be profitable no matter what, if needed. And it was always "needed".
So a private contractor took loans for, say, $300 million to build a highway, even if it knew it would only get $100 million on road toll income in the period the contract lasted, and even if the real cost of building it was $80 million, because the state would pay the rest. Everyone suspected that the government officials in charge of these contracts got kickbacks, but since they couldn't be voted out of office, those rumors didn't bother them too much.
The military in control of the state took some of those petrodollar loans too: about 10 billons were used to buy weapons to finance state repression and insane war projects with Chile and the UK.
It wasn't much compared to the private debt that all the big financial players had gotten into, though. But the state ended up paying for that too, by nationalizing it in 1982. It didn't matter that much of the private debt wasn't even real debt, but money that had been "loaned" from the headquarters of multinational corporations to their local Argentine branches, not to produce anything but to speculate on any of the wide variety of schemes explained above, and send the easy profits back as "repayments". The state also didn't get into too much trouble finding out how much debt was real and which one had already been paid back. If they are going to pay it all, I might as well claim I owe every cent I borrowed in history, especially if I'm going to be the one in charge of the audit, reasoned the bailed-out banks and companies.
By 1983, when the 8 years of military rule were over, public debt was 465% bigger than the year of the coup, and there wasn't much to show for it in terms of improvements for ordinary Argentineans. Financial institutions and corrupt military officers had stolen most of it, and flown it out of the country, while Argentina was already lagging behind its scheduled payments since the Latin American debt bubble exploded in 1982.
By the time Raúl Alfonsín was elected into office, debt was unmanageable, with short-term due dates every other day, in the midst of a barely governable country, where the criminals that had been tormenting it for the last decade were in control of the military, police and trade-unions, in association with the parasitic businessmen who made their fortune during the dictatorship and now had amazing leverage over the economy.
At first, the new government tried to rally all of Latin America into declaring the debt acquired during the dictatorships illegitimate, but it was too weak on many fronts already to undertake such a battle, and soon gave up. This was taken as a sign that the country "accepted" the debts acquired during the dictatorship as valid, making any future prospects of declaring it "odious" null. Quite a debatable interpretation of what happened, but try telling that to an international court of law.
This debt-to-GDP ratio graph illustrates the story well: very low since the recovery from the 1890 default until the private debt boom of the 1970s, which is invisible at first, but then suddenly present when the dictatorship bails out big debtors in 1982 and the economy then lags for seven years more, ending in the 1989 hyperinflation that wiped much of the locally issued debt, at great social cost.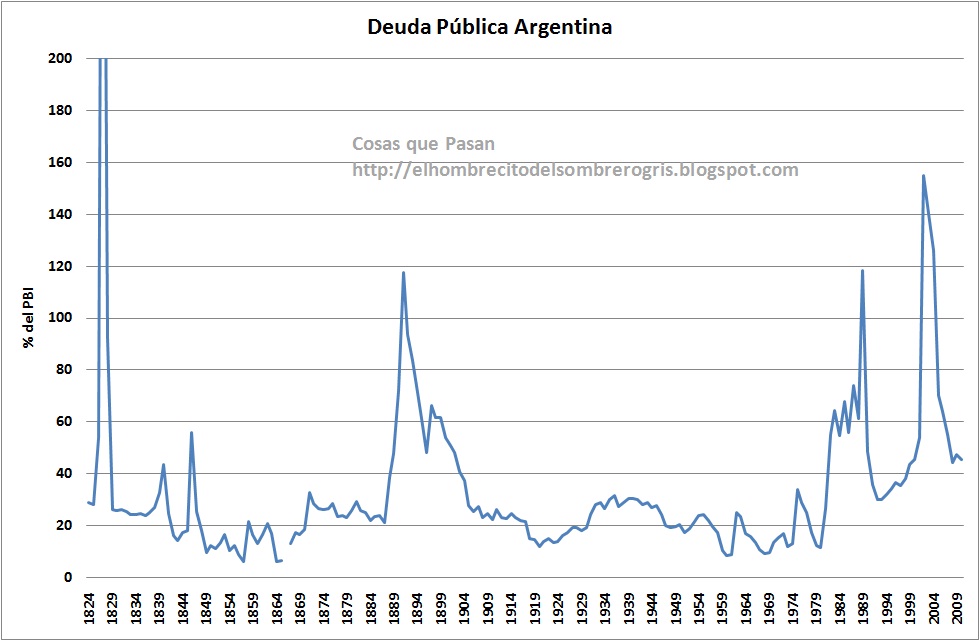 Recent history might be more familiar. Latin America found its foreign debt burdens slightly eased in the early 90s due to the Brady Bonds restructuring, combined with massive sales of state assets. Indeed, many state companies, run down after years of undemocratic and corrupt management, were bought on the cheap with bonds that the state had no way of repaying otherwise.
Creditors started lending money to the region again, but in Argentina the banks inflated their way into another bubble. It was masked by the fact that GDP grew for some years too, while the overvalued peso, pegged to the dollar, made it seem as if the debt-to-GDP ratio was even better, with GDP overestimated. But by the end of the decade Argentina had more than doubled its debt, and a five year recession destroyed much of that GDP growth. When the IMF, which had facilitated the whole process, suddenly started to play hardball, the country was doomed to default.
None of the latest Argentine governments have covered themselves in glory, far from it. But the arguments that blame countries in trouble with debt for all its problems serve to perpetuate the mythology of capitalism. Since capitalism allegedly rewards merit and hard work, its results must be fair. All that is needed are small adjustments here and there.
Mainstream liberalism often ends up looking like a priest telling the sinners they should be ashamed of themselves for not being pure enough, explaining they've doomed themselves. Invoking cultural stereotypes always helps: Greeks with their laziness, Argentinians by being capricious teenagers that want to break the rules and then blame conspiracy theories. The convenient narratives of success and failure must obscure critical facts in order to hide a more nuanced understanding of who is to blame for national train wrecks.