By Lambert Strether of Corrente.
You furnish the pictures and I'll furnish the war. –William Randolph Hearst
Even though I'm not a Middle East expert — and perhaps that's a good thing — I like to know what's really happening when our famously free press starts hinting that The Drone King could be getting ready to whack somebody, or when SecDef Hagel starts tossing around the phrase "imminent threat." Except with ISIS — the (putatively) Islamic state, not AT&T, Verizon, and T-Mobile's now rebranded mobile wallet — I don't think I can know. And even if it would be irresponsible not to speculate that ISIS is creation of the United States government, heck, I'm going to go ahead, be irresponsible, and not speculate. All I can say is that poking at a few of the recent ISIS stories is really unsettling — at least to anybody who remembers the successful disinformation campaign the Bush White House ran on WMDs to get us into Iraq before the 2002 midterms — for reasons I'll explain by looking at four recent episodes in the media.
The T-Shirts
ISIS, apparently, sells merch. Not just T-shirts and baseball caps, but — gasp — toys for children! Here's a CNN video from June 24. (I say "seems" because I came in late on this story and Google is a horrible research tool, so, readers, feel free to correct any of my misapprehensions.) Here's the video:
(If the player doesn't embed, here's the original.)
We have pictures of the T-shirts, for sure, and its evident that they were produced by a fully staffed graphics department: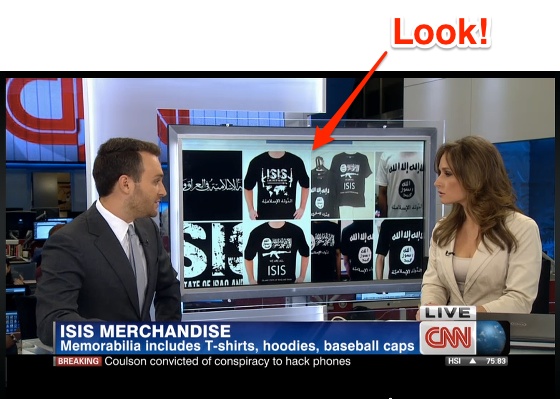 The announcer begins by asking "Who's behind selling this merchandise"? and CNN correspondent Samuel Burke answers that "We can't be certain that it's ISIS making this merchandise" "it does bear all the hallmarks of ISIS," and that Facebook is playing "whackamole" taking down pages that are selling it. Alrighty then. Asked where this marketing collateral is manufactured, Burke says that "more than likely" it's made in Indonesia, citing to one J.M. Berger (author of Jihad Joe: Americans Who Go to War in the Name of Islam, long-time "author, analyst and consultant on Al Qaeda and domestic U.S. extremism" (for example). Googling on "Berger ISIS Indonesia" we get no confirmation that Berger said any such thing, but the New York Post's June 24 article on the same story gives us an additional lead:
Hate merchants are peddling hoodies, T-shirts and dolls branded with the logo of the al Qaeda-linked Islamic State in Iraq and Syria.

The ghoulish gear is available on the websites of several Indonesian retailers — which advertise their wares on Facebook.
At this point, the attentive reader will not that we have no evidence of whatever that ISIS T-shirts were manufactured and sold; all we have are digital images of T-shirts on Facebook pages that were promptly taken down. More:
The Islamic State's brutal campaign in Iraq has won plenty of supporters among Sunni Muslims in Indonesia, local terror expert Solahudin told the website Vocativ, which first revealed the vile trend.
OK, let's go to Vocativ, on June 19:
The T-shirts, which are being offered by Indonesia-based websites, sell for $7 to $13 and have apparently been on the market for several months, according to Facebook posts from Indonesian vendors. The swag began gaining ground on social media this month after ISIS' string of brutal victories in Iraq.

Zirah Moslem, a company that calls itself purveyors of "Islamic style," offers merchandise promoting various terrorist causes, including ISIS. The company's website, which has more than 9,000 likes on Facebook, says its T-shirts feature "a design that is…always up to date," which apparently means having a group of kaffiyeh-wearing jihadis pose as if they're promoting a Hollywood blockbuster. (Update, 6/23: The Facebook pages for Zirah Moslem and the other sites hawking jihadi merch have now been removed from the social network for violating terms and conditions. Their website is still online.)
Hmm. More digital images vanishing from Facebook. Readers, if any of you know anybody who actually purchased one of these T-shirts, or can find a story online about somebody who did, will you post in comments? Meanwhile, I'm sure you're curious, just as I'm curious, to get an answer to this question: Who's Vocativ? Forbes answers, and I can't forbear from quoting the headline:
Vocativ Brings The Tools Of The Spy World Into The Newsroom

If you were to eavesdrop on social-media conversations all over the world involving the term "NSA" and run a sentiment analysis on the results, you'd probably find that the wire-tapping spy agency is none too popular with just about anyone these days.

A new digital news startup called Vocativ has the technology to run just that analysis. Yet its founder, Israeli-born security mogul Mati Kochavi, invites the comparison. He's organized his newsroom along the lines of an intelligence agency in the belief that journalism needs to undergo the same transformation that's already swept the field of spycraft….

Kochavi is a multiple entrepreneur whose companies include the security firm AGT International and 3i-MIND, a data-mining outlet whose areas of expertise range from finance to intelligence to urban planning.

Over the past year, Kochavi has been putting his theories to the test, assembling in midtown Manhattan a newsroom of 50 reporters, editors, data analysts, producers and engineers. Overseeing this force is CEO Scott Cohen, formerly the head of digital for the New York Daily News and a veteran of ABC News. The journalists and analysts work in two-person teams to sift the "deep web" for nuggets of news using a proprietary data tool adapted from 3i-MIND's technology.

The setup is based on standard practice in intelligence agencies, Kochavi says. He worked in intelligence during his mandatory stint in the Israeli military but says his intel background is "modest."
Well, er. I think at this point I'll pause, because the combination of a terrorism expert with one book on Amazon and an Israeli data miner and social media maven with an intelligence background who made his fortune in real estate is too much for my simple mind. Frankly, this is beginning to feel like Richard Smith's beat, not mine. Back to CNN, where the announcer — responding to what we can only assume is the fact that ISIS is selling jihaadi-branded children's toys — reacts, and file this away for a bit later: "It would be very scary if this caught on as some kind of sick trend." Indeed!
The Cats
Believe it or not, "Can Haz Islamic State Plz" is a thing; here's the first tweet, on June 25, from Islamic State of Cat:
Bismillah, we start in the name of Allah

— Islamic State of Cat (@ISILCats) June 25, 2014
Propagation Coverage begins at the conservative site Brietbart:
The Twitter account "Islamic State of Cat" (@ISILCats) appeared on Twitter on June 25, and it is exactly what it sounds like: an account which posts photos of cats alongside terrorist jihadists. Some photos merely showcase the kittens themselves, while others shows jihadists snuggling or playing with kittens– cat in one hand, automatic weapon in the other.

Islamic State of Cat is yet another sign that ISIS, unlike its predecessors, is not only fluent in Western internet language but willing to engage with Westerners in their language….

[The glossily produced ISIS magazine] Al-Hayat is … run by Western Islamists that left their home countries to fight jihad in Iraq and Syria, which is the key distinction between ISIS and similar groups. As the recently released ISIS production "There is No Life without Jihad" shows, ISIS's audience is disenchanted Muslim men in places like Australia and the UK, who will hear fellow young men their age state how happy killing and waging jihad makes them and be enticed to join the battle. Given the exceptionally high number of Westerners joining ISIS, the promise of the joys of jihad appears to be working– and the free play time with kittens can't hurt, either.
(See a link on the "exceptionally high" number of Westerners fighting for ISIS? No, me neither.)
Alex Jones' InfoWars reprints Breitbart on the same day, and the conservative PJ Media picks up the story, embedding a number of the tweets, without citing either.
The (mainstream) Global Post picks up the story on June 26, setting the cat tweets in the larger context of the ISIS media architecture:
How ISIL is gaming the world's journalists

ISIL's social media strategy has wowed the masses. VICE called them "total social media pros" and lauded the group's multi-pronged approach.

Other jihadist groups have made use of online platforms, including Facebook, independent forums and Twitter, but ISIL [another acronym for ISIS] has earned a name for having the most internet success so far. The group has added Android apps, professionally shot and edited videos, and multilingual media outlets to its online arsenal — not to mention their own line of commercial products [the link is to the CNN video we looked at above. Are you getting a kinda hall of mirrors sensation? A certain sense of circularity? –lambert].

Aaron Zelin, an analyst at the Washington Institute for Near East Policy [WINEP], says Al Janabi, and others like him, are part of a broad yet relatively centralized network of online ISIL amplifiers. The network centers on three official media outlets: al-I'itisam, Ajnad, and al-Hayat [mentioned above at Brietbart] for multilingual updates.

"Under that, there are key influencers, who are members of the organization in Iraq or Syria, pushing specific content to grassroots supporters," Zelin said.

Then come the "foot soldiers in theater": ISIL's fighters in Iraq and Syria who regularly tweet about their experiences and talk to other fighters online. "From there, you have the fanboys in the Western countries that are online cheerleaders," Zelin added.

Alrighty. France24 picked up the "fanboys" verbiage on 6/27, although it may have originated at Buzzfeed on June 16. But did you catch any mention of how many of those "key influencers" there actually are? How about "grassroots supporters"? "Fanboys"? No? And the figures of "in theatre" (sense 9) "foot soldiers" turn out to be noticeably sketchy:

And what, I am sure you are asking, is the Washington Institute for Near East Policy? Via MJ Rosenberg at Media Matters Action Network:

The Think Tank AIPAC Built: The Washington Institute for Near East Policy

Professor Stephen Walt of Harvard had an excellent piece in Foreign Policy this weekend which alluded to the fact that the Washington Institute for Near East Policy (WINEP or "The Washington Institute"), often featured on PBS and other news outlets as an "independent source," is an American Israel Public Affairs Committee (AIPAC) cutout.

Walt is right about the origins of WINEP; it was created by AIPAC. How do I know? As an AIPAC staffer, I was in the room when AIPAC decided to establish WINEP.

It was Steve Rosen (later indicted under the Espionage Act, although charges were subsequently dropped) who cleverly came up with the idea for an AIPAC-controlled think tank that would disseminate the AIPAC line in a way that would disguise its connections.

There was no question that WINEP was to be AIPAC's cutout. It was funded by AIPAC donors, staffed by AIPAC employees, and located one door away, down the hall, from AIPAC headquarters (It has its own digs now).

But wait! Let's go back to the question of how many "foot soldiers in theater" ISIS has. The Lebanon Daily Star has sourcing that may surprise you:

But experts believe their military capabilities may have been embellished, and that they are not as strong as their slick media campaign makes out.

"ISIS just don't show me a real strong combat capability," said Jeff White, defense expert at the Washington Institute [see above; that's another name for WINEP], who specializes in the Middle East.

"They are good at ambushes, and good at planting mines, killing civilians and driving through the desert. But that's not fighting."

ISIS is estimated to have somewhere between 8,000 and 12,000 members, but, as White pointed out, many thousands of these are in Syria, and "there is always a difficulty in counting these irregular forces" as some may be part-time members.

When Iraq's second-biggest city fell to ISIS, White believes it wasn't a question of serious fighting, but that the mass desertions on the part of the Iraqi army allowed ISIS to take Mosul.

"If the accounts are true that they took Mosul with 700 or 800 people, that certainly doesn't reflect any serious fighting," he said.

(More here.) So, you'd think that AIPAC's cutout would be blowing ISIS all out of proportion, no? Or is that too simple-minded? Or perhaps the knock-on effects of a social media focus are more important than boots on the ground?

The App

Yes, ISIS has an app (apparently now removed from the Google store). The redoubtable JM Berger once again, in The Atlantic:

One of ISIS's more successful ventures is an Arabic-language Twitter app called The Dawn of Glad Tidings, or just Dawn. The app, an official ISIS product promoted by its top users, is advertised as a way to keep up on the latest news about the jihadi group.

Hundreds of users have signed up for the app on the web or on their Android phones through the Google Play store.

The app first went into wide use in April 2014, but its posting activity has ramped up during the group's latest offensive, reaching an all-time high of almost 40,000 tweets in one day as ISIS marched into the northern Iraqi city of Mosul last week. On Sunday, as the media reported on the group's advance toward Baghdad, hundreds of Dawn app users began sending thousands of tweets featuring an image of an armed jihadist gazing at the ISIS flag flying over the city, with the text, "We are coming, Baghdad"

The volume of these tweets was enough to make any search for "Baghdad" on Twitter generate the image among its first results, which is certainly one means of intimidating the city's residents.

So ISIS was sending message. But to whom? One answer is to foreign recruits. (Rupert Murdoch's) VICE:

"Everyone needs a social media campaign today, even political movements in the Middle East it seems. The type of highly focused marketing and social media community building as exhibited by ISIS is something that brands strive for to get their message across," Dinah Alobeid, a spokesperson for social analytics company Brandwatch, told VICE News.

"From a marketing perspective, it's obvious ISIS has a calculated approach to social media that looks to recruit new members and connect interested individuals to create a united front. They are positioning themselves as a transparent entity that shares news and updates for their cause."

Also too, cats. But was the message reaching Iraqis, as Berger implies? The missing fact here is Twitter penetration among the Iraqi users. Did the message even reach them? As it turns out, there's a study, and Iraq doesn't show on the charts. Guess who does:

So, it looks like the ISIS Twitter surge wasn't directed at the Iraqis at all; they don't use it! And the surge might have been directed at foreign recruits, but if you ask yourself who in the neighborhood is really going to get the message, it's the Saudis. And would the Saudis be enthusiastic about the Caliphate? Or the breakup of Iraq? Your guess is as good as mine.

Conclusion: ISIS and Hasbara

If there's a common narrative hook in these episodes — involving as they do a one-man terrorism expert, a wealthy Israeli-born social media expert, two experts from an AIPAC cut-out, a lot of very hip new media operations (Breitbart, VICE, Vocative), Facebook, Twitter, and digital evidence that, darn it, just keeps disappearing — it's the theme of ISIS recruiting foreigners via social media. In the T-shirts episode, that's what the CNN announcer exclaimed at — "very scary" — when she thought of teh childrenz being sucked into jihad by toys, the horror; in the cats episode, that's what the "fanboys" are supposed to do. In the app episode, that's what VICE's social media expert thoughts was happening. And that seems to be the agenda at the Heritage Foundation (you know, the folks who invented ObamaCare, though I have to admit I'm not au courant with the hottest foreign policy think tanks):

Cutting Off ISIS Foreign-Fighter Pipelines

It's called the "pipeline" problem. Ferrying warriors to the war and also returning them home to spread the war elsewhere has become part of the stock and trade of how transnational terrorists do business. The new front in Iraq creates new opportunities for another wave of attacks against the West, either from "lone wolves" or cells organized or supported by the veteran extremists

The United States can plan on two tasks for its future efforts combating transnational terrorism.

First, there is bound to be a new wave of transnational terrorist attacks. That is one big problem. The Obama counterterrorism strategy has predictably failed. Into that void, Al Qaeda and its affiliates will push for the next offensive against the West. To make matters worse, the homeland-security enterprise created after 9/11 to deal with this threat is not in the best of shape. It's distracted with immigration and borders issues, while many key programs—from Real ID to terrorist watch lists—are under siege from critics, Congress and the courts.

Second, the fact that extremists are so adept at setting up these pipelines, even though the West knows this is a predictable tactic, suggests that the United States and its allies are doing a pretty poor job of anticipating and degrading them. The United States ought to be spearheading a global strategy to preemptively choke off foreign-fighter pipelines, rather than finding out on CNN that they're popping up.

(Translation: I smell funding!) If we look at the Council of Foreign Relations, however, we get a far different picture:

I am sorry to spoil the party, but the caliphate fantasy being peddled by Isis in Iraq and Syria is not of importance to most Muslims around the world. When I read western newspapers [as we have been doing, with the exception of the English-language Daily Star], I sense an urgency and significance that is out of sync with reality.

Isis may take pride in its ragtag army, commanding what it calls a caliphate, but no Muslim scholar worth his salt has supported this entity. Even Abu Muhammad al-Maqdisi, a major Jihadi cleric, has rejected the group's experiment. No Muslim government has recognised it.

Abu Bakr al-Baghdadi (now calling himself "Caliph Ibrahim") this week invited Muslims to migrate to his war zone, a call given prominent coverage by most Western news outlets, but the fact that most Muslims ignored his invitation went unnoticed. He called for doctors and engineers to build the caliphate, but not a single Muslim country has seen a mass exodus of people keen to live under his version of sharia.

This is the month of Ramadan when Muslims fast from dawn till dusk. While the Western media fervently pursues the story, at iftar – the breaking of the fast – from Morocco to Indonesia, Muslims are discussing other things.

(Translation: If this guy smells funding, it's elsewhere.)

So, while "ISIS is recruiting foreigners!" (possibly through social media) is of great concern to one conservative faction of the political class in the United States, it's of little concern to the other conservative faction. That says little about policy outcomes, of course; the far right often drives the debate, and its always possible for different factions to find a happy "compromise," a generous meeting of the minds. So at this point, we ask ourselves, cui bono? Who would benefit from a panic and subsequent focus on stopping ISIS from recruiting foreign fighters via social media? Off the top of my head, and thinking only of the United States:

1) The NSA and Obama's surveillance panopticon, since they'd now have carte blanche to watch domestic Twitter, Facebook, etc. ("rather than finding out on CNN"). At this point, we think of Glenn Greenwald's story on now the NSA surveilled Muslim American leaders. Guess they'll have to keep doing that, except more of it!

2) The FBI and organs of state security in this country, and equivalents elsewhere, since agent provocateurs will always be needed;

3) The national security apparatus generally, because the Caliphate is world-wide threat, especially given the pivot to Asia (remember the Indonesian T-shirts);

3) Facebook, Twitter, etc., who bill the government for access to their users (if the deal is like the deal the telcos had with Bush);

4) Our famously free press, because terror drives circulation, share, hits, dollars;

5) Candidates in marginal seats in the mid-terms, who can take "strong stands" (and, if Democrats, punch the hippies);

6) Creative class types generally; consultants, academics, social media experts, talking heads, and so on.

In other words, the usual suspects. Party like it's 9/12!

Oh, and hasbara. Here's a fine discussion:

Before I get to specifics, let me provide a general description of hasbara and its purposes. Hasbara is usually translated as "explanation." That does not do the concept justice. Hasbara links information warfare to the strategic efforts of the state to bolster the unity of the home front; ensure the support of allies; disrupt efforts to organize hostile coalitions; determine the way issues are defined by the media, the intelligentsia, and social networks; establish the parameters of politically correct discourse; delegitimize both critics and their arguments; and shape the common understanding and interpretation of the results of international negotiations. Hasbara is multifaceted and well-adapted to the digital age. It embodies a public-private partnership in which the state leads and committed volunteers follow in implementing an information strategy. In its comprehensiveness and complexity, it bears the same relationship to unidimensional public diplomacy as grand strategy does to campaign plans.

I think if you review the three episodes, it's clear that they all share the characteristics of hasbara. However, it seems likely to me that there are multiple hasbara campaigns going on, which would make the United States government only one of several actors. The episode that really puzzles me is the app. If my logic is right, ISIS, and/or its backer(s), was sending a big message to the Saudis via Twitter. But what message, and why? Readers should feel free to speculate in comments.