By Lambert Strether of Corrente.
Burning Man is like a combination of the Philly Mummers Parade, Woodstock, Mad Max, a rave, Andy Warhol's Factory, and Shark Tank, except it lasts for a week. And it's a city in the desert in Nevada. From the about page:
Burning Man is an annual event and a thriving year-round culture. The event takes place the week leading up to and including Labor Day, in Nevada's Black Rock Desert. The Burning Man organization (Black Rock City LLC) creates the infrastructure of Black Rock City, wherein attendees (or "participants") dedicate themselves to the spirit of community, art, self-expression, and self-reliance. They depart one week later, leaving no trace. As simple as this may seem, trying to explain what Burning Man is to someone who has never been to the event is a bit like trying to explain what a particular color looks like to someone who is blind. In this section you will find the peripheral definitions of what the event is as a whole, but to truly understand this event, one must participate.

Whether our activities take place in Black Rock City or around the world, Burning Man's Ten Principles provide a guiding social and cultural framework for our community.
Here's a less prosaic description; read it, note the anaphora ("You…"/"You're here…") and ask yourself if there could be anything missing; I'll circle back to that point. 
I should say right off that there is — or, since I haven't participated, must be — great beauty in the event; see images from Refinery 29, the Guardian, the New York Times, and (of course) the Daily Mail. Here's the image that got me started thinking about this piece: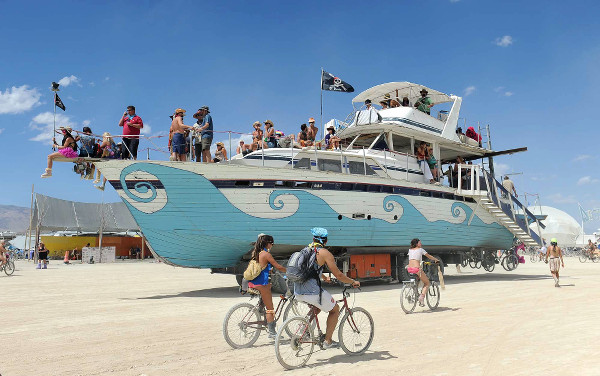 But there's another aspect that appeals to me even more than beauty, and that's how "Burners" create (I won't use the vile word "innovate"):
[Tom] Varden, a Los Angeles resident, is the lead artist on the Black Rock Observatory, a star-gazing facility that includes two spherical structures and a 20-inch custom-built telescope. The concept grew from Varden's desire to give back to Burning Man and be a sounding board for its creative energy rather than a mere recipient.The Black Rock Observatory, designed by an artist and manned by scientists, attempts to bridge that divide. The Observatory, like Burning Man, is about getting people to look beyond their cellphone and computer screens and get inspired by interacting with each other in creative ways, Varden says.

"It's the realization that you walk around in 4-4 time doing, doing, doing and you forget that — surrender or not —life is happening to you. It's bigger than you. It's amazing, it's beautiful and it's cacophonous," he says. "There's a huge, huge parallel between that and looking through a telescope."
And even more appealing to me is the joy of self-organizing, which I regard as the hallmark of all the "square" events 2011 – 2012: Tahrir Square, the indignados, the Capitol occupations in Madison and elsewhere, Occupy proper, and Carré rouge student movement in Quebec. Chris Taylor, in a passionate defense of the Burning Man experience, writes:
Grover Norquist [whp attended this year] is, I hope, going to have something of an epiphany on the playa [that is, the desert, an ancient lake bed]. The anti-government crusader will see what people do in what he thinks is a post-government kind of environment — they band together and rush headlong towards a system of collective survival infrastructure, also known as government.

What's more incredible than this highly effective volunteer government (such as the DMV, or Department of Mutant Vehicles, which registers and regulates every art car on the playa)? It's the universally agreed-upon rules and mores, the culture that so quickly rushes in on top of the infrastructure year after year like fast-pouring concrete.
So what to make of it all? Of course, the About page's claim that "To truly understand this event, one must participate" is silly; that's like saying that to understand Napoleon's march on Moscow, you have to have been a member of the Grand Armée. In fact, people with the advantages of time and distance from that event — historians, say — are probably better equipped to understand that event than participants, who necessarily had very partial and limited views. But we don't have to argue about that; the About page gives us a perfectly valid method of "truly" understanding: The 10 Principles. So we can lay reports against the principles, and see how well they match. So here we go.
* * *
1) Radical Inclusion. Anyone may be a part of Burning Man. We welcome and respect the stranger. No prerequisites exist for participation in our community.
Burning Man's organizers don't say how much money they make in ticket sales. But it's pretty easy to calculate—around $25 million—based on what they say publicly about the number of tickets sold (63,000) and their cost (anywhere from $190 to $650), plus $40 parking passes. The event also collects fees from commercial photographers and filmmakers, according to various reports. (Fortune)
Of course, $25 million is chump change, today; but if you're charging for tickets, there are "prerequisites for participation" by definition.
I found an at-value ticket in mid-August, which was lucky, because the last-minute "OMG" tickets were already sold out. To claim my ticket, I met my seller at a luxury apartment building in downtown Las Vegas, where I was greeted by two 20-somethings who presented the golden ticket while playing guitar and wearing rabbit ears. Along with it, they handed me an official Burning Man Survival Guide outlining the festival's 10 principles. (Quartz)
And it seems the "prerequisites" include a heavy duty social networking skills, as well, or, as we used to call them, connection. Not that there's anything wrong with that, but prerequisites they are.
2) Gifting. Burning Man is devoted to acts of gift giving. The value of a gift is unconditional. Gifting does not contemplate a return or an exchange for something of equal value.
Well, sure, except — and I know that the journalists covering the event beat this one to death, but still — when you get to Squillionaires Row:
I walked into a space that was cordoned off by air-conditioned luxury RVs. A woman with a clipboard stood at the entrance of the dining tent, checking off names for the chef-prepared meals, and stopped me before I could go any further. "I'm sorry," she said. "Your name isn't on the list." (Quartz)
Well, I don't think she was that sorry. And then there was the Dogecoin tent (in a camp (in the city (in the desert))), which a lot the journalists covering the event sought out:
"Once we learn to monetize everything, we take this gifting economy out to the world," [Joshua Keim of 1WorldCurrency.net] said. "We can take the Illuminati's cyber gold and silver, and distribute it evenly. Once we have this, we can live in abundance, rather than scarcity."(re/code)
Now, I don't want to say that the Dogecoin dudes are in any way representative of Burning Man, and especially not the squillionaire participants, except perhaps in this: Burning Man is a spectacle, in fact a society of the spectacle, and as DeBord remarks: "The spectacle is not a collection of images, but a social relation among people, mediated by images." And as we have seen and shall see, many of these social relations are thoroughly transactional (though not perhaps Tom Varden's)[1]. So, the Dogecoin dudes, and many others, may present, and even experience, Burning Man as a gifting economy, but in fact it isn't.
3) Decommodification.  In order to preserve the spirit of gifting, our community seeks to create social environments that are unmediated by commercial sponsorships, transactions, or advertising. We stand ready to protect our culture from such exploitation. We resist the substitution of consumption for participatory experience.
Let it be said: All of Burning Man is a show of wealth. Tickets are $380, sure, but many of the art cars — immensely decorated buses and trucks — cost hundreds of thousands of dollars. Not to mention the neon furs, the metallic leggings, the lights (there were side-of the-road hawkers at the gate who tried to sell me a rainbow stole for $80). (re/code)
Surely this is conspicuous consumption as Veblen defines it:
Conspicuous consumption of valuable goods is a means of reputability to the gentleman of leisure [irony]. As wealth accumulates on his hands, his own unaided effort will not avail to sufficiently put his opulence in evidence by this method. The aid of friends and competitors is therefore brought in by resorting to the giving of valuable presents and expensive feasts and entertainments. Presents and feasts had probably another origin than that of naive ostentation, but they acquired their utility for this purpose very early, and they have retained that character to the present; so that their utility in this respect has now long been the substantial ground on which these usages rest. Costly entertainments, such as the potlatch or the ball, are peculiarly adapted to serve this end.
Indeed! And there is plenty of straight up commodification going on, too. In addition to the organizers' tickets, camps charge dues:
Dues to join the camp were only around $150 plus two bottles of hard alcohol—quite reasonable by most standards—and the base volunteer requirement was taking on shifts pouring drinks for revelers to attract them to the camp's 24/7 sound stage. (Quartz)
4) Radical Self-reliance.  Burning Man encourages the individual to discover, exercise and rely on his or her inner resources.
Though their population among the 68,000 attendees has swelled in recent years, tech workers were some of the first to embrace Burning Man and its disruptive designs. And now that the valley is cranking out instant 20-something millionaires, entrepreneurs don't have to rough it in the desert, said Brian Doherty, a senior editor at Reason magazine who wrote the book "This Is Burning Man."

"If you've got a lot of money, maybe you don't want to have your tent knocked down by the wind," said Doherty, 46, who lives in Los Angeles. "Maybe you want to have a nice place to hide away." (San Jose Mercury News)
So, if money buys you out of the principle, how radical is the principle to begin with? And of course, Burning Man relies completely and utterly on the larger society that surrounds it, for everything including the basics:
Inside the camp, Burners — as festivalgoers call themselves — were worried as Porta Potty stalls started filling up and ice shipments stopped. (Daily Breeze)
Now, you could argue that the Burners took a big risk by going out into the desert where water — and Porta Potties! — could fail, but in the case of disaster, they would have been bailed out, just as surely as the banks were (although, I admit, with far more justification).
5) Radical Self-expression.  Radical self-expression arises from the unique gifts of the individual. No one other than the individual or a collaborating group can determine its content. It is offered as a gift to others. In this spirit, the giver should respect the rights and liberties of the recipient.
A crowd watches as two fighters battle in the Thunderdome during the Burning Man 2014 "Caravansary" arts and music festival in the Black Rock Desert of Nevada, August 27, 2014. People from all over the world have gathered at the sold out festival to spend a week in the remote desert cut off from much of the outside world to experience art, music and the unique community that develops. (Jim Urquhart/Reuters)
Again, it would be unfair to characterize all of Burning Man by this one — rather transactional — event, but nevertheless it's hard for me to reconcile a cage match with offering gifts to others. Did Mohammed Ali offer gifts to Joe Frazier? (One could argue that Ali and Frazier offered a gift to the crowd, but to me, the Thrilla in Manila was a thoroughly transactional spectacle, and not a gift at all. After all, they sold tickets.)
6) Communal Effort.  Our community values creative cooperation and collaboration. We strive to produce, promote and protect social networks, public spaces, works of art, and methods of communication that support such interaction.
But what kind of "community" are we talking about, anyhow? And what are its "methods of communication"?
My epiphany over the word "camp" was that only a few weeks ago I was listening to someone else talk about the various camps at Bohemian Grove, a rather different gathering of people in Monte Rio, Calif., along the Russian River and, like Burning Man, a relatively easy drive from San Francisco. "The Grove," you see, also has camps, some that are bare-bones and others that are quite elaborate, with white table linens and servants. ([They] report that the rich and powerful at Burning Man have "Sherpas," a slightly more palatable expression than servant.) One of the popular things that Grovesmen—and they are men—and their guests do is visit each other's camps….

I mentioned the comparison to the "Burner" and was immediately met with disagreement. Burning Man is open to all; Bohemian Grove is open only to men—typically white, affluent, Republican men, and certainly by invitation only. All true.

But the comparisons are too many to ignore. The central event of Burning Man is, obviously, burning the wooden man in effigy, a spectacular finale to the event. In Burning Man lore the burning of the man is an act of "radical self-expression," with apparent roots to pagan rituals. Or maybe the hippies in the desert simply were imitating the WASPs [hey, hey!] in the redwoods, who for years have conducted the "Cremation of the Care," a Bohemian Grove tradition of burning a coffin effigy to signify a "cathartic release of life's worries."  (Fortune)
For more on the Bohemian Grove, see "Bohemian Grove: Where the rich and powerful go to misbehave" (WaPo). 
7) Civic Responsibility.  We value civil society. Community members who organize events should assume responsibility for public welfare and endeavor to communicate civic responsibilities to participants. They must also assume responsibility for conducting events in accordance with local, state and federal laws.
In fact, as Chris Taylor points out, Burning Man has an actual government, and hence law enforcement officers:
Five hundred rangers managed by organizer Black Rock City LLC, as well as 95 federal and local law enforcement officers, are patrolling the art-focused party billed as a "temporary community based on radical self expression and self-reliance" (San Francisco Chronicle)
True, 600 officers for 60,000 participants is not a heavy police presence; my concerns go to the lessons that Burning Man's "Enforcers" draw from their experience:
The BLM [which has a presence at Burning Man] showed remarkable restraint in the Clive Bundy situation — did anyone notice that? Like, a laudable, incredible amount of restraint? Compared to recent events in Ferguson, say? — and hardly anybody notices when Law Enforcement finishes strong. Hardly anybody notices when everything goes well, for the most part — but in the role of Enforcers ourselves, we noticed. It's amazing how happy a civilization can be when nobody's being threatened or subjugated or made to have low self-esteem. The default world is bleeding and in pain right now with horrifically lopsided race- and authority-relations … but at Burning Man, the slate is new and blank, each and every year. In all the enforcing departments, we have no reason not to lift each other up here and let each other do our jobs.
Well, I can think of three other reasons the Bundy Ranch episode was different from Ferguson, besides BLM's involvement with Burning Man. 1) The Bundy Ranchers were ideologically right wing; 2) they were white; and 3) they were owners. And there's a lot of that going down at Burning Man, too. So, while I respect the work the Enforcers do, the conclusion seems a little triumphal to me. I doubt very much it would apply in the context of Obama's 17-city paramilitary crackdown on Occupy. And Does the Bohemian Grove really scale?
8) Leaving No Trace.   Our community respects the environment. We are committed to leaving no physical trace of our activities wherever we gather. We clean up after ourselves and endeavor, whenever possible, to leave such places in a better state than when we found them.
"Physical" looks to me like a loophole you could drive an art car through. Let's visit one of those squillionaire's tents again:
I walked across the Burning Man playa to visit billionaire Clear Channel CEO Bob Pittman's camp  [in his camp of] giant blow-up spider houses. Fancy new toys, certainly, Pittman noted. But maybe something more! Maybe a solution to flimsy refugee-camp tents. Maybe homes for when we all inevitably live on Mars. The designer of the structure, Michael Beneville, joined the conversation. Beneville said they were just talking to NASA.

"Any species that doesn't invent space-faring is doomed to annihilation," Beneville said. Next year, their plan is to build 200 Dhomes and rent them for between $5 and $10,000 for the week (about what an RV costs).
Well, getting off-planet after testing your spider tents on the playa seems like a pretty big trace too me, and physical, too. And speaking of the the red planet, here's a(nother brilliant, big data) image of California's drought over the last year, which you are free to compare with the beautiful blue boat in the desert that I opened with: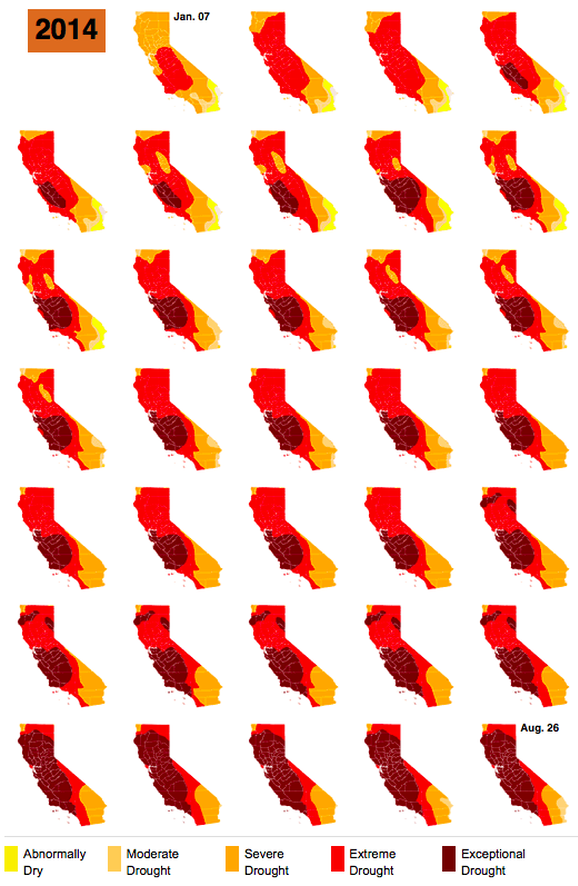 Maybe a species that needs to get off planet shouldn't!
9) Participation.  Our community is committed to a radically participatory ethic. We believe that transformative change, whether in the individual or in society, can occur only through the medium of deeply personal participation. We achieve being through doing. Everyone is invited to work. Everyone is invited to play. We make the world real through actions that open the heart.
Well, some are paid to work, but not everybody is invited to play:
We got to the escarpment, a daunting wall of RVs. The entry was covered by gauzy drapes. As they billowed in the wind, we could see inside: A crystal chandelier, glass refrigerators full of champagne, a dining-room table to seat maybe 16, and half a dozen very beautiful women in lingerie, serving cocktails. One of them saw the group.

She stormed outside, furious. The invaders responded defensively, saying they had just wanted to see. Some wanted to debate. She wanted everyone to keep walking. The group milled outside, debating whether to try again, or give up and go to a normal camp for a drink.

One of the turnkey residents, red-haired and slightly overweight, came out in a white shirt and cargo shorts. The party planner quickly ran back inside, brought him a red-silk Chinese robe, and helped him put it on. He thought someone's headlamp was a camera, and started to scream at them. The event planner saw me taking notes and a picture of the scene, and came at me. "I don't like you," she said loudly, grabbing my shoulder. Someone next to me told her that she didn't need to be a bitch. The man in the silk robe started jumping up and down, ready to throw a punch. (re/code)
"Deeply personal participation."
10) Immediacy. Immediate experience is, in many ways, the most important touchstone of value in our culture. We seek to overcome barriers that stand between us and a recognition of our inner selves, the reality of those around us, participation in society, and contact with a natural world exceeding human powers. No idea can substitute for this experience.
[Burning Man founder Larry Harvey"] "They've tried to institutionalize the kind of behavior that brought their business into being — a certain amount of risk-taking, a frontier mentality, a willingness to try things to see if they work, regardless of whether they fit institutional norms. Well, that's the kind of can-do attitude that Burning Man is famous for." … Black Rock City is a fantastic opportunity to go nuts with untested gadgets in the most extreme environment imaginable and with the participation of unusually thoughtful beta users. … Engineer Michael Favor, who worked with Google on the [Maps pilot] project in 2006, explained that "the power of Google is that they don't do all the work. People posting content do. The same is true here at Burning Man. Citizens create the vast majority of things." (Vox)
Well, the function of Bohemias — punk rock; Haight-Ashbury; parts of Brooklyn — at least in a capitalist society, is to provide a venue for cool hunters, and Burning Man is a gusher of cool, then to be refined into product. Citizens, as Vox points out, do the work. Others collect. It's the way of the world!
* * *
Oh, the anaphora: "You're here to build wealth." Not everybody, and that there's anything wrong with that. But still. So I don't think the Burning Man bubble has burst at all. Whether as a society of the spectacle, a nouveaux Bohemian Grove, or a gusher of cool, I'd expect its "culture" to be increasingly mainstreamed and globalized, exactly as "startup culture" has been. Heck, why not franchise the brand?
NOTES
[1] When "we learn to monetize everything", and everything is liquid, isn't everything permissible? Slavery, for example? How does that jibe with gifting?