By Lambert Strether of Corrente.
So the robots take over the social function of providing most everything in the two layers at the base of Maslow's hierarchy of needs, physiology and safety. Food, water, shelter, warmth; security, stability (for example). We've got robot houses, robot servants, robot cars, robot malls, robot servants, robot baristas, robot Walmart greeters, robot drivers, robot security guards, robot financial advisors, robots to make robots, but, no matter what the Japanese think they're doing, not much more; the top three layers — social needs, esteem, self-actualization — are still there for humans (or at least some humans).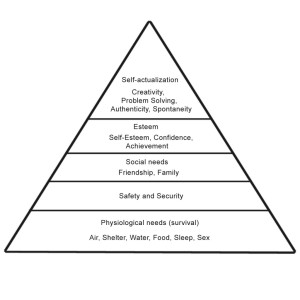 But how about the humans that Adam Smith drove from their villages with whips and scorpions and into Blake's dark, Satanic mills because work ethic: Most of their jobs — hence, most of their adult lives — were spent doing the city of broad shoulder thing for bottom two layers; doing work robots now do. What happens to them? I think that depends on who owns the robots (and hence, how the robots are programmed).
Say the 0.01% own the robots and program what the robots can and cannot do (and, in the kindest version of this idea, rent them out to those who can actually afford them). The 0.01%'s basic needs are taken care of by robots, and they're hardly going to be going to some working class schlub for their self-actualization, so what will they do with the 99.99%? What will they do with the Russian nuclear physicist cab drivers, the baristas who are really actors, the actors who really want to direct, the plumbers, the carpenters, the electricians, the fry cooks, the line workers, that guy with the stapler, Milton Waddams, in Office Space; what happens to them?[1]
Well, the superfluous humans could become status symbols for the owners, units of conspicuous consumption, rather like the Marschallin's black boy, Mohammed, in Der Rosenkavalier, except she had only the one. Or the superfluous humans might deliver various personal services to the owners that robots, being but robots, could not deliver in a pleasing or imaginative (or submissive[2]) enough form. Today, we might call those status symbol humans "pets" (or possibly "companions"); and we might call the servicer humans "slaves." In either case, the robot owners would have programmed the robots to provide "their" humans with the sufficiencies of physiology and safety, but made equally certain, in the programming, that "their" humans couldn't obtain those sufficiencies from any robots other than their own. At this point we recall Asimov's Three Laws of Robotics, and modify them slightly.
Figure 1: The Three Laws of Robotics (hacked version)
A robot may not injure a human being an owner or, through inaction, allow a human being an owner to come to harm.
A robot must obey the orders given to it by a human being its owner, except where such orders would conflict with the First Law.
A robot must protect its own existence as long as such protection does not conflict with the First or Second Law.
Fixed it for ya.
So, if you are a former Russian nuclear physicist cab driver, now a third-rank personal under-assistant to the squillionaire owner of multitudinous robots, robots numberless as the sands of the seashore, only his robots (by assumption) can supply you with base level needs like food, water, shelter, or warmth; all other robots are programmed, by their owners, not to; and all base level needs can only be met through robots. The whole system is rather like having a supermarket loyalty card that keeps you very, very loyal. Oh, and both pets and slaves can be bought and sold, so one imagines that a market for superfluous humans would soon develop. You might be forgiven for wondering where the Underground Railroad was.
Is there a utopian alternative to this dystopian scenario? I think there is. Since my concern is not the 0.01% owners, but the people who catch the early bus to work, let's start by stating the most obvious possible fact about the workplace where working people work. From Bill Mitchell:
[Workers sell] labour power (the capacity to work). … That immediately invokes a managerial imperative. … Bosses have to control the realisation of that use value [the sold capacity to work] as production in .
(Actually, I've been very lucky in my life. I've enjoyed most of my jobs. But I'm an outlier.) So, and at the risk of being classist, given that obvious fact about the workplace, let's now ask ourselves how people react to those conditions in the rest of their lives. I've always loved this passage from Terry Pratchett's The Truth, and not just because "The Truth" is the name of a newspaper:
She held up a piece of lined paper, crammed edge to edge with the careful looped handwriting of someone for whom holding a pen was not a familiar activity.

"This is a report of the annual meeting of the Ankh-Morpork Caged Birds Society," she said. "They're just ordinary people who breed canaries and things as a hobby. Their chairman lives next door to me, which is why he gave me this. This stuff is important to him! My goodness, but it's dull. It's all about Best of Breed and some changes in the rules about parrots which they argued about for two hours. But the people who were arguing were people who mostly spend their day mincing meat or sawing wood and basically leading little lives that are controlled by other people, do you see? They've got no say in who runs the city but they can damn well see to it that cockatoos aren't lumped in with parrots. It's not their fault. It's just how things are.

Why are you sitting there with your mouth open like that?"
When people don't work (force over distance, ya know) doing things they would rather not be doing, they work doing things they would rather be doing. They become, in other words, amateurs. They form voluntary associations like model railroad clubs or fandoms or community gardens or rotisserie baseball leagues. They gather oceanographic or meteorological data. They classify birds or books, or become authorities on esoteric subjects. Introverts collect stamps.Or blog. In other words, they self-actualize. And they do that on "their own" time. When the robots take the most workplaces away — the places working people would rather not be, anyhow. — I would expect working people to keep on doing what they so evidently like doing. Of course, if you want working people to turn into pets or slaves, self-actualization isn't exactly on the top of your list, though, is it?
So in our Utopia, we restore Asimov's three laws of robotics to their original form:
Figure 2: The Three Laws of Robotics (restored to original form)
A robot may not injure a human being

an owner

a human being or, through inaction, allow a human being

an owner

a human being to come to harm.
A robot must obey the orders given to it by a human being

its owner

a human being, except where such orders would conflict with the First Law.
A robot must protect its own existence as long as such protection does not conflict with the First or Second Law.
So, if you think it's obvious that turning a superfluous — that is, a job-less — human into a pet or a slave, instead of letting them self-actualize by doing work they want to do is "harm," then the robots are going to build your Utopia for you. And how, you ask, are you going to make sure that the robots get programmed according to the original form of Asimov's three laws in Figure 2, as opposed to th hacked from in Figure 1?
How? That would be politics.
Oh, and I almost forget the part that would be teleological if I believed in teleogy. We might see a very gradual, halting, but real civilizational progression — an actual net reduction of pain and fear and evil — from human sale (slavery) through human rental (wage labor) to human gift-giving ("gifted," and giving, amat • eurs). And with the robots, why on earth not?
NOTES
[1] And if we really want to put the "dys" in "dystopian," solve global warming with a massive dieback.
[2] Robots, after all, cannot submit. Only humans can do that.