ISIS
Mind-boggling to see clickbait headlines for war news. War isn't a racket, apparently, but a virus. WaPo: ["Five Takeaways from President Obama's Islamic State Speech"]; ["Four questions out Obama's ISIL Strategy"]. And Newsweek: "The Four Most-Depressing Moments in Obama's Speech." 
Obama: "Eradicate cancer" (!) [The Hill]. Rand Paul: Cautious [WSJ]. Boehner: Thumbs up [Politico]. But House split [The Hill]. Democrats: Hawkish because midterms [WSJ]. Even if nobody actually knows what the threat is or why it's imminent [HuffPo]. 
Kos front-pagers figure out what to say: "Republicans criticize Obama for not wanting enough war" [Kos]. And Atrios flips two Friedman Units ahead in his calendar and marks the date, to remind himself to check back in a year and see how everything's going [Eschaton]. Because this time — 1 FU, 2 FU, 3 FU … N FU –it's gonna be different. But I don't know where Atrios gets one year from; I thought it was three (18 FUs) [Informed Comment].
Meanwhile, good jobs at good wages for mercs in Iraq [Triple Canopy].
And oh, hai, Dubya [FOX].Why am I thinking "you've covered your ass, now"? My advice, stick to painting.
Ferguson
An important article from on the roots of resistance in Ferguson [WaPo]. There's a history here from the July 2000 "Jack in the Box shooting" that involves significant civil resistance, including highway shutdowns, then as now [Times]. New witnesses: "the youth threw his hands up and pleaded with the officer to stop shooting" [USA Today]. Ferguson does, however, plan to cut down on those court fees ($12 to plead guilty), which supply 21% of local revenues and disproportionately affect blacks [NPR]. The Google News put this headline for the story in its search snippet: "How Court Fees Became An Emotional Issue In Ferguson, Mo." Cooler heads at NPR, bless their hearts, have prevailed, and the headline has been revised: "Ferguson's Plan To Cut Back On Court Fees Could Inspire Change." But as you can see, the old headline lives on in the URL. It's not an "emotional issue," forsooth. It's a justice issue. 
Land Use
Ferguson's issues are intimately tied to patterns of land use. Here's more on how the suburbs got poor [Slate]. And here's how Detroit suburbanites escaped the costs of sharing public goods with poorer and darker Americans [Robert Reich]. More generally, the history of barbed wire should make us think of the social costs of enforcing boundaries [Ribbon Farm, ChuckL].
Election 2014
The Democrats can't win the House no matter what [Times]. But polls say that the Democrats will win the Senate (Sam Wang) or — if you add secret sauce to the polling results — won't (Nate Silver and everybody else) [New Yorker].
Stats Watch
Wholesale trade for July: Lower than expected, at 0.01% vs. Econoday's forecast of 0.05%. Good news, since low inventories (one side of the ratio) mean restocking and high sales (the other side) signal demand. Inventories of farm products, computer equipment, and petroleum fell. Inventories of drugs, apparel, and autos rose.
News of The Wired
A quote fest on Apple Pay, the $350 replacement for my wallet [Fortune].

 

And "a watch guy's thoughts" on the Apple Watch, with pr0n photos [Hodinkee]. And it's "Apple Watch," not iWatch. Delivery Q1 2015 [Tech Radar]. Not a watch guy, but the size of that thing reminds me of the first Mac Portable (or "luggable," as we fondly called it). If the man-sized version won't fit under my French cuffs, why would I wear it?
Oscar Pistorius not guilty of pre-mediated murder [Daily News].
"Martial arts and the cycle of bullshit" [Charlie's Diary]. When Yves went to fight school, she actually learned to fight. Not all do!
The growing creativity of work in the last five decades [HBR]. Oh? What work? And whose? And for whom?
The Frankfurt School is coming up on the charts [New Yorker]. Remember Marcuse? [Truthout].
"There is money to be made" [Cat and Girl].
Yes, I remember where I was on 9/11. I think where we ended up is more important.
* * *
Readers, feel free to send me (a) links, and even better (b) sources I should curate regularly, and (c) images of plants; I now have some of yours to choose from, and I'll start running them. Vegetables are fine! See the previous Water Cooler (with plant) here. Don't mail Yves! And here's a plant: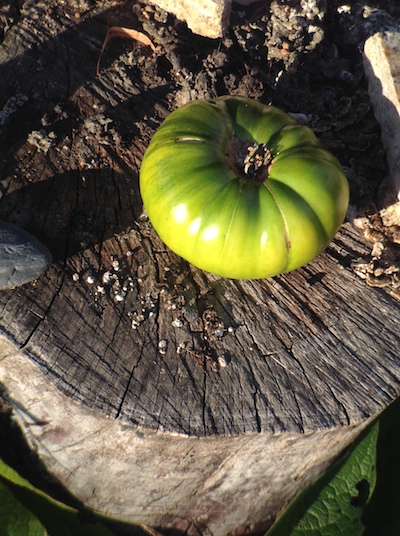 And more plants, please! Bigger images (say, 1200px or thereabouts) preferred. Thank you!
If you enjoyed Water Cooler, please consider tipping and click the hat:
Talk amongst yourselves!