By Lambert Strether of Corrente.
Lehman Anniversary
Jeffrey Zeints: "Today, it is clear that the TARP program was a success" [White House]. And everything's jake. Even MBSs are back in fashion [Time]. War stories: When your boss sleeps in his clothes in his office, look out below [Tennessean]. A list of alumni [IBT].
First payout to unsecured creditors: "[A] recovery of about 17% of total unsecured claims" [WSJ]. Of $341 billion owed to creditors, $88.8 billion is expected to be recovered [WSJ].
Some contemporaneous NC coverage: "Family Seeks $1.14 Billion from Lehman" (2008-01-08), "So How Did Lehman Delever? A Not-Very-Pretty Possibility" (2008-06-17), "Lehman in 'Urgent' Talks to Close Deal Before Expected $4 Billion Writedown" (2008-08-30), "The Fire Sales Begin: Lehman Unloading $852 Million of LBO Loans (Updated)" (2008-09-15), and "$75 Billion Needlessly Lost in Hasty Lehman Bankruptcy Filing?" (2008-12-29).
ISIS
Everybody wants to do air power. Nobody wants to do troops [FOX]. Which makes sense if we can both start and finish the war with planes, drones, mercs, and special ops dudes. Meanwhile, Iran rejects US cooperation requests [LA Times].
And so, Obama to Assad: Shooting down one of our planes in your airspace is a casus belli [Times]. I guess that's why Obama's "haunted" [Times].
Pipeline theory: "This ties twentieth century geopolitics to the long-standing use of American state power to further the private interests of multi-national oil and gas companies" [Counterpunch (LS)].
Anyhow, ISIS is our baby [Counterpunch]. And the Syrian moderates made a non-aggression pact with ISIS [Huffpo]. The same moderates who handed at least one kidnapping victim over to ISIS [Cannonfire]. How con-v-e-e-e-e-n-ient, especially for US military contractors [HuffPo].
Stockman: Financial markets will be spooked; "one kind of blowback after another." Galbraith: "The larger environment of world stability created by the United States in the Cold War and after the Cold War is coming apart" [Yahoo Finance].
Ebola
Worst cast scenario: 277,124 by end of 2014 (handy chart) [Wired]. And let's not even mention the chance to virus could mutate for airborne transmission. Because that would be bad [Times]. Scientists see long fight [Times].
Obama is briefed at CDC, plans $88 million offensive [WSJ]; that's seven Reaper drones. WHO accelerates vaccine push [Toronto Star]. Some mining companies halt operations; some support USAID mitigation efforts [Mining Australia]. African tourism drops [Seattle Post-Intelligencer].
"[N]o one expected… No one anticipated…" [WaPo]. Classic. "Nobody could have predicted" that the collapse of a public health system in war would spread disease. Not in Liberia, not in Afghanistan, not in Syraqistanza, and not (in another sort of war) in Greece. And why do we fly Western health workers out for treatment, but not the locals? [Guardian].
2014 and 2016
Obama postponed executive order to slow deportations, so Hispanic organizations muse "public confrontations and protests against vulnerable Senate Democrats" in red states [FT, "Hispanics turn on Democrats over delay"]. Progressives never do this. That's why they keep getting kicked.
Clintons attend Iowa steak fry [Bleeding Heartland]. Hillary: "I'm ba-ack!" [MSNBC]. Note, however, [CNN] reports as "I'm back," as does [AP]. But Politico leads with "I'm baaaack" [Politico]. Yes, she's "thinking about it" [AP]. And here's a retrospective of Iowa 2008, where Clinton finished third behind Edwards (remember him?) and Obama (remember him?) [Chris Cilizza, WaPo].
And Bernie Sanders sounds serious [Political Wire].
Stats Watch
Industrial production, August: Slips 0.1% after 0.2% gain in July. Analysts expected a 0.3% gain. Auto-manufacturing slowed, though sales are steady, indicating "retooling" at issue. Without auto, gain is 0.1% [Bloomberg]. ISM manufacturing gauge highest since March 2011 [Businessweek]. Empire State general business index highest since October 2009 [AP]. Fewer plant shutdowns in July boosted last month's numbers [AP]. Expert: "Correction was predictable" [The Hill]. But "uneven improvement" [WSJ]. List of advancing (e.g., computer) and declining sectors (e.g. apparel and leather) [Shop Floor].
News of The Wired
* * *
Readers, feel free to send me (a) links, and even better (b) sources I should curate regularly, and (c) images of plants; I now have some of yours to choose from, and I'll start running them. Vegetables are fine! See the previous Water Cooler (with plant) here. Don't mail Yves! And here's a plant (petra). Roots, mon: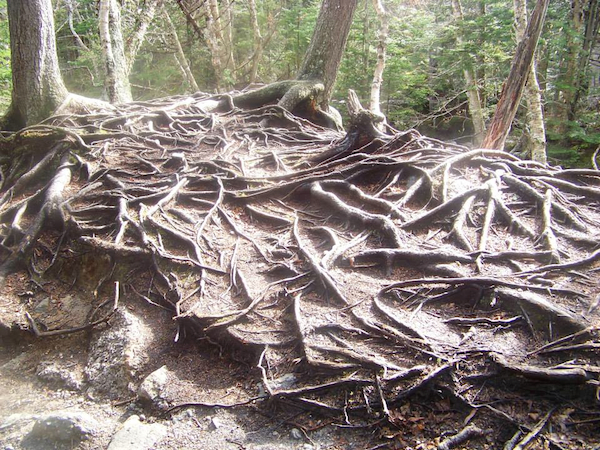 And more plants, please! Bigger images (say, 1200px or thereabouts) preferred. Thank you!
If you enjoyed Water Cooler, please consider tipping and click the hat:
Talk amongst yourselves!