By Lambert Strether of Corrente.
FOMC
Fed pledges that interest rates will remain near zero. Fisher and Plosser dissented, arguing that guidance could tie the Fed's hands [Reuters]. Rates will stay low for a "considerable time." Whatever that means [Forbes]. But even if the rate rise is not soon, it may be sooner than we think [Independent]. QE expected to end at next meeting [Economist].
Loanable Funds Theory cheer: "Gimme a J!" J! "Gimme an O!" O!! "Gimme a B!" B!!! "Gimme an S!" S!!!! "What's that spell?" JOBS!!!!! "What's that spell?" JOBS!!!!!! "What's that spell?" JOBS!!!!!!! (applause) [Fiscal Times].
Chair speech: Janet just as out of touch as Larry:  "[E]ncourage families to take the small steps that over time can lead to the accumulation of considerable assets… [S]aving for a rainy day…" [Board of Governors of the Federal Reserve System]. This calls for a song. (And why should we put our money anywhere other than the mattress when interest is near zero and our money melts away in fees? Am I missing something here?) Shorter: new normal [Bloomberg].
Scotland
Clickbait: "12 Things to Know About Scotland's Independence Vote" [FOX]. "10 things to know about Scotland's vote for independence" [Boston Globe].
"[O]ne of the most consequential democratic consultations in history"  [E.J. Dionne, WaPo]. Funny, I thought that in a democracy the people were sovereign. That's not the same as being "consulted." Maybe attitudes like eventheliberal Dionne's are why The Upshot calls the Scot's independence vote a "crisis of the elites":  [Times].
Scotland's push for independence is driven by a conviction — one not ungrounded in reality — that the British ruling class has blundered through the last couple of decades. The same discontent applies to varying degrees in the United States and, especially, the eurozone. It is, in many ways, a defining feature of our time.
True, except I don't think the elites "blundered"; that assumes a level of good faith that's not in evidence.  I think the elites made out like bandits, and are perfectly happy with the results.
"[M]uch of the U.K. justifiably regards London as unfairly privileged, snobbish and parasitical" [Bloomberg]. London traders man the currency desks [FT]. London traders and hedges bet on the pound, implying Scotland will vote "No" [Businessweek].
ISIS
"Rare unity" between Boehner and Pelosi as House votes for war [New York Times]. Dutch Ruppersberger (D-MD): "Obama is our commander in chief. You don't weaken the commander in chief when we're in a serious crisis." Australian PM Tony Abbot says police raids follow ISIS beheading plot [Reuters]. Quick work, Tony!
And Syria just got some spandy new ground attack jets from Russia. They don't need our help bombing ISIS. So why are we insisting on doing it? [Moon of Alabama] Our demonstrated competence in Middle East regime change? [Washington's Blog]
Time for a new hostage video [ABC]. Meanwhile, Kerry, Syria: Chlorine [CNN].
And Bill went off message. Or did he? [Cannonfire].
Stats Watch
Housing starts for August: "Volatilty," measured by starts, permits, and ratio of multi- to single family homes [Bloomberg]. Drops in every region, but drop in West twice as high as next highest  [USA Today]. Drought? July starts revised up [Reuters]. And better than last year [WSJ]. New homes sell for $339,100 (on average) [Christian Science Monitor].
Annals of Rental Extraction
Comcast's Soviet-style service [VOX]. Just the company I want determining the future of the Internet.
And does California Public Utilities Commission chair Michael Peevey have a dacha? Or perhaps a ZIL? [San Jose Mercury News]. And anytime your PR person sees a phrase like "lobbied regulators to appoint its preferred judge to a key rate-setting case stemming from the San Bruno explosion"…. Well, you just shake your head. Explosions are bad [San Francisco Chronicle].
Keen Inventions
Solar roadways raise $2 million on Indiegogo and get Federal grant money. Parking lots too, using clever "ultra-tough" hexagonal panels [Daily Nebraskan].
Oscillator could replace escapement in mechanical watches [phys.org].
News of the Wired
* * *
Readers, feel free to contact me with (a) links, and even better (b) sources I should curate regularly, and (c) to find out how to send me images of plants. Vegetables are fine! Fungi are deemed to be honorary plants! See the previous Water Cooler (with plant) here. And here's today's plant: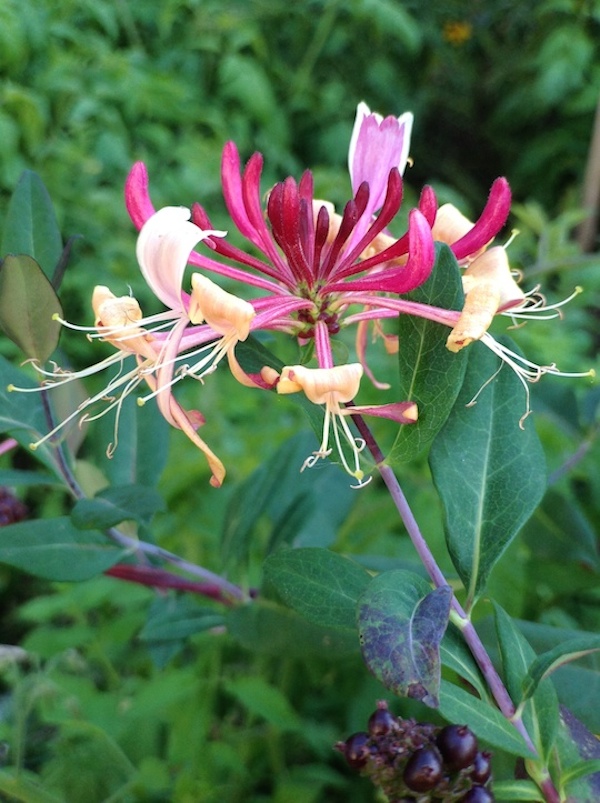 If you enjoyed Water Cooler, please consider tipping and click the hat:
Talk amongst yourselves!