Yves here. Even though the cease fire and the self-rule/amnesty deal for the eastern part of Ukraine might be the beginning of the end of that proxy war, the US is far from giving up its efforts to weaken Russia. John Helmer describes how the US is deploying one economic weapon, that of targeting Russia's titanium exports.
By John Helmer, the longest continuously serving foreign correspondent in Russia, and the only western journalist to direct his own bureau independent of single national or commercial ties. Helmer has also been a professor of political science, and an advisor to government heads in Greece, the United States, and Asia. He is the first and only member of a US presidential administration (Jimmy Carter) to establish himself in Russia. Originally published at Dances with Bears.
Ukrainian government and commercial interests are lobbying the US Government to support a stealth sanction against VSMPO-AVISMA, the Russian supplier of titanium to Boeing and other US aerospace companies. Instead of VSMPO, the Ukrainians are seeking US government financing for the establishment of new high-grade titanium production lines at Zaporizhye Titanium and Magnesium Combine (ZTMC), and expansion of Ukrainian titanium exports to the US.
Last year VSMPO produced almost 30,000 tonnes of titanium; ZTMC, one-third as much, or about 10,000 tonnes. In the first half of this year, VSMPO's output was up by 10%; ZTMC's had fallen by 25%. The plan the Ukrainian government is discussing in Washington would raise ZTMC's output to between 20,000 and 40,0000 tonnes, replacing VSMPO's shipments to the US entirely.
The US Department of Justice indictment of Dmitry Firtash for alleged bribery in the titanium trade, unsealed at the time of his arrest in Vienna on March 12, followed by moves announced last week by the Kiev government to strip Firtash of his Ukrainian titanium production assets, are a coincidence, according to US sources.
The investment required to replace Firtash and substitute Ukrainian titanium sponge for VSMPO in the US market has been estimated at more than $110 million for new metal production facilities, and up to $2.5 billion for expansion of both downstream production and upstream titanium mining in Ukraine. The asset confiscation plan initiated by US prosecutors against Firtash has been estimated to total $500 million. The value of VSMPO's direct exports to the US in 2013 was $380.2 million, 24% of its sales revenue for the year.
With this much at stake in forcing the Russians out of the titanium market, industry and government sources in the US have been leaking to the local press that they suspect Boeing and other US consumers of Russian titanium of anticipating the US-Ukrainian scheme by secretly accelerating deliveries to the US and stockpiling the Russian metal there.
"Our partners advance-shipped strategic reserves of titanium to us" and "we still have it" as part of Boeing's stockpile, Shep Hill (below left), president of Boeing International, was reported by the Wall Street Journal as saying at the Farnborough air show in the UK in July. Boeing's Russian partners, he added, meaning VSMPO and affiliated enterprises, "accelerated some shipments to us to make sure we had enough reserve to maintain our production lines."

Mikhail Voevodin (above right), chief executive of VSMPO, disclosed in July that his company had signed supply contract extensions to keep the Russian metal flowing to Boeing through the year 2022.
For the time being, neither the US, nor the European Union (EU) has imposed direct sanctions on VSMPO. However, last Friday, September 12, rhe US Treasury's Office for Foreign Assets Control (OFAC) listed the state-owned Rostec holding. The wording of the new measure no longer relates the sanction to the Ukrainian conflict or the Crimea. The sanction prohibits trade in goods and services for offshore and shale oil projects, as well as financing of more than 30 days in maturity, including letters of trade credit. The sanction on Rostec "also extend[s] to entities owned 50 percent or more by one or more entities identified by these Directives", according to the OFAC language.
VSMPO is obviously not in the oil business, nor a bank. However, it is (or was until March of this year) majority-owned and controlled by Rostec. This is the way the last VSMPO financial report described its shareholding: "VSMPO-AVISMA and its subsidiaries form a vertically integrated operation. As at 31 December 2012 the Government of the Russian Federation was the ultimate controlling party of the Company and has a controlling interest via indirect ownership of over 50% of the shares issued. The Russian Technologies State Corporation [Rostec] was the Company's intermediate controlling party."
"As at 31 December 2013 the ultimate parent of the Group CJSC "Expotrade" controls 50% + 1 share of the Company. CJSC "Expotrade" is controlled by the management of the Group, in particular majority shares of CJSC "Expotrade" is controlled by Shelkov M. E., who is the ultimate beneficiary of the Group" – page 17. Then in the auditors' note on related parties (page 54), VSMPO reports: "The Government of the Russian Federation controls the Russian Technologies State Corporation, which has significant influence over the Company. The Government does not prepare financial statements for public use. Governmental economic and social policies affect the Group's financial position, results of operations and cash flows."
Finally, in the 2013 report's section on "subsequent events", VSMPO reports: "In March 2014 management of the Group completed a buy-out of additional shares in OJSC "Corporation VSMPO-AVISMA". As a result of the transactions Shelkov M. E. and management of the Group controls 99% of shares in ZAO "Business Alliance Company" through the ultimate parent company OJSC "Expotrade". Shares of OJSC "Corporation VSMPO-AVISMA" controlled by ZAO "Business Alliance Company" increased to 65,27%." See page 58.
As initially reported in November 2012, the management buyout left Rostec with a blocking stake 25% plus one share. But state control remained at more than 50% because the "takeover" vehicle, Nordcom of Cyprus, was a joint venture of VSMPO managers with Gazprombank. Its stake was a majority of Nordcom shares representing the loans enabling the managers to foot the $970 million "takeover" bill. As the management's shareholding in VSMPO has increased since then, so has Gazprombank's indirect stake in the company.
Gazprombank was sanctioned by OFAC notices on July 16 and September 9.
In Russia Boeing and VSMPO jointly operate Ural Boeing Manufacturing CJSC for titanium forgings. Counting all titanium products exported to the US, Boeing says that its Russian supplies represent 35% of its total titanium input. In March, as the US sanctions campaign got under way, Boeing said: "We are watching developments closely to determine what impact, if any, there may be to our ongoing business and partnerships in the region. [For the time being, we] won't speculate on the potential impact of sanctions or any other potential government actions."
On July 15, Yury Slyusar, the deputy trade minister, said "our colleagues are worried regarding the supply of titanium … We met here with Boeing. They once again asked us to confirm that we will honour contracts relating to VSMPO-Avisma corporation. We confirm." That was an undertaking from Moscow not to impose sanctions against the Russian export of titanium to the US. What Slyusar didn't mention was that Russian and Boeing officials were even more worried that the Obama Administration was preparing direct or indirect sanctions against VSMPO, cutting the titanium trade off at the Washington end.
To pre-empt that Voevodin confirmed (later) in Moscow that in July VSMPO and Boeing had signed an extension of the supply contract for titanium sheet to 2022. He implied that something similar had been arranged with Airbus in case the EU followed the US in sanctioning Rostec and VSMPO. The Wall Street Journal report of advance deliveries and stockpiling of Russian titanium in the US followed on August 7.


Source: US Geological Service, 2013
Weeks before, Voevodin had called in Reuters in Moscow to warn Airbus and the French government against contemplating an attack on VSMPO in the sanctions campaign. "A contract until 2020 was signed [in 2009] with us. And it is difficult to assume that the largest European aircraft maker would neglect the terms of the existing partnership." If Airbus tried, Voevodin said there would be substantial penalties in proportion to the $4 billion value of the 10-year contract. "The advantage of a long-term contract is stable conditions. We always strictly fulfil the terms of the contract, so do our partners … Politics is politics and business is business: all of our contracts are mutually beneficial."
On September 15, the Kremlin advisor for economic policy, Victor Belousov, warned publicly that if the US and EU kept escalating sanctions aimed at damaging the Russian economy, a counter-sanction order might follow from Moscow to halt deliveries of titanium to the US and Europe.
There has been no official acknowledgement or press report that while this war of words was going on, the Ukrainian government was making a concerted effort to win US commitments for their scheme for an alternative flow of Ukrainian titanium to the US. The effort has been confirmed by sources in Washington and Kiev.
Independent industry sources in the UK say they have not heard of the Ukrainian scheme. They also doubt its feasibility. An October 2013 study by Philip Dewhurst and Pedro Palma of the Roskill Consulting Group suggests that at present Ukraine lacks the production capacity to increase output of titanium sponge or substitute for Russian titanium in the US market. After three past years of rising production worldwide, they also noted that there is now a surplus of titanium in relation to demand, and little incentive for investors to pay to build new Ukrainian production lines.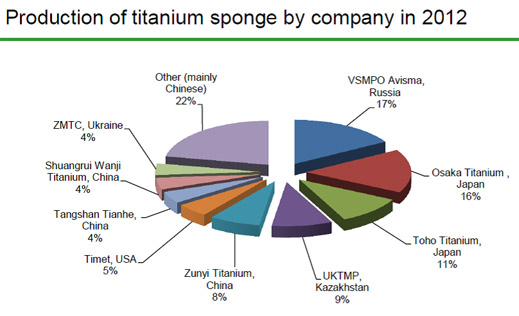 Source: Roskill Consulting Group
Global titanium market share, 2013: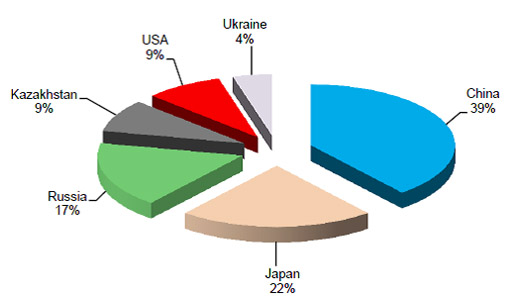 Source: Roskill Consulting Group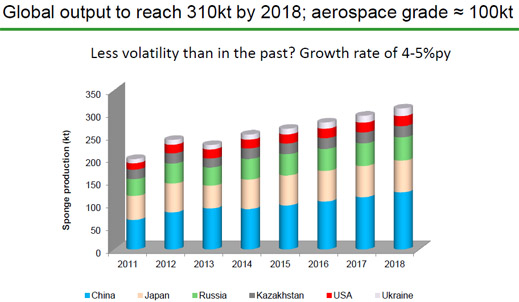 Source: Roskill Consulting Group
Dewhurst of Roskill says: "I can't imagine the US has any great interest in Ukrainian sponge production. There are several [other] reliable sources of high grade sponge. Current Ukrainian sponge is regarded as too low grade for aerospace use and little unwrought titanium (1,359 tonnes in 2013 – 7.7% of the total) is imported into the USA."
ZTMC, the sole Ukrainian producer of sponge, is located in the Zaporozhye region of eastern Ukraine. Since December 2012 ZTMC (below left) has been controlled by Firtash (centre), who won a privatization administered by the former President Victor Yanukovich (right). Here's the company's announcement. The company website reports that as part of his privatization agreement with Yanukovich, Firtash promised to invest in building 40,000 tonnes of additional sponge capacity. By the time of Yanukovich's downfall, and Firtash's arrest in March, he had not made good on the promise.

The US indictment alleges that Firtash and five accomplices conspired to bribe Indian state and federal government officials to agree to a mining and refining venture in Andhra Pradesh state. The alleged corruption began in April 2006. In February 2007 Boeing signed a memorandum of understanding with Firtash to buy the titanium from the Indian project; Boeing was to be the biggest of the offtakers in what Firtash estimated to be $500 million in annual sales. Altogether, US prosecutors claim that $18.6 million in bribes were paid, starting in April of 2006 and concluding four years later, in July of 2010.
It took the American investigators another two years before a grand jury issued its charges, based in part on what Boeing admitted about its part in the Firtash plan. That was in January 2012. In the Justice Department press release of April 2, 2014, it is claimed that the federal court in Chicago took eighteen months before issuing a secret indictment in June 2013. Another ten months were to pass before the indictment was unsealed, and the US prosecutors asked their Austrian counterparts to pick Firtash up on an extradition warrant. The Justice Department press release quotes the FBI agent in charge of the Firtash case as saying: "This case is another example of the FBI's willingness to aggressively investigate corrupt conduct around the globe." The evidence of the paperwork reveals that even if the FBI agents had been aggressive, there had been an unusual delay in pursuing Firtash.
The acting assistant attorney-general on the case in Washington, David O'Neil, claimed "the charges against six foreign nationals announced today send the unmistakable message that we will root out and attack foreign bribery and bring to justice those who improperly influence foreign officials, wherever we find them." Wherever wasn't the word for it, for the Ukraine had been off limits while Yanukovich was in power. London, where Firtash met British intelligence and Foreign Office officials on February 24, after Yanukovich had been deposed, was also off limits for the US agents.
The American aggressiveness on the subject of titanium has found its echo in Ukraine. In mid-July, Igor Kolomoisky, the governor of Dniepropetrovsk, began a public campaign for the government in Kiev to renationalize Firtash's assets, including ZTMC. Kolomoisky alleged that the privatization process had been rigged illegally, and that members of Yanukovich's family had been hidden beneficiaries.
Last week, the Ministry of Economy in Kiev launched a legal process to recover control of two mining complexes, Irshansky in Zhitomyr region and Volnogorskiy in Dniepropetrovsk. Without their ore concentrates to refine, Ukrainian industry sources say it is only a matter of time before ZTMC stops operating, or else Firtash's control is removed. "The government has started to build a new titanium vertical," reported a Ukrainian publication last Sunday.
On Monday ZTMC was asked to say what impact is likely on the company's output following the government action at the two mines. It was also asked what impact has been estimated on ZTMC's exports if Ukrainian sanctions against trade with Russia are implemented for the titanium trade. The company replied that it doesn't respond to questions by telephone, and requested them instead by email. It then sent a written reply: "For a response please send a link to your resource on the Internet, as well as make a request on official letterhead sent from the official e-mail. Tell us also a theme of your publication. Sincerely, Anatoliy Matvienko, Ltd. ZTMC."
In Moscow VSMPO was asked to say if it believes that sanctions introduced for Rostec will affect VSMPO's ability to raise finance, or sell titanium sponge and titanium products to the US. It was also asked whether it can confirm that the Ukraine government has been lobbying in the US for investment to expand Ukrainian titanium production to replace Russian exports to US? VSMPO refused to answer.