By Lambert Strether of Corrente.
War News from Syraqistan
Obama bombs ISIS and Nusra Front, whoever they are [McClatchy]. In Syria. But at least we told them first! [Syrian Radio and TV]. And Bahrain, Saudi Arabia, the United Arab Emirates, Jordan, and Qatar helped [Daily Star]. Iran calls the strikes "illegal," but surely nudge nudge wink wink? [The Hill]. 
Monday evening, Nobel Peace Prize Laureate and War President Obama had given the greatest South Lawn presser ever: "We're going to do what is necessary [to do what?] to take the fight to this terrorist group" [New York Times].  Also too, Obama "reached out" to alert "leading supporters" [ABC]. The Daily Mail has keen photos, as ever [Daily Mail]. And war pr0n from the [National Journal] (!) shows how intense the hysteria in the political class must be.
Best news yet! There's another group even more demonic than ISIS: Khorosan [Independent]. That was fast! Khorosan is led by a "shadowy figure" [New York Times]. But we bombed them already because "active plotting against the homeland" [ABC]. "Khorasan's existence was publicly acknowledged only last week, [by] U.S. Director of National Intelligence James Clapper" [CNN]. Alrighty, then.
A voice of sanity [Project Syndicate]:
America's war on terror now risks becoming a permanent war against an expanding list of enemies – often inadvertently [or, possibly, advertantly] created by its own policies.

The US may have some of the world's top think tanks and most highly educated minds. But it consistently ignores the lessons [which lessons?] of its past blunders – and so repeats them. US-led policies toward the Islamic world have prevented a clash between civilizations [thanks for this, Zbig] only by fueling a clash within a civilization that has fundamentally weakened regional and international security.

An endless war waged on America's terms against the enemies that it helped to create is unlikely to secure either steady international support or lasting results [kaching kaching I can't hear you!].

The risk that imperial hubris accelerates, rather than stems, Islamist terror is all too real – yet again.
That's not a bug. It's a feature. And when the prophets of blowback are right, again, two things will happen: Those who were right still won't get to go on TV, exactly with Iraq, and the political class will double down on what caused the blowback in the first place, exactly as they've been doing all the way back to Mossadeqh. Because the war on terra is a self-licking ice cream cone. 
Oh, and what "Moscow political analyst" Vladimir Frolov thinks the Russian government thinks: "The United States has underestimated the complexity of the situation before, so let's just wait until they run into problems. They are eagerly expecting that" [WaPo]. No doubt.
Climate
Explainer on "People's Climate March": "[T]here's been no single, major action that united protesters expressly around climate change itself, not nearly on this scale" [Vice]. Meanwhile, "Flood Wall Street" attracts a few hundred [Daily Beast]. But it's not clear that numbers are the metric. And Peoples Climate March artwork, made in Brooklyn [Desmogblog]. 
Live coverage of the UN climate summit [Guardian]. Obama in UN climate summit opener: "The climate is changing faster than our ability to address it. The alarm bells keep ringing" [USA Today].
Rockefeller kids on oil: Just say no [Market Watch]. Better late than never.
Stats Watch
Redbook, last week: Consumer sales little changed year-on-year, down 0.6% month-on-month. Seasonal merchandise got a fillip from the early cold snap, others move Halloween sales up [Bloomberg]. No rise in apparel (why?), hitting department stores. Back-to-school sales end [NASDAQ]. Xmas muzik in the stores, yet?
Richmond Fed Manufacturing Index for August: "Solid strength," 2 points higher than consensus [Bloomberg]. Economists had expected a decline of 2. Manufacturers remain "optimistic" [Business Insider].
Rapture Index remains unchanged [Rapture Ready].
2014 and 2016
Big gay donors aren't giving Maine's Mike Michaud any money in his gubernatorial race against loose cannon Republican Paul LePage. Why? The "former mill worker" has the wrong class and cultural markers, and doesn't cultivate the right people [Politico]. Michaud might win anyhow, in a three-way with LePage and no labels-type Eliot Cutler.
Republican slogan on Clinton: "Obama's third term" [CNN]. So that would be Bush's fifth term.
New TV drama: "Madam Secretary" [WaPo].
Silicon Valley
This 1980s GM touchscreen was decades ahead of its time [Business Insider]. Another data point that fits with Graeber's thesis that this economy is really not innovative at all, despite the triumphal bellowing of Silicon Valley squillionaires. And maybe Larry Page should stick to his knitting [Business Insider].
About the "sharing economy":
Lyft kills their Lyft Plus Program, sticking their drivers with SUVs they don't want and can't make money on while charging normal taxi rates, because of the low mileage. But don't worry: Lyft is going to help sell them! And give the drivers a bonus far less than what the cars their drivers never wanted in the first place are worth! [SFist]. You got that right: To participate in the Lyft Plus program, drivers had to buy the SUVs.
Uber decides to take a bigger cut from its drivers: 25% from 20% [Forbes].
So who's sharing here, exactly? I thought Silicon Valley glibertarian squillionaires were all about creating a better planet, not about creating degrading race to the bottom between working class drivers. Well, for some definition of "better."
News of the Wired
* * *
Readers, feel free to contact me with (a) links, and even better (b) sources I should curate regularly, and (c) to find out how to send me images of plants. Vegetables are fine! Fungi are deemed to be honorary plants! See the previous Water Cooler (with plant) here. And here's today's plant (jn):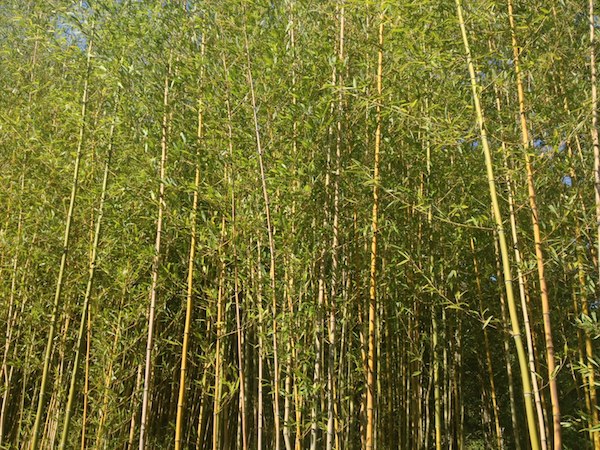 If you enjoyed Water Cooler, please consider tipping and click the hat:
Talk amongst yourselves!