By Lambert Strether of Corrente.
Hong Kong
Here's an explainer [Asia Times]. It's not at all clear that the media should put on its Tiananmen glasses, but it is clear that Hong Kong police tactics have inflamed the situation. However, the demand of the protesters for universal suffrage, with their choice of candidates, was never contemplated in the "Basic Law" under which Hong Kong "reverted" to China in 1997. So in some sense, the protesters are trying to retrade the deal. That said:
As to the options available to Beijing, one is, of course, send in the tanks! – and endure international obloquy and the undying hatred of the citizens of Hong Kong.

Another, which attracts less interest among the Tiananmen-fixated, is to let Hong Kong stew in its own juice, allow the dysfunction to burgeon until a local backlash is triggered or, failing that, at least stew until the local worthies have had enough and publicly petition Beijing to help them out of the mess, perhaps through an ultimatum coupled with some post-2017 legal legerdemain relating to the electoral commission.
More explainers: "The big question is whether mainland citizens – if they can find real news about Hong Kong in China's censored press ‑ will ask why they can't enjoy the same kinds of freedoms" [Asia Sentinel]. So the Mainland faces a dilemma about going shopping in Hong Kong right now. Meanwhile, President Xi is calling on all Chinese to embrace the spirit of Mao [Asia Sentinel].
Democracy supporters ask for outside support [VOA]. Please, no. When demon figure Putin said: "Anything US touches turns into Libya or Iraq," he was on to something.
Meanwhile, some businesses are closed, and a fireworks display has been cancelled [LA Times]. Protesters camped out overnight on highways [CNN]. Not clear if they're blocking bridges yet….
And here are live blogs, the first from [South China Morning Post], the second from [BBC].
2014 and 2016
Great Headlines of Our Time: "The stars align for baby Charlotte" [Politico]. I think it's hilarious that Grandbaby Clinton is named after Bank of America's home town, but perhaps I'm just jaded and cynical.
Neel Cash-and-Carry is running for governor of California [WaPo]. One despairs.
Superweird Kansas Senate race where the Democrats throw their own guy under the bus to back Greg Orman, an "independent" "no labels"-style dude who won't say where he stands on anything [WaPo].
Stats Watch
Personal Income and Outlays, August:  Personal income growth posted a 0.3 percent gain in August, matching expectation. Personal spending jumped 0.5 percent after no change in July, above expectations. These are averages, so we don't know (though we can guess) how the gains were distributed [Bloomberg].
Pending Home Sales Index, August: "stubbornly flat." "A lack of first-time buyers and strong demand for rentals remain key obstacles for home sales." Weakness evenly distributed [Bloomberg].
Fracking
Two important studies released on fracking, one on frack sand mining from the Civil Society Institute's Boston Action Research [BAR, press release], and the other on fracking and wastewater from the American Chemical Society [ACS]. I hope to have more on this important topic in the near future (links in comments welcome).
Meanwhile, fracking sand is among the best pure shale plays [Forbes] and small firms are making big money [WSJ].
And fracking is becoming politically polarized [Phys.org].
News of the Wired
* * *
Readers, feel free to contact me with (a) links, and even better (b) sources I should curate regularly, and (c) to find out how to send me images of plants. Vegetables are fine! Fungi are deemed to be honorary plants! See the previous Water Cooler (with plant) here. And here's today's plant: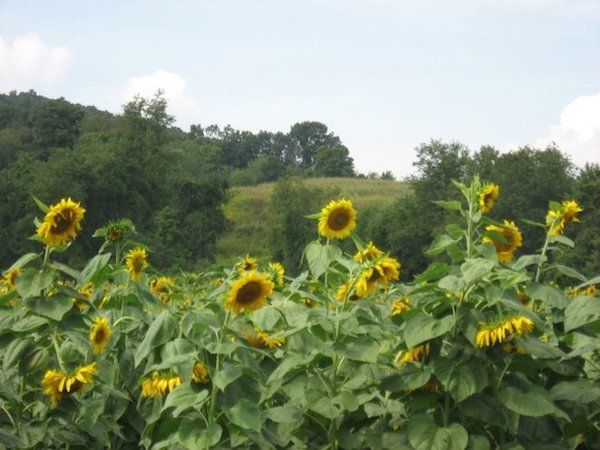 If you enjoyed Water Cooler, please consider tipping and click the hat:
Talk amongst yourselves!