This is Naked Capitalism fundraising week. In our fundraiser last year, nearly 1000 donors invested in our efforts to shed light on the dark and seamy corners of finance. Join us and participate via our Tip Jar or read about why we're doing this fundraiser and other ways to donate, such as by check, as well as our current goal, on our kickoff post.
By Lambert Strether.
Readers, we've made a number of improvements to navigation and the overall experience of commenting at Naked Capitalism, and we're proud of them (and a hat tip to our new tech person, Tony). We've tested them, but we need the collective feedback of the NC commentariat, so please do some testing and leave your feedback in comments! But be kind; we're sensitive plants, here at NC….
CAVEAT: NC uses multiple caching mechanisms, and even though all these changes have been made, backstage, on the NC servers, the changes may take hours to propagate through the cashes. So if you don't see the new features as advertised, or if things start acting funky, please do two things:
1) Wait. The changes may take a few hours to propagate out the the CloudFlare node you are using, and
2) Clear your own browser's cache, which will also be storing an outdated version of the site.
And when you have done this, and if there are still problems, please comment but be sure to give us your OS, browser, and version, for example Ubuntu 3.2, Lynx 5.8.
* * *
First two navigation changes: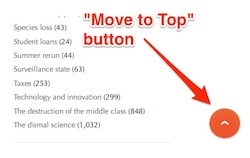 We now have a "Move to Top" button which, cleverly, does not appear when you actually are at the top, but fades in when you are farther down the page. Click the button, and you will be scrolled to the top of the page. This feature will also be useful on mobile, on which more to come.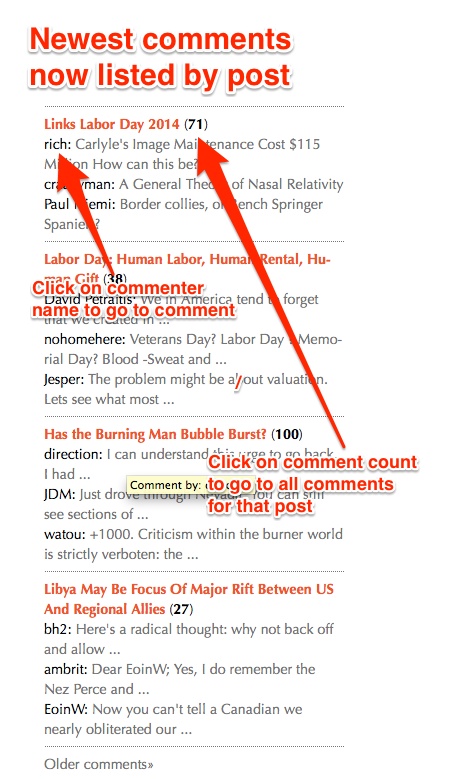 We have also changed the way that comments are listed in the sidebar. Now we list the most recently commented posts, with the most recent comments under each post. However, if you're battling having discussion with another commenter, their name will still appear. We noticed that when a huge thread would break out on one post, those comments would drive everything else off the sidebar, and we wanted to make sure that quieter threads didn't get drowned out.
And now to the experience of commenting, which we also hope is improved. You can can format your comment from a toolbar, spellcheck it, edit it after submission, or ask for it to be deleted (your own comments only, of course).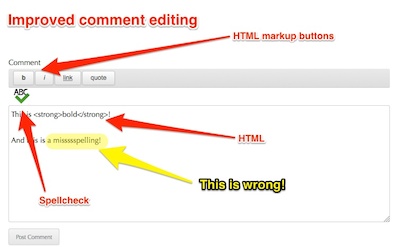 As you can see, we know have a comment editor with a formatting toolbar. If you want to make text bold, select it, click on the "b" button, and the HTML-ese for bold, the <strong> tag, will appear around your selected text. In addition, you can check your spelling by clicking the green checkmark.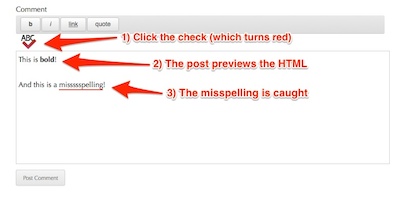 Here is the spellchecker in action: When you click the green checkmark, it turns red, at least if there is an error. It underlines the word that it thinks is misspelled in red — although, if you're like me, you never spell words wrong, but do make typos or use words to fancy for the spellchecker to know — and gives you options for fixing it if you click on the underlined word.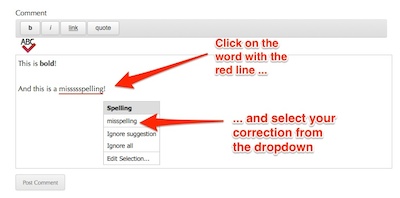 If you click on the underlined word, you get a dropdown, where you can select the word the spellchecker thinks is right. You can also just type in the change yourself.

Even better, we have enabled a timer. You now have a window of time to edit your comments, and you can also request that your comment be deleted! No more subthreads with "I meant to type…." or "Yves, will you please delete…."!
Here are the screens that come up when you edit or delete: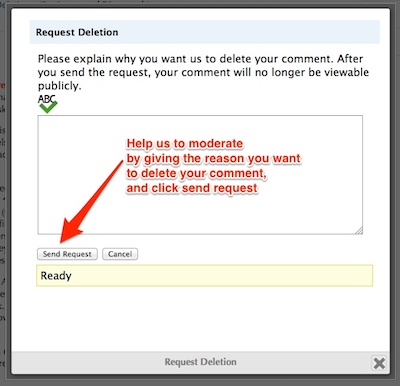 Please don't write a novel here, mkay? Though we know you want to. Something like "I decided I don't agree with what I just said" or "I've decided violating Rule #1 is a bad idea" or "On reflection, insulting the moderator was a bad idea, strategically" would be closer to what we have in mind.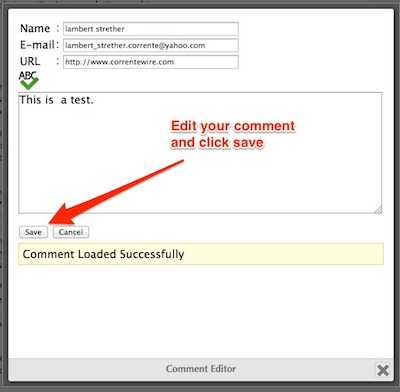 And finally, here's the screen that comes up when you edit your comment after submission. Make the changes, submit, and voila.
* * *
Naked Capitalism: Giving the best commenters the best tools!