Here's a more conversational approach, still with the bracketed links, with more paragraphing. Hopefully the headlines are doing the right thing now. Thanks to all for feedback! –lambert
Ukraine
At the NATO summit, Chocolate mogul Poroshenko said he would order a ceasefire Friday, and the "rebels" say they'll agree to a truce [CBC]. Or not! [Guardian].
Also at the summit, Hollande conditioned delivery of Russia's warships on "a ceasefire and a political settlement" [France24]. But "a German government official" says Germany sees "no possibility of a military solution." Likewise, NATO membership for Ukraine is "not on the agenda" [Reuters].
What does NATO have to trade with, then? This: Four NATO warships are due in the Black Sea for a maritime exercise by September 7: Guided missile destroyer USS Ross (DDG-71); French frigate Commandant Birot (F796); Canadian frigate HMCS Toronto (FFH-333); and Spanish guided missile frigate Almirante Juan de Borbón (F-102) [USNI News]. A big stick, to be followed by soft talk? Obama want simply want to "keep the conflict brewing" [Moon of Alabama] because churn is profitable? Because Obama is, or seems to be, "skeptical" [CNN].
Ferguson
This article on Ferguson from Road and Track — the Corvette Stingray was manufactured in Ferguson, back when the country built stuff — is too awesome not to quote from.
I sleep through the day at my parents' house, smack dab on the city-county border, then make for Ferguson around 10 pm. Most of the rioting, including that shown in the oft-looped QuikTrip cameraphone video, took place along a single drag of West Florissant Avenue. Actually, it's shocking how small the affected area is. Blocks turn into miles during a twenty-four-hour news cycle. Widespread looting is sexy. A dozen shameless smash-and-grabs aren't. That story feels incredibly peripheral once you see everything else that's happening here.

Through the windshield of the Corvette, it's hard to spot the anarchic ghetto villains that need to be put down. Instead, the view holds too many payday loan kiosks to count. This is a desperate community. A third of its residents live in poverty. Nearly 50 percent of its homeowners are drowning under their mortgages. Two public schools lost accreditation in the last year. The momentary furor on TV is an irrational reaction to irrational circumstances. The deeper problems here are long-festering.

Nobody's sure if an unarmed 18-year-old was killed in an act of self-defense or simply gunned down unnecessarily on August 9th, but I know that human beings don't exist in a vacuum: He graduated from Normandy High, 3.6 miles from Labadie Avenue, and was shot to death 5.8 miles from where St. Louis used to make Chevrolet Corvettes.

On I-55 returning to Ann Arbor, the placard on the Stingray's console catches my eye again. I can't help but wonder what Michael Brown's life might have been like if he'd been born 288 miles away in Bowling Green, Kentucky. [Road and Track] (ToniG)
Bowling Green, Kentucky being where GM moved the Corvette line. Ferguson, we read, is filled with "outsiders," "bearing witness," [New York Times] but if it takes outsiders to write a piece like that, let us have more "outsiders," say I.
Meanwhile. Eric Holder has bestirred himself to take action, or appear to take action. The Justice Department will open a "wide-ranging" civil rights investigation [AP], and the Governor Nixon lifted the curfew [WaPo].
And there's more good news! Ferguson's "distressed homes are being bought up by bottom feeding institutional investors [New York Times].
California Megadrought
Looks like we may need to invade Canada and seize their water earlier than planned. Mount Shasta is snowless [KQED]. CA is in the third year of a 100-year drought [USA Today]; they're replacing cemetery lawns with bark mulch [Accuweather], and thinking of changing the state flag to replace the bear with a camel [CNBC]. They're even thinking of closing golf courses [NBC]!
More seriously, there are new restrictions on potable water, although few water providers are enforcing the penalties [San Jose Mercury News]. Even more seriously, 37% of wells have dropped more than 10 feet, so the groundwater is in trouble, too [New York Times].
And so but there's a ginormous boom in groundwater drilling [National Geographic]. CA's Central Valley produces 8% of US agricultural output by value, on one-sixth of US irrigated land [USGS, cited in Wikipedia]. The Central Valley is relying exclusively on groundwater; "'We have to be saved from ourselves,' said (grower) Vince Sola.  'Otherwise we're just going to pump, pump, pump, and it will be all gone'" [NBC]. A black market in water has developed [Quartz].
And it's not clear what happens if the drought starts affecting municipal supplies.
News of the Wired
* * *
Readers, feel free to send me (a) links, and even better (b) sources I should curate regularly, and (c) images of plants; I now have some of yours to choose from, and I'll start running them. Vegetables are fine! See yesterday's Water Cooler (with plant) here. Don't mail Yves! And here's a plant: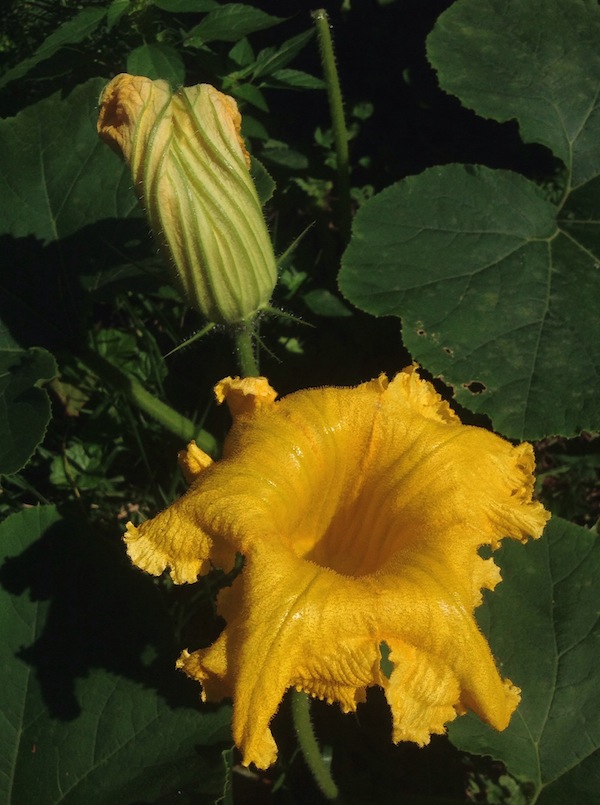 If you enjoyed Water Cooler, please consider tipping and click the hat:
Talk amongst yourselves!