For those who wish scan for links, they are now enclosed in square brackets: [Naked Capitalism]. And this is a less conversational format. What do you think? –lambert
Ukraine
(Here we go on MH17. Or not!) "(Wim van der Weegen, spokesman for the Dutch Safety Board) told the news outlet that the report would take into account information from various sources, including flight data recorders, information from air traffic controllers, radar and satellite data, as well as the conclusion of international investigators that visited the crash site." [World News Report]. (Posturing on Russian warships.) "(Hollande's office:) The president of the republic has concluded that despite the prospect of ceasefire, which has yet to be confirmed and put in place, the conditions under which France could authorise the delivery of the first helicopter carrier are not in place" [BBC]. (Posturing on Ukrainian gas.) "Prime Minister Dmitry Medvedev, responding to a Ukrainian proposal to pay seasonal prices for Russian gas, has said Moscow would resume supplies only if Kiev paid down its 'astronomical debts' and named a gas price well over that previously cited by Kiev" [Telegraph]. (And now a ceasefire?!?!) "After conflicting reports on a possible cease-fire deal for Ukraine, Russian President Vladimir Putin said Wednesday that he and Ukrainian President Petro Poroshenko have agreed on a plan to settle the conflict and called on Kiev to pull out its troops from the disputed areas and for rebels to stop their military operations, particularly in Donetsk and Luhansk" [USA Today]. (Agreeing on a plan is not the same thing as formally signing an agreement, however. And in any case, Russia can hardly sign a ceasefire agreement to a conflict they are not officially involved in. So what the "rebels" say counts.) "The Interfax news agency later carried positive remarks from top rebel commander Miroslav Rudenko, who said 'there'll be no sense in a military solution to the conflict' if Kiev was to withdraw its troops" [AP]. (And a rather jaundiced view of said ceasefire.) "Here it is, folks, the 'off ramp' we all have been looking for. … Why has the chocolate mogul (Poroshenko ) agreed to this? Simple. (T)he Ukie forces drove forward with great enthusiasm to their own doom and now are surrounded in pockets all over SE Ukraine. Yes, the great Prussian Gerd )von Runstedt)'s musings over 'culminating points' have proven fruitful yet again. Will the United States let the world "off the hook" by accepting this outcome?" [Turcopelier]
Whither ISIS?
(How are we supposed to Google on these stories if the Powers That Be can't settle on consistent acronyms?) "'Our objective is clear, and that is: degrade and destroy ISIL so that it's no longer a threat, not just to Iraq but also to the region and to the United States,' Mr. Obama said Wednesday, using the acronym the administration prefers for the Islamic State (IS), which is also known as ISIS" [Christian Science Monitor]. (Beheading works!) "Sixty-seven percent of Americans now identify ISIS as a 'major threat' to the U.S., more than Iran's nuclear program and second only to al-Qaida. Until recently, ISIS was dealing with a White House that was extremely reluctant to involve itself in more Middle East conflicts. Now it's facing a U.S. public that wants action and an administration that's going to have a much harder time avoiding it" [Slate] (Yet another self-licking ice cream cone.) "Though the militants of ISIS would undoubtedly be horrified to think so, they are the spawn of Washington. Thirteen years of regional war, occupation, and intervention played a major role in clearing the ground for them. They may be our worst nightmare (thus far), but they are also our legacy — and not just because so many of their leaders came from the Iraqi army we disbanded, had their beliefs and skills honed in the prisons we set up (Camp Bucca seems to have been the West Point of Iraqi extremism), and gained experience facing U.S. counterterror operations in the "surge" years of the occupation. In fact, just about everything done in the war on terror has facilitated their rise. After all, we dismantled the Iraqi army and rebuilt one that would flee at the first signs of ISIS's fighters, abandoning vast stores of Washington's weaponry to them. We essentially destroyed the Iraqi state, while fostering a Shia leader who would oppress enough Sunnis in enough ways to create a situation in which ISIS would be welcomed or tolerated throughout significant areas of the country" [Tom Engelhardt].
Ebola: The virus isn't the only problem
(Crazy idea, but maybe if West Africa had Western-class medical infrastructure ebola's mortality rate would be a lot lower.) "'It's spiraling out of control. The situation is bad, and it looks like it's going to get worse quickly,' said CDC and Prevention director Tom Frieden. … It's spreading from rural areas to big cities. … It's hit fragile health care systems and overwhelmed staff. … It could threaten the food supply… There's no effective treatment …. The WHO says as many as 20,000 patients are within the realm of possibility" [World.Mic]. (Drug wrap-up with important qualifier.) "It's important to study and roll out new Ebola drugs and vaccines, but not at the expense of measures that we know work. We know that supportive care — to maintain adequate blood pressure, replenish lost electrolytes and treat complications — can reduce mortality from Ebola, but access to such care remains limited in West Africa. And while some of the new drugs may prove effective for treating Ebola patients, it's unclear whether they will prevent spread of the virus from person-to-person. An epidemic can't be contained if transmission isn't blocked" [Reuters]. (Cultural practices.) "Mostly, Liberia has tried to get its people to stop touching bodies. The Liberian Red Cross began conducting burials in full waterproof bodysuits, hosing the bodies and graves in bleach. The U.S. Agency for International Development has donated 5,000 body bags, which are making their way into Liberia's Ebola-infected hamlets. Radio announcers urge listeners not to bury their own relatives." [WSJ]. (Infrastructural issues.) "(Medical anthropologist Theresa MacPhail:) Ebola is a terrible disease. It is more terrible in countries without basic supplies. But I don't think that fanning the flames of Ebola fears are going to solve those problems. We should be more worried that the basic infrastructure isn't there. I'm more frightened of MERS, for instance, than I am of Ebola. Ebola cases might trickle into the U.S. or other cities" [Scientific American]. (Class warfare issues.) "(Dr. Paul Farmer: The ebola epidemic) is a reflection of long-standing and growing inequalities of access to basic systems of healthcare delivery. … We're talking about Medieval-level health systems and a modern plague that's going to spread. And when we can overlap modern medical systems and modern public health systems, then we can see what the case fatality really would be" [Democracy Now].
Ferguson Isn't Going Away
(Clearly, the Stasi need moar better PR.) "'They didn't even cover him up with a sheet, they just left him out there for everyone to see,' (Stevon Statom) said of Brown. The message was clear to him and his friends: The lives of young black men are disposable." (Michael) Brown's killing was the straw that broke the camel's back — a sentiment echoed by nearly everyone with whom I spoke in Ferguson" [Vice]. "(Compared to Jena) Ferguson is an altogether different story. There are multiple grounds of leadership, multiple organizations working on the ground to register people to vote, advocate for changes in legislation, and create teams of people to monitor the police. … As we piled back onto the buses, throughout the weekend, that is the refrain – "we are unafraid to die" — that stuck with many of us, that let us know something is different." [Salon] "After raising more than $400,000 for the police officer who killed an unarmed black man in Ferguson, Mo., two donation pages were shut down without explanation over the weekend" [McClatchy]. (And I expected Holder to be as effective with cops as he is for banksters. I was not disappointed.) "In remarks since his visit, Holder has argued that the tensions at play in Ferguson are nothing new. He said there is 'mistrust and mutual suspicion' with law enforcement in some communities, and argued the time has come for a national conversation followed by 'concrete steps' on policing, led by the Justice Department" [The Hill]. (Oh. A "national conversation." So that's alright then.)
Cuomodämmerung
(Dean Mafia at work! Not that there's anything wrong with that.) "The defining battle of the 21st century is between open and closed systems and New York State is one of the ultimate closed systems. Politics here in our home state is systematically corrupt, in the sense that self-dealing and lack of accountability are the norm in Albany. Three men–the Governor, Andrew Cuomo, the Assembly Speaker, Sheldon Silver and the Senate Majority leader, Dean Skelos–make all the decisions about the state budget with no transparency or participation by other legislators, let alone the public" [TechPresident]. (New York real estate is, of course, famously corruption-free.) "In late July, one day after the release of a damning news report that accused the governor of directing the Moreland Commission to stop investigating his real estate ties, some of the industry's biggest names sent an unequivocal message of support. In a 24-hour period, they and other business leaders opened their checkbooks to the tune of $329,950 for his campaign — among the largest single-day hauls in this entire election cycle" [The Real Deal]. (Profiles in courage.) "(Cuomo:) 'I've been in many debates that I think were a disservice to democracy. So anyone who says debates are always a service to democracy hasn't watched all the debates I've been in'" [Village Voice]. (Progressives for Corruption signs up a new member!) " Under attack by liberals, Gov. Cuomo's running mate Kathy Hochul will receive a ringing endorsement Wednesday from the leader of the state's progressive Democrats, Mayor de Blasio, the Daily News has learned" [New York Daily News]. (Wu on Hochul.) "Wu: Remember when Democrats had the big walkout to protest the Holder contempt vote? She stayed with Speaker Boehner and voted with him. She took several votes to repeal Obamacare. Her environmental record is probably the most conservative in the caucus. That was all supposed to be secret and hidden. But it's like a time bomb" (Slate).
Readers, feel free to send me (a) links, and even better (b) sources I should curate regularly, and (c) images of plants. Vegetables are fine! See yesterday's Water Cooler (with plant) here. And here's a plant: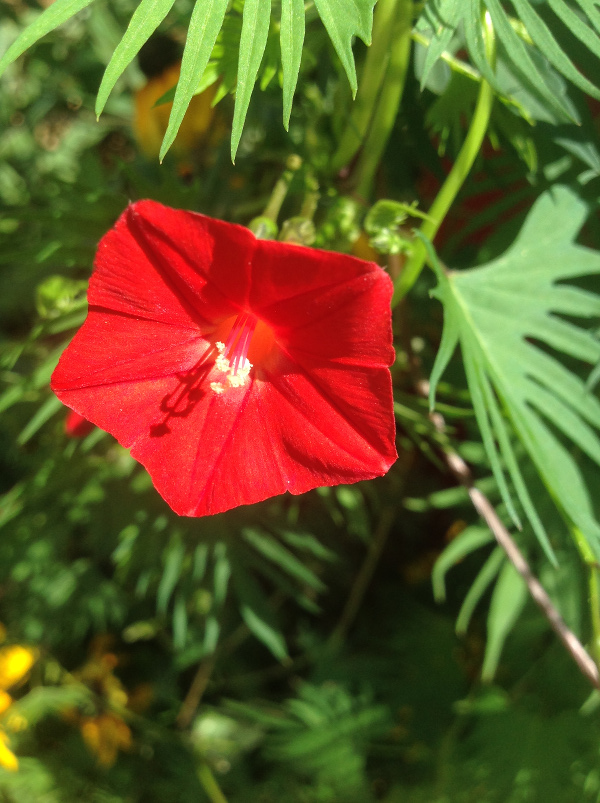 If you enjoyed Water Cooler, please consider tipping.
Talk amongst yourselves!