A new article in Bloomberg gives a well-researched overview of a mess-in-the-making that regulators are choosing to ignore: the leveraged loan market. For newbies, "leveraged loans" means "risky loans to big companies". For the most part, they fund private equity buyouts and restructurings. The juicy fees on these financings, 1% to 5% of the amount raised, versus an average of 1.3% for junk bonds, is a big reason why none of the incumbents is particularly eager to change a market that is working just fine for them in its current, creaky form.
The problems with leveraged loans are twofold. The first is that they are in the stone ages from an operational standpoint. It takes an average of 20 days to settle a leveraged loan, up from just under 18 days in the last leveraged loan boom, the eve of the financial crisis in 2007. That contrasts with 3 days or fewer for junk bonds. When investors buy new loan participations, the delays can extend into months since investors make binding commitments to fund the loan but the underlying acquisition can be held up. That also means if interest rates rise between the time of commitment versus when the transaction settles, investors are stuck with having to fund a deal at a rate that is now below market, leaving them in a loss position on a mark-to-market basis from the get-go.
And get a load of this:
While buyers and sellers can trade stocks and bonds among themselves, they need the approval of corporate borrowers before they can exchange loans. Clerks must then update loan documents to reflect new lenders.

With loans, "there's a high amount of faxing going on still," said Virginie O'Shea, a senior analyst at Aite Group LLC in London. "People don't realize that fax machines are still around in this day and age but they are."
This primitive state of affairs results from the fact that loans are not securities and thus are not subject to the tender ministrations of the SEC, including its rules on settlement. And the Fed and OCC have politely not taken any apparent interest in this market.
Why does this matter? One large investor segment in leveraged loans is retail chumps, um, mutual funds. Investors in bond funds expect to be able to sell them readily. That isn't the case with funds that invest in leveraged loans:
"It's a critical issue," said Beth MacLean, a money manager at Newport Beach, California-based Pacific Investment Management Co., which oversees $1.97 trillion, including the world's biggest bond mutual fund. "Any single retail fund not being able to meet their redemptions would have a ripple effect on the whole market."….Mutual funds bought 32 percent of new loans last year, up from 15 percent in 2012, LSTA data show.
The article states that mutual fund investors, perhaps spooked by a sharp fall in junk bond prices, have pulled $4.7 billion out of leveraged loan funds this year, indicating that the funds can withstand a moderate level of withdrawals. The story also points out that funds recognize the liquidity risk and hold cash buffers (which of course lowers returns, undercutting the rationale for owning this paper in the first place). And as this chart shows, except for the mutual fund investors, most other participants are long term investors and presumably aren't put off by the illiquidity of these loans: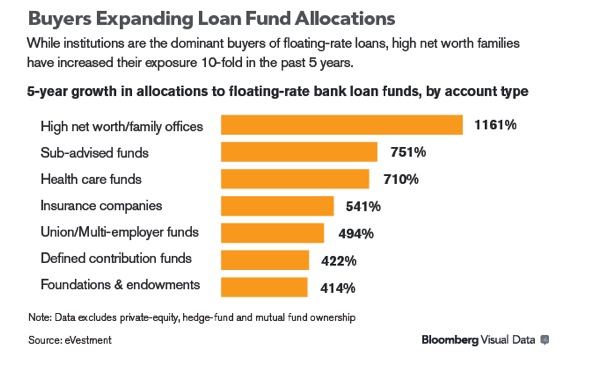 So what kind of problem might this turn out to be? A run on one leveraged loan mutual fund that turned into a run on these funds across the market would not be a systemic event. It would be more akin to the auction rate securities mess, where investors who thought they had accounts that were liquid found them frozen. The ARS debacle had upside and downside: in the ARS case, the investors got paid huge premium rates for not being able to withdraw their principal. By contrast, here, a run would almost certainly be the result of a fall in market value of the loans, and the rush to the exit would intensify price pressures. Investors would be uncertain as to when they could get out and what the price of their assets would be (even though the funds would be require to provide prices, they don't mean much if you can't execute a transaction). The second-order effect would be to further reduce access to financing for private equity transactions, and those have helped keep the stock market aloft (admittedly nowhere near as much as stock buybacks).
But the bigger issue here is that even if this isn't the biggest disaster in the making, it's one the banks have no incentive to prevent, and there's not regulator to be found who is willing to make them shape up. So the usual rule of caveat emptor goes double for this financial product.