I want to thank readers for their extensive, thoughtful, and heartfelt comments on our Finance and Social Justice post yesterday. I know that it is discouraging to see so much misconduct and corruption and see so few obvious avenues for stopping it. But the rentiers and their allies and the cowed to corrupt regulators have far more freedom of operation if the public remains passive out of ignorance. The perpetrators and their enablers don't like transparency, and like criticism even less. So circulating information about chicanery and letting politicians and influencers (like the editors of local newspapers and producers at local newsstations, both of which have clout with Congresscritters) does shift the debate. Again, from a 2010 post I have often quoted from Richard Kline about political change:
The nut of the matter is this: you lose, you lose, you lose, you lose, they give up. As someone who has protested, and studied the process, it's plain that one spends most of one's time begin defeated. That's painful, humiliating, and intimidating. One can't expect typically, as in a battle, to get a clean shot at a clear win. What you do with protest is just what Hari discusses, you change the context, and that change moves the goalposts on your opponent, grounds out the current in their machine. The nonviolent resistance in Hungary in the 1860s (yes, that's in the 19th century) is an excellent example. Communist rule in Russia and its dependencies didn't fail because protestors 'won' but because most simply withdrew their cooperation to the point it suffocated.
In other words, we are engaged in is a process that is incremental and thus progress is hard to see, much the less measure. And the parties that the citizenry is up against will endeavor to make any concessions look like things they already intended to do.
There are different ways of coping with these daunting requirements: that of a need for sustained effort with low likelihood of much in the way of tangible success. I've adopted a Stoic attitude, that this is a duty, and one needs to find a sense of reward in the process rather than in the outcomes (and the rewards include forming a community of the like-minded). I'd be curious to learn what other strategies readers have.
Most British wildlife now living in abandoned DVD libraries Daily Mash
Map: How the Ebola Outbreak Spread through Africa PBS
Surgery Often Doesn't Work on Worn Out Knees Patient Safety. Another pet health issue!
Apple looks to swipe the payments market Financial Times
Fossil Fuels Stir Debate at Endowments Wall Street Journal
Forget Tesla. If you really want to reduce vehicle emissions, it's unglamorous buses, not flashy sedans, that need to go electric Slate
China faces Japan-style debt woes Financial Times
Facing Reality in the Eurozone Project Syndicate (David L)
Scotland
Putin's Secret Friends in Paris XXCommittee (Max P)
UK Wants U.S. Supreme Court To Limit BP Liability For Deepwater Horizon OilPrice
Why does Italy not grow? Bruegel
Argentina right to seek global debt restructuring: Stiglitz Reuters
Restructuring Debt Restructuring Project Syndicate (David L)
US bombing defended Phnom Penh Post (Lambert). One Nobel Peace Prize winner dissing another.
Big Brother is Watching You Watch
Discussing Online 'Right to Be Forgotten,' Google Takes European Privacy Tour to Spain New York Times

Firsthand account of NSA sabotage of Internet security standards BoingBoing
Obama prepared to act against militants in Syria Washington Post
Fear the Fed: Stocks Slammed by Strong Dollar, Rising Rates Barron's
What Is the Ex-Im Bank Hiding? Huffington Post
Call for curbs on police military gear Guardian
Detroit Clears Crucial Hurdle on Bankruptcy New York Times
2014 New York primary election: Andrew Cuomo, running mate prevail in New York Politico. Holy fucking a, Teachout got 35% after Cuomo suppressed endorsements??? As one of my DC colleagues wrote yesterday:
Andrew Cuomo, who represents a dangerous and authoritarian strand of billionaire fueled politics, is the incumbent. He faces Zephyr Teachout, a person I've known for more than ten years. She's part of a new generation of post-financial crisis Democrats. She's running on a strong public financing and antitrust campaign, a ban on fracking, renewable energy, and so forth. She's in the pocket of Big Ethics. Cuomo has spent $15M, she has spent $0M. The shocking thing is that, she's still in this.

It's a real campaign, with real issues. Your vote matters. And it will send a shock wave throughout the political establishment, even if Zephyr only gets 30% of the vote. That's how scared they are.
Class Warfare
Will the government stop using the poor as a piggy bank? MSNBC

NYC Building Selling 10 Parking Spots For $1 Million Each Because Obviously Consumerist

Life on $2 a Day Counterpunch
Antidote du jour: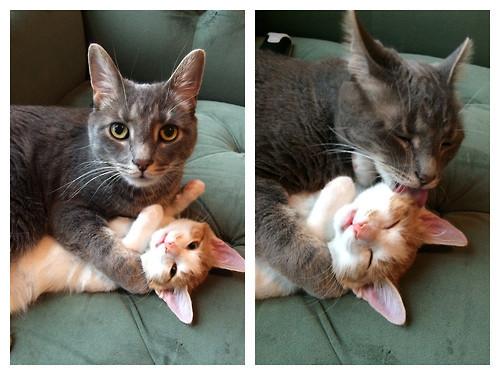 See yesterday's Links and Antidote du Jour here.