By Lambert Strether of Corrente.
Let me dispose at once of the idea that Obama's ever going to do anything for labor other than bullshit. Check out this video.[1] It's famous! And only 37 seconds long, so you can put down whatever you were going to throw.
Seen Obama on a picket line lately? Or ever? No? Are those mean Republicans preventing him from walking the line? No? So why isn't he doing it? A question that answers itself, once asked.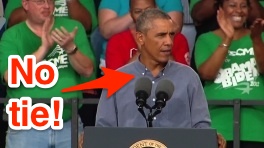 Figure 1: Truly, this man is one of us!
Anyhow, Obama visited Laborfest in Milwaukee and gave the greatest Labor Day speech ever the other day, and I suppose it's better to post on it than claw out my eyeballs or whack myself repeatedly on the forehead with a claw hammer or self-medicate heavily. Although the White House has a transcript, why should I give them the hits? So, Politico:
The president began to outline his goals for working-class families, saying that he has "put [his] money down" on the middle class.

"[OBAMA:] I want an economy where your hard work pays off with higher wages, and higher income and fair pay for women, and workplace flexibility for parents, and affordable health insurance [as opposed to health care] and decent retirement benefits," Obama said. "I'm not asking for the moon, I just want a good deal for Americans."

It's just a con, and by a shop-soiled con man at that. Under Obama, "inequality in income gains is higher than that under George W. Bush."

"[OBAMA:] Most [weasel] of the policies I'm talking about have two things in common: They're going to help more working families get ahead, and the Republicans who run our Congress [well, except for the Senate] oppose almost all of them."

As the crowd began to boo, Obama responded, "Don't boo, vote," a motto he has used before when directing speeches against Republicans as midterm elections approach in November.

"If[2] we had a Congress that cared about policies that actually help working people, I promise [what a kidder] you we could get everything done that we've talked about doing," Obama said. "But until we have that Congress, it's up to us to fight [weasel word] for these policies."
(To be fair, Obama's speech is not the most banal and bathetic speech given by a Democrat on Labor Day; that honor must surely go to Labor Secretary Thomas Perez: "We're fighting to raise the minimum wage." Why is it that these Democrats are always "fighting," but never winning? (That is, at the battles they claim to be fighting.)
To the extent there's any criticism of this speech by Obama from the left — never mind the Democratic and nomenklatura or career "progressives" — it's going to use a trope of Democratic weakness, and yes, I looked, but Ralph Nader had the only quote I could found:
"If you've got the Republicans voting repeatedly in the House and the Senate against workers, against consumers, pro-war, pro-Wall Street, the Democrats should be landsliding them, but Nader said.
Oh, Ralph! Ralph! Do you really think the Democrats' problem is "urgency"? One of the true old-school bloggers, the great Avedon, quotes Thomas Frank, thusly:
Let me explain what I mean by reminding you of one of the most disturbing news stories to come across the wires in the last month. In a much-reported study, the Russell Sage Foundation discovered that median household wealth in this country fell by 36 percent in the 10-year period ending last year. Wealth for people at the top, as other news stories remind us, has continued to soar. These things are a consequence of the Great Recession, of course, but they are also a reminder of the grand narrative of our time: The lot of average Americans constantly seems to be growing worse. The Great Depression of the 1930s was awful, but it set America on the path toward a period of shared prosperity. Our bout of hard times has had the opposite effect. It has accelerated the unraveling of the middle class itself. Now, you can blame the risible, Ayn Rand-reading Tea Party types for this if you like, and you can also blame the George W. Bush Administration. They both deserve it. But For a party of the left, dreadful news like this should be rocket fuel. For the Dems, however, it hasn't been. Why is that? Well, for one thing, because a good number of those Democrats have not really objected to the economic policies that have worked these awful changes over the years. They may believe in the theory of evolution – hell, they may savor the same Jon Stewart jokes that you do – but a lot of them also believe in the conventional economic wisdom of the day. They don't really care that union power has evaporated and that Wall Street got itself de-supervised and that oligopolies now dominate the economy. But they do care – ever so much! – about deficits and being fiscally responsible. Bring up this obvious point, however, and you will quickly discover what a dose of chloroform the partisan style can be. There's a political war on, you will be told; one side is markedly better than the other; and no criticism of the leadership can be tolerated. Instead, let's get back to laughing along with our favorite politicized comedians, and to smacking that Rick Santorum punching bag."
Write this quote down on a piece of paper and nail it to your Democratic Congress critter's forehead so you know where you can find it. Do not accept narratives of Democratic weakness! Politics is about values and interests. The Democrats are doing what's in their (personal, financial) interest, but they are also acting according to their values.
Democrats do what they do not because they are weak, but because they believe in it.
NOTES
[1] I totally love the backspin on "comfortable shoes." Of course they'd be comfortable.
[2] If we had some ham, we could have some ham and eggs, if we had some eggs.