By Lambert Strether of Corrente.
Just let me repeat my basic perspective once again. From ObamaCare and Its Opportunity Costs:
The key point to remember in all discussions of ObamaCare is that neither it, nor indeed the entire private health insurance "industry," should exist. They are rent-seeking parasites, economic tapeworms. One does not improve a tapeworm; one removes it.
Fun with The IRS
It looks as though dealing with ObamaCare's tax consequences — remember when only people with money had "tax consequences"? — is going to be just as fun as dealing with healthcare.gov was. Since ObamaCare grants subsidies based on your estimated income, it then must recalculate your subsidies at tax time based on your actual income, and then either give you money back, or take money from you. And who doesn't enjoy a big fat crapshoot at tax time? Especially when the recalculation demands a shit ton of complicated forms that have never been used before. 
Politico describes step one, sending out plan details:
The insurance exchanges and employers must send consumers details about their health plan and benefits or exemptions in time for them to file a tax return. If any of that information is delayed or wrong, tax refunds could be delayed. …

At this point, the new forms look "very daunting" for taxpayers, said Mark Ciaramitaro, vice president of health care services at H&R Block. "Overall, for a significant group of moderate- to low-income people, whether they got insurance through the marketplace or they didn't."
Just going into "fixed it for ya" mode here for an instant, by "said Mark Ciaramitaro" the writer surely must have meant something like "said Mark Ciaramitaro, extruding his feeding tube," since tax preparers like H&R Block will be the parasitical rent-seeking siphonoptera profiting from ObamaCare's complexity. But I digress.
Then step two, the new form 1095A:
Exchange enrollees won't be able to file their taxes until it sends them a 1095-A form, and there are some concerns that the forms will be late, especially in states with struggling exchanges.
What could go wrong? And then there's step three, the 1040 itself. Remember that, incredible as it may seem, that although there is a mandate to purchase health insurance under ObamaCare, and even a penalty, the IRS can't put a lien or a levy on you for not paying it. So people who just skipped all the hassle could end up being better off than people who tried to comply, but got hung up in the complexity:
But if they completely ignore the question of having health coverage, now a new line on the standard 1040, it's unclear how the IRS will respond, says George Brandes, vice president of health care programs at Jackson Hewitt. The result, he worries, could be that filers trying to comply with the law are penalized with delays while those ducking it aren't.

" [another minefield!] Brandes said. "We're not name calling here — it's just sort of a recognition of the reality of how this is going to work."

Tax Foundation economist Alan Cole agrees and, like many experts, doesn't expect the IRS to vigorously enforce the law's individual mandate in its first year, using this upcoming filing season more as a trial run.
So, once again, ObamaCare nudges you into a minefield without any signage.
(And just be sure to record everything if you can. It's your only protection.)
But it's an ill Rube Goldberg device that blows nobody good! From American Public Media's Marketplace:
H&R Block is expected to report its earnings Wednesday afternoon, and analysts feel good about the tax-prep giant's future. Actually, they feel pretty great about the industry as a whole.

The source of their optimism is the Affordable Care Act, thanks, says George Brandes with Jackson Hewitt, to the tax-prep business truism:

The IRS says 140 million people file tax returns every year, with about 60 percent being done by professionals. Northcoast Research analyst Kartik Mehta expects that percentage to increase.

Mehta says the real winners will be the brand-name preparers who can afford to blitz the airwaves come tax time.
With the H&R Block example, the rent-seeking from ObamaCare's complexity is of crystalline clarity; it's like when some entity decides to dump stuff (say, three dozen armored personnel carriers) into the ocean instead of a landfill, and then call it an artificial reef, and in fact you do end up with an ecosystem of sorts. Well, ObamaCare is the artificial reef, and H&R Block are artificial fish living in that reef. But so are they all, all artificial fish: The web developers, the navigators, the consultants, the trainers, the marketing weasels, the CEOs, etc., etc. None of them should exist in the first place. And never mind the toxicity as the APCs rust out, eh?
The Auto-Renewal Trap
From Kevin Drum, the setup:
[F]ederal subsidies are calculated based on a "benchmark" plan, and this means that low-income taxpayers can buy the benchmark plan at pretty low cost. However, since Obamacare encourages competition (yay!), your region might have a whole bunch of new, lower-cost plans [of equal quality? Drum doesn't know, and neither do we] available next year. This means the benchmark will be recalculated, and if you want to keep your low payments you'll need to switch to one of the newer plans.
National Journal gives the detail:
The White House has already set up an auto-renewal process, making it easier to stick with the status quo.

As cheaper plans come into the marketplace, millions of consumers will see the cost of keeping their plan rise. But they might not know it.

[Who wrote the spec for this turkey?] So, while the dollar value of your financial assistance drops, you can only find out that's happening by going back into the system and asking for a redetermination as part of the shopping process.

"That's the totally crazy part," Pearson said. "They're basically going to send them what they know to be the wrong subsidy."

The IRS will eventually [and, apparently, spontaneously] figure out how much financial assistance you should have received, and will reconcile the difference on your taxes [and pay you the interest on the money you paid that you didn't have to. Not].
Remember Cass Sunstein, genius, and his "nudge theory"? Where "choice architectures" set default options so that they "nudge" people to more socially desirable outcomes? Well, Obama set the default for ObamaCare to autorenewal, right? Back to Drum, who describes the result:
Since you're no longer buying the benchmark plan, your subsidies will go down and your annual premium will go up.
So, that's the outcome that Obama regards as socially desirable. I keep saying ObamaCare is a minefield without any signage; auto renewal is a fine example of such a minefield. You auto-renewed, then? Blam!
Second-Class Citizens Wherever You Look
Two figures tell the tale. First, ObamaCare takes from the almost-poor and gives to the poor. From the Brookings Institute:
Figure 1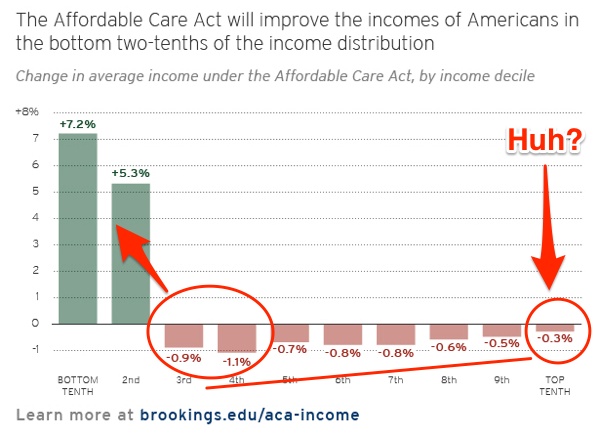 It's like reverse noblesse oblige, isn't it? The more you make, the less you give! (Granted, in percentage terms. But ya know, redistribute a yacht cover or two and bale of Hermes scarves from the Top Tenth (first class) versus redistribute the kids' college fund or repairing those shock absorbers or a few nights out at the Olive Garden (second class), all so some poor shrub doesn't keel over and die for lack of care, and who wants that… Who feels it more, modulo the ol' ego mego way up there at the top of Maslow's hierarchy ("self actualization")?
And then there's this, the kind of inexcrementalist framing that makes my back teeth itch. Read the headline on the chart, which I've also helpfully annotated, in the spirit of clarity:
Figure 2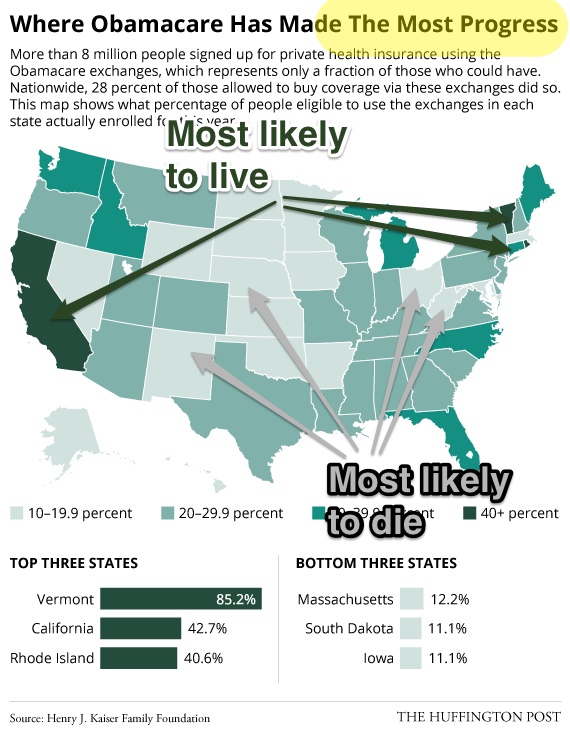 Again, it's the topsy turvy world of ObamaCare advocacy. The headline: "Where Obamacare Has Made The Most Progress." But that's not what the map is really telling you, is it?
If you accept that lack of health insurance leads to excess deaths, then there are excess deaths in every state except the three top states: Vermont, California, and Rhode Island. (I'm being charitable; even those three have excess dates.) Why is this anything other than a miserable failure?
Single payer would save those lives. Everybody in the country would have equal access to health care, simply by virtue of being a citizen. Any other solution on the table — see "Neoliberalism Expressed as Simple Rules" for the policy parameters — means that people live and die at random, by accident, simply because of whatever state or city or county they ended up in. Those in first class (dark green arrows) go to Happyville. Those in second class (light grey arrows) go to Pain City. It's a crap shoot, the luck of the draw. This is life and death! How is this in any way acceptable? It baffles me that "progressives" — do note the "progress" in the headline — don't see the moral issue here.
* * *
TROLL PROPHYLACTIC It may be that you personally have benefited from ObamaCare. In a program of ObamaCare's size, it's only natural that some would benefit. My question for you is this: Do you think that all should benefit as you have, and if so, what are you doing about it? The same reasoning applies to those who say that ObamaCare has benefited X millions of people. Why should not all benefit as some do?